---
Aaron's REAL TIME Smackdown Review: The Holiday Special! Holiday...As In Xmas...On November 29th...A Holiday Special...

By Aaron Wood Nov 29, 2011 - 8:00 PM
---
Hey everyone! As you may have read in last week's Smackdown review, I pondered why this show was a live holdiay special when not only was it a week after Thanksgiving, but indeed was announced during a show 24 hours the day. However, if you saw RAW last night, by the looks of it, Christmas has come early. Quite literally. As Mick Foley took to the stage in Santa Claus attire and told a Christmas rhyme. So it looks like we are actually going to celebrate the appropriated Pagan holiday tonight on Smackdown rather than, say Boxing Day next month. So yeah, thankfully, I don't start my new job until Thursday, and so I'm here tonight as per usual, to lead you through all the shenanigans on a show guest hosted by my best friend Mick Foley...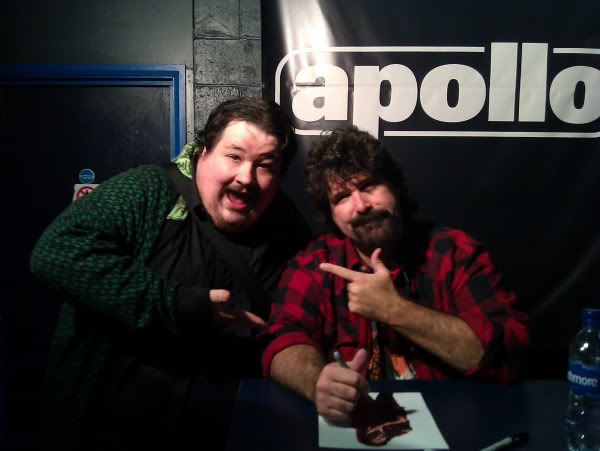 ...and the main event of Mark Henry defending the WWE World Title inside a steel cage against Daniel Bryan. And not even a live Smackdown will throw me off counting down numbers 25 to 21 in my "Top 30 songs of 2011" chart during the ad breaks. See you at the top of the hour!
---
FOUR DAYS AGO ON SMACKDOWN:

Zack Ryder wanted to fist pump with Sheamus, AJ lost a BFF but seemingly gained a BF, Beth & Nattie emulated JTG & Shad, Jinder Mahal somehow got to start another feud and Daniel Bryan had a somewhat interesting night...



THIS WEEK…


And we literally cold open to see snow falling in Charlotte (fake of course) and the stage is all done up like Xmas, and Jolly old St. Mick comes out to the ring. He even has a special TitanTron of him being Santa on a Tribute To The Troops show. Mikc even acknowledges it's November, but Foley's aa Xmas fanatic. He listened to Nat King Cole year round, keeps visiting Santa. What JR is to BBQ sauce. What Warrior is to arm tassles, Mickles is to Xmas. So what better than to have a special Smackdown even in whatever city they're in this week... He doesn't say that of course. It's Charlotte, NC. And what's in Foley's sack? His balls of course. But inside his goody bag is a World Title match between tiny Tim (Daniel Bryan) and the Ghost of Xmas Fear (Mark Henry) inside the steel cage (sadly lacking in tinsel). There's also a "Miracle On 34th Street Fight" and a "All I Want For Xmas Battle Royal" where the winner gets thier wish granted. Now, Foley kinda promised there'd be no Michael Cole, but he's got a good legal team, so he has to be there. But Mick sure as shit can dress him up as he wants.

This draws out Cole who is dressed as Rudolph in a truly hilarious sight. Suffice to say, we can see Josh is dressed as an elf. Foley addresses Josh's outfit, saying he's need back at the North Pole right after the show. Foley then introduces Booker T, who is Booker Claus. Booker doesn't look massively pleased, as Foley says he wants to be inclusive and redeem himself for This Is Your Life on RAW, so to shout out to the Jews, he gets Booker to so a spinarooni, imitating a dreidel. Booker says he can dig the holiday spirit when Cody Rhodes makes his way out with a mic in his hand.

Cody said in the past he'd have allowed this farce to continue, but he was no longer with a protective mask he was seeing things more clearly. He's seeing a lowly announcer making a fool of him and indulging in childish antics and taking time away from those who can still compete. Booker says he doesn't have a beef with Cody, but don't think for a minute he can't handle his business. Cody takes offence to being referred to as "son". Booker waslying. He does have a beef with him, probably because he'll never hold a title over over his head again. Or call himself champion ever again. Foley steps in and stand up for Booker, and he's affecting Foley's enjoyment. So how about Xmas comes early for Cody and he has a match with Booker T. Cody's looking forward to it. Booker isn't entirely happy, but he's cool with it. And to start, we're having some Divas...

A whole bunch of the Divas head out as we head to the break.




25: Kaiser Chiefs - "Heard It Break"


Back from break, Foley tells us what the hell the match is. It's a Misteltoe match. Whomever can get the misteltoe on a pole has now until Xmas to get something special.



A Bunch Of Divas in a "It'll take me as long to write them all before it ends" Misteltoe On A Pole match


The whole thing lasts a minute tops and Brie Bella grabs the misteltoe. The whole thing was a mess. Foley comes out and notes he didn't mean a future Divas Title match. She gets to kiss the Superstar of her choice between now and Xmas. What-the-frig-ever... They did the trending box YouTube link gltich, and it was clearly "second2012", so that adds to the idea that the "third2012" video that appeared on YouTube earlier is likely fake.

We see shots of Big Show taking out Mark Henry's angle at Survivor Series to point out the main event for the evening.

We come back to see Justin Gabriel in the ring...



Justin Gabriel vs. Jinder Mahal in a "Oh man, please tell me they aren't going to job Gabriel out for this nothing..." match


Mahal comes out and talks in Punjabi, before switiching to English to rile against Xmas and it's gift giving. Gabriel goes for a wristlock, but Mahal overpowers him and goes to work on him. He hit a suplex and then drops Gabriel on the top rope. He whips Gabriel into the corner and hits shoulders. Ted DiBiase comes out in a Santa hat and gives out stuff to folk at ringside. This distracts Mahal from his Camel Clutch attempt, and it buys him a STO and the 450 for the three count!



WINNER: JUSTIN GABRIEL



Ted continues to give out toys while Jinder seethes.

Backstage, Foley is being taken through the Siva Tau by the Usos before he greets Rowdy Roddy Piper. He wants a new straight jacket for Xmas. Hornswoggle and Maxine are by the punch bowl. She's disgusted by him and leaves when Dusty Rhodes walks in. Dusty disgusts Horny by suggesting giving him a picture of Lady Gaga eating a corned beef sandwich. Goldust then freaks his dad out. Roddy PIper tells Trent Baretta to poison someone when David Otunga, who is the grinch who killed Xmas, who wants to shut the party down as the music doesn't seem public domain to him. Foley says since Otunga is there, he's technically a Smackdown talent. So he's in the Miracle on 34th Street Fight. Bowtunga can dig, but who's he facing? Well, who else but Randy Orton!




24: Kasabian - "Let's Roll Just Like We Used To"


The "Kane Resurrected" promo greets us upon return. Suffice to say, I think if he was coming back in the mask, we'd see him putting it on here, not setting it on fire.

We go back to a couple of weeks ago on RAW as Cody gave Booker T a sip of water. Albeit one that generally missed. Cole goes off on biased reporters. Josh's face at this is HILARIOUS. We look at some WWE 12 footage of a Cody vs. Booker match. I hope Booker's already in the game, because you aren't going to be on their servers long enough to get it.

We go backstage with Matt Striker and Booker. Booker barely starts a sentence when Cody attacks from behind before whipping him with his IC Title belt.



Kofi Kingston vs. Tyson Kidd in a "Well, why not?" match


They exchange holds before Kofi gets a wacky rollup for a 2 count. However, Tyson picks up a couple of his own before locking on a couple of headlocks. They clothesline each other down as Josh runs down who is watching this live outside the US. Anyway, when they get back up, it's all Kofi, with the Superman shot and Boom Drop. Tyson avoids Trouble In Paradise by rolling out the ring, but he dropkicks Tyson on the outside. Kofi take umbrage at Michael Cole's ridiculous look. And yet, Tyson's attack was thwarted. Kofi puts on cole's Rudolph head and nose, hits a flying crossbody (flying reindeer, geddit?) and picks up the three count.



WINNER: KOFI KINSTON THE RED NOSE REINDEER



Back to the Xmas party and Hornswoggle can't get a bauble on the tree. Kaitlyn tells him to wish to be taller. Sheamus wants to know the "All I Want For Xmas" Battle Royal, asking Teddy Long, lest he's shafted like the Divas. Aksana walks in (AND NO-ONE NOTICES THE SAX MUSIC OR CHANGE IN LIGHTING?!?!?!). She's sad she didn't win her match, but wondered what the misteltoe was for. Teddy told her to do what felt natural, puckering up. So she eats some. It tickles her tonsils. They leave and we see Curt Hawkins and his cane with Kaitlyn, getting along fairly well. I assume Kaitlyn is now fully heel. But like I said, I'm Team Kaitlyn...




23: Kaiser Chiefs - "Can't Mind My Own Business"




Randy Orton vs. David Otunga in a "I wonder if Nexus's old ties will bind... C'mon, like Wade isn't interfering..." Miracle On 34th Street Fight


Orton comes out first after the break as we see a "Ho Ho RKO" sign. Clever. Cole then plus the computer game sponsoring the show tonight. Goldeneye Reloaded. I think I can be excused since I'm watching and typing at the same time, but was the ring decked out in Xmas trees and wreaths earlier? Otunga comes out and poses in a corner, but has trouble climbing the ropes. That said, I'll goive him that there's a wreath in every corner. Unlike yesterday's Street fight, we start this one with wrestling in the ring. That said, Orton quickly clotheslines Otunga (unfortunately not wearing the bowtie while wrestling) and sends him into a couple of the Xmas trees. However, Otunga suckers Orton in and drives Orton into the side of the ring. However, Orton recovers and rams Otunga's head on the announce desk. He takes a cooke from a sheet of them, tastes on and hits Otunga with the tray. He puts a wreath on Otunga's head and sends him through another treee and over the steel steps. However, Otunga comes back and whips Orton into the other steps before hitting a suplex on the floor.

Otunga grabs a candy cane kendo stick, but as he swings, he's tackled down. Orton grabs the stick and takes a swing. Otunga runs away up the ramp, but Orton takes him down with the help of a present. Orton tosses Jennifer Hudsons's babydaddy through some of the decorations on the stage before they head back down to the ring. However, Orton gets the idea and hits the Elevated DDT from the ring apron to the floor.

However, this is Wade's opportunity to run down, running Orton into the ringpost before hitting a big boot. He rolls Orton in the ring before sending in Otunga. He makes a pin, but Orton kicks out at 2. Otunga works over Orton in the corner, with stomps and then shoulders to the gut. Orton blocks a whip however and begins his usual flurry of offence. But it's the as it's the snap powerslam into the RKO for the three count.



WINNER: RANDY ORTON



Orton looks back at the stage, but Wade is LONG gone, so he decides to celebrate in the end as we saw replays.

We go backstage as we see Mark Henry getting his ankle taped. Teddy Long walks in and wonders what has Henry's goat. Henry is pissed that TEddy put him in the match and Big Show injured his leg. But in the spirit of giving, he was going to give Bryan the biggest whooping of his life and make his dream becomes a nightmare before Xmas. He yells at Teddy, scaring him into leaving. We then saw the footage of Daniel Bryan's reversed cash-in on Mark Henry on Friday.

We come back from the break to see an advert. FOR THIS SHOW! Why?

We see a bunch of dudes in the ring...



20-Man "All I Want For Xmas" Battle Royal


Those who get their own introductions are Hunico, Sheamus...and Hornswoggle! This immediately gets everyone's attention. The babyfaces love it, the heels hate the idea. However, rather than get in the ring, he goes under it. Sheamus tosses Darren Young immediately. Later Black Cena. An Uso is next (I think Jey). Huncio crotches JTG and then tosses him. Curt Hawkins goes through the ropes, but that doesn't stop Justin Gabriel and Ted DiBiase trying to push him off. As it does, he soon goes anyway, but at the hands of Ezekiel Jackson, making his quiet return. He and Sheamus decide to go at it. Sheamus pound him down, but Jackson comes back. However, when he charges for a clothesline, Sheamus low bridges him out. Johnny Curtis (Cole has no idea) tries a sleeper on Sheamus but is tossed out. The other Uso goes out, quickly joined by Kofi and Yoshi Tatsu. Tyson Kidd skins the cat and headscissors DiBiase out, but as he's hanging on, Hornswoggle appears and pulls him down to eliminate him as we take a break.

We come back and we're down to 7. We see the glitching trending box again. Still one "second". Jinder Mahal gets revenge for earlier as Gabriel jumps up from the apron only to get shoved to the floor. Titus O'Niel hits the Clash Of The Titus on Tyler Reks, but Sheamus eliminates him. However, as Sheamus admires his work, Heath Slater & Jinder Mahal attack. Sheamus comes back against the other four heels left in the ring. Reks pisses off Sheamus and Tyler runs away. Sheamus chases him down in the aisle, but the other three chase him down and they combine and run Sheamus into the guardrail. We're down to four heels for now as Jinder Mahal (bleeding from the nose) suggests they go after Hornswoggle. They get him in the ring and circle him. He tries to run away, but they stop him from leaving. They threaten to swing him him far, far away, but Sheamus comes back in, tosses Reks, Hunico, Mahal and then gives Mahal the Brogue Kick over the top to the floor.

We're left with an all-Irish battle. Horny's up for the craic. Shemaus orders him out, but Horny tells him to get out himself. Horny kicks at Sheamus's legs, but this serves to annoy Sheamus. Sheamus picks him up but Swoggle clamps himself to the top rope. Sheamus CLIMBS OVER to pull him off the other side. He gets him off onto the apron, and tells the little guy to get down to the floor. But the little guy double-crosses Sheamus and shoves him off the apron to win!



WINNER: HORNSWOGGLE



Hornswoggle realises he's made the shit for himself now. Sheamus chases him back in the ring. And he then laughs with the guts of the little guy and raises his hand and picks him up and puts him on his shoulder before leaving chuckling away to himself. So now Hornswoggle now gets a wish granted from Santa.

We see an advert for Neverland, some new SyFy mini-series with Rhys Ifans and Anna Friel. It involves Ifans (playing a suited and booted Englishman) sticking someone with a sword before saying his name is Hook...James Hook...

We see clips of the main event of last week and now Daniel Bryan won the title shot.




22: The Wombats - "Jump Into The Fog"


We go back to the party as the Bellas whore themselves out to Ricardo Rodriguez, because they want to bang Alberto. Roddy & Dusty are talking about Cena. Santa shows up and Hornswoggle gets to ask for his wish. Santa (clearly Foley) makes "Alk" jokes because Hornswoggle wants to talk. And the wish is granted! He starts naming stuff. And when he gets to Vickie Guerrero, he goes "GRANDMA!" A sweaty Foley shows up and Santa's gone, wondering what he missed. Piper & Dusty decide they've drunk too much.

Daniel Bryan is warming up when AJ comes up and kisses him. She leaves and Matt Striker comes up asking for some thoughts. Bryan's excited. He got a taste and Henry's not 100%%, and sooner or later everyone taps. Bryan walks the halls as we see the cage lowering ahead of the main event.




21: The Lonely Island - "We're Back!"


We come back to hear Coel claim Hornswoggle talks now and he's already better than Booker.



Mark Henry vs. Daniel Bryan in a "Well, he COULD win by escaping, but I don't Henry's going over the top..." match for the WWE World Title


Henry shouts "No Mercy" as he gets in the ring after Bryan comes out. We get the main event introduction for this. Good thing it's the main event, huh? At the bell, Bryan tried to scamper over the top, but is cut off . Same action, same result. Daniel Bryan can be defined as insane. Bryan tries to stick and move with kicks to the calf of the injured leg, but Henry tosses Bryan into the cage and then sqaushes the trapped Bryan against it as we take a break.

We come back ad Henry's in control as we saw during the break that Henry used the ropes like he was playing Angry Birds sending Bryan into the cage off the slingshot. Bryan kicks out of a hold, but gets booted back down. Henry goes to leave by the door, but Bryan hits the running dropkick into the corner. However, Henry turns Bryan inside out with a HUGE clothesline that Bryan does a 360 on for a 2 count. Henry wants the door again, but Bryan holds onto the injured ankle. And it brings Henry off his feet. Bryan works over the ankle with stomps like a bad thing before going for a climb, but not only does Henry cut him off, but he crotches him and cltoheslines him down hard.

Again, the door is called for, but again, Bryan holds onto the injured ankle enough to annoy Henry into coming back. Henry goes for a slam, but Bryan kicks out the leg and tries the LeBell Lock. He manages to get it on, at least to an extent that he could get a tap, but Henry powers up and looks for a pin. However, Bryan turns it into an ankle lock. Henry manages to Bryan off however, rather than tap out. Bryan goes for a climb, but again Henry pulls him back down. Henry goes for a climb, but Bryan cuts him off and climbs over Henry and makes it to the top, but gets pulled back in. Bryan teases a Frankensteiner off the top, but goes for another escape. However, Henry pulls him back in and manages to hit the World's Strgonest Slam from the second rope for the win!



WINNER & STILL CHAMPION: MARK HENRY



That was a fine match. Great finishing spot. This means it's Henry vs. Big Show at TLC. We quickly go off the air there.

This was a really fun show overall. Once you get ove rthe conceit of having an Xmas Special a month early, it helped add to the show, giving it a theme and making stuff matter, even if it was small stuff like Hornswoggle talking and such. But I certainly enjoyed it.

---
---
blog comments powered by Disqus
| | |
| --- | --- |
| My Son Lucas JG's Facebook Insanity: Let's Infuriate Your Friends (33 Minutes) James Guttman's Free 2009 Interview With Mr. Fuji JG's 10/19/15 Raw Insanity: Hell of a Sell JG's 10/5/15 Raw Insanity: Flashing The Brock Signal JG's Insanity: The 12th Annual WWE Memorial Day Barbecue JG's Insanity: The 11th Annual WWE Memorial Day Barbecue JG's Ten Facebook Posts To Annoy Your Friends JG's Ten Beloved TV Characters Who Were Obvious Psychopaths JG's 10 More Fun Ways To Infuriate People Online JG's Ten Insider Wrestling Terms You Shouldn't Use When Talking About Something Besides Wrestling JG's Insanity: The 10th Annual WWE Memorial Day Barbecue JG's Ten Demented Ways We Misused Our Toys JG's 15 Fun Ways To Infuriate People Online JG's Ten Sesame Street Muppets That Are Missing And Presumed Dead JG's Scene From WWE Raw (After Vince McMahon Goes Senile) JG's Ten Signs You Were A Wrestling Fan Of The 1980s JG's Insanity: Stone Cold's Greatest Moments (Without Stone Cold) JG's Ten Wrestling Moves That Really Hurt When You Try Them At Home JG's Insanity: Everybody Is Tito Santana JG's Ten Reasons Why WWF LJN Figures Were The Greatest Toys Ever JG's Ten Judges Who Would Make American Idol Worth Watching JG's 2012 in Pictures (As Hulk Hogan Will Remember It) JG's Quintuple Bypass Surgery Insanity JG's Five Episodes of Diff'rent Strokes That Scarred Me For Life JG's Ten Facebook Posts That Are Slowly Driving Me Crazy JG's Ten Truly Terrible Reality Competition Shows JG's Ten 1980s TV Characters Who Taught Me To Hate JG's Ten Wrestling Characters Who Went Through Massive Personality Changes JG's Ten Old School Wrestlers Who Would Terrorize Today's PG WWE | TGIF: Cass'd Away, DIY Does It Again, and More The ROHbot Report: State of the Art Reviews, ROH International Cup, And More The Challenge: Champs vs. Stars 3 - Episode 9 TGIF: The Greatest Professional Wrestling Match Of All Time The ROHbot Report: San Antonio/Dallas Previews, Bullies Dominate, and More The Challenge: Champs vs. Stars 3 - Episode 8 TGIF: CM Punk Gets One More WWE Victory, Constable Corbin, and More The ROHbot Report: Austin Aries Goes For The Gold, NY TV Results, And More Solo: A Star Wars Story Review TGIF: You Can't Teach Rap, NBC's World Wrestling Embarrassed, and More The Challenge: Champs vs. Stars 3 - Episode 7 The ROHbot Report: UK Tour Reviews, TV Recap, And More The Challenge: Champs vs. Stars - Episode 6 TGIF:The Lashley Girls Kill RAW, Merging Impact, and More The ROHbot Report: Honor United Previews, ROH TV Episode 348, And More The Challenge: Champs vs. Stars 3 - Episode 5 TGIF: Nia Gets Rowdy, All In All Sold Out, and More The Challenge: Champs vs. Stars 3 - Episode 4 The ROHbot Report: War of the Worlds Reviews, Chicago TV Taping Preview, And More TGIF: Pop Goes The Charlotte, Johnny Survivor, and More The ROHbot Report: War of the Worlds, Bound By Honor: Lakeland, And More TGIF: Hornswoggle Won The Rumble, Los Ingobernables de Jericho, and More The Challenge: Champs vs. Stars 3 - Episode 3 The Review - Avengers: Infinity War The ROHbot Report: War of the Worlds Main Events Announced and More TGIF: Roman Reigns Has The Worst Royal Rumble and More The Challenge: Champs vs. Stars 3 - Episode 2 The Challenge: Champs vs. Stars 3 - Episode 1 The ROHbot Report: Pittsburgh TV, Masters of the Craft Review, And More The Challenge: Vendettas - Reunion (Part 2) |
Even More From This Category
>>