---
Fightin' Words: Recap of UFC 131: Dos Santos vs Carwin and Strikeforce: Overeem vs Werdum, Preview of UFC on Versus 4, Breakdown of UFC 132: Cruz vs Urijah and Upcoming Shows

By Kevin Wallace Jun 22, 2011 - 4:29 PM
---
Recap of UFC 131: Dos Santos vs Carwin
Two weeks ago the UFC returned to Vancouver, Canada for a show looking to establish a couple of number one contenders and perhaps some future ones as well.
Junior Dos Santos (13-1) defeated Shane Carwin (12-2) by unanimous decision in a pretty one sided contest. Dos Santos was able to drop Carwin with punches in the late stages of the first round and came very close to finishing it. H pummeled him with punches as the referee looked on closely. Carwin was able to return to his feet but had blood dripping down his face due to several cuts above his nose and underneath his eye. In the second round, Carwin was able to land a nice left hook to Junior's jaw which stunned him but other than that, Junior was able to pick Carwin apart for fifteen minutes and win himself a dominant unanimous decision. With the win, Junior sets himself up for a UFC heavyweight championship title shot against Cain Velasquez later on in the year.
Kenny "Ken-Flo" Florian (14-5) defeated Diego Nunes (16-2) by unanimous decision in a real competetive and fun fight with neither man looking bad. This fight was a classic example of a loser making a name for himself despite the loss. This was Florian's first fight at 145 after two failed title shots at the 155 division and coming to the realization that his window for fighting is closing. With the featherweight division being only six months old in the UFC, the division is in need of a couple of "name fighters" or "stars" and Florian would and does qualify as both. Florian looked pretty good at his new weight and did well for himself both standing where he used his advanced reach to the best of his ability and on the ground where he was forced to work from his back a couple of times. Nunes hadn't been showcased in the UFC outside of a well earned victory over former featherwight champion Mike Brown and Nunes was able to drop Kenny with punches on two seperate occasions throughout the fight but couldn't capitalize. I don't think many people were left arguing over the judges verdict but the fight was still pretty damn close and definitely entertaining. The rumor now is that Kenny will challenge Jose Aldo for Aldo's championship later in the year, meanwhile, Nunes will probably find himself on another televised fight in his next outing due to his performance over a top level fighter.
Mark Munoz (11-2) defeated Demian Maia (14-3) by unanimous decision in another pretty fun fight that saw Munoz and Maia stay competetive with one another on the feet and on the ground. I expecred Munoz to blow Maia away if the two stood and traded but Maia has evolved greatly and help his own well. Munoz wasn't afraid of taking Maia to the ground and was able to avoid an active Maia from his back. This fight was close and although myself and the three others I watched this show with had the fight for Munoz, the fight could have probably gone either way.
Dave Herman (21-2) defeated Jon-Olav Einemo (6-2) by tko at
3:19 of the second round in a real fun albeit sloppy fight. Herman is a big dude at 6'4 but has the physique of a 205 pounder. Both men did a heck of a good job of entertaining the crowd in their debuts and I can't see how Einemo wont be welcomed back with open arms. Herman landed some vicious knees to Einemo's chin in the second round although he took some good punches while throwing them. For a moment, both men began swinging wild punches and either man could have went down but eventually Herman was able to finish Einemo with punches as the referee called in to stop this one. With all the talent in the UFC Heavyweight division, whoever both these men are matched with in their next fight should easily make for entertaining fights.
Donald "Cowboy" Cerrone (15-3) defeated Vagner Rocha (6-2) by unanimous decision in a pretty underwhelming opener. The story of the fight here is that Cerrone picked apart Rocha on the feet, taking Rocha's legs out from underneath him on a couple of occasions. Cerrone gave Rocha respect on the ground by not messing around with him down there although when the fight actually did get to the ground, Cerrone came close to submitting Rocha with a guillotine choke. Cerrone is now 2-0 in the UFC and a step up in competition should be expected in his next fight.
Spike Fights
Sam "Hands of Stone" Stout (17-6-1) defeated Yves Edwards (40-17-1) by knockout at 3:52 of the first round in a good scrap that saw Edwards get Stout down early but wasn't able to do anything with the Canadian. Stout was able to land a BIG left hook that connected perfectly with Edwards chin and ended his night. This knockout is huge for Stout as many were wondering how someone could be called "Hands of Stone" without ever knocking anyone out in over ten UFC fights. The win is one of the biggest of Stouts career who was all smiles following the victory and took home an extra bonus for knockout of the night.
Chris Weidman (6-0) submitted Jesse Bongfeldt (15-5-1) to a guillotine choke at 4:54 of the first round in a fight that saw Weidman control Bongfeldt on the ground and eventually submitt him in the late stages of the first round. Good victory for Weidman who has been considered a real prospect in the sport and is now 2-0 in the UFC. Look for the UFC to continue to slowly build Weidman in his next couple of fights to string together some sort of winning streak against lower level middleweights. Weidman was awarded submission of the night for the victory.
Facebook Fights
Darren Elkins (12-2) defeated Michihiro Omigawa (12-10-1) by unanimous decision
"The Polish Experiment" Krzysztof Soszynski (26-11-1) defeated Mike Massenzio (12-5) by unanimous decision
Nick Ring (12-0) submitted James Head (7-2) to a rear naked choke at 3:33 of the third round
Dustin Poirier (10-1) defeated Jason Young (8-4) by unanimous decision
Joey Beltran (13-5) defeated Aaron Rosa (16-4) by tko at 1:26 of the third round
Recap of Strikeforce: Overeem vs Werdum
Strikeforce held a show this weekend with two big fights that would see two heavyweights advance to the semi finals of the Strikeforce heavweight tournament. Although the two big fights looked good on paper, they both turned out to be disappointments.
"The Demolition Man" Alistair Overeem (35-11) defeated Fabricio Werdum (14-5-1) by unanimous decision in a disappointing main event. Werdum spent most of the fight trying to get this on to the mat with Overeem refusing to allow it to go there. Overeem was able to land a couple solid combinations standing but didn't blow Werdum away the same way most expected. Werdum was actually able to stun Overeem a couple of times on the feet but surprisingly seemed more gassed than Overeem. Werdums strategy of pretending to be dropped with punches in hopes of Overeem following him to the mat would have been more effective against someone with less experience than Overeem but The Reem was patient and wasn't going to allow Werdum a second win over him. With the win, Overeem advances himself in the Strikeforce heavyweight tourament and will take on Antonio "Bigfoot" Silva in the semi finals.
"The Babyface Assasin" Josh Barnett (30-5) submitted Brett "Grimm" Rogers (11-3) to a head and arm choke at 1:17 of the second round in another underwhellming Strikeforce heavyweight tourament match. Barnett was able to wrestle Rogers to the ground the way it was predicted and did little more that try to smother the big striker in the first round. In the second round Barnett was able to apply a head and arm choke and before it was put on entirely, Rogers tapped out. The win sees the professional wrestler make it the the semi-finals and take on Sergei Kharitonov in his next fight later on in the year.
Daniel Cormier (8-0) defeated Jeff "The Snowman" Monson (42-12) by unanimous decision in a very on sided fight that same Cormier keep the fight standing and rock Monson with several punches that had him stumbling. Big win here for Cormier over Monson who's been in there with some big names.
Chad Griggs (11-1) defeated Valentin Overeem (29-26) by tko at 2:08 of the first round. Griggs got the takedown early and landed some solid punches in mount until Overeem tapped out. Another spectacular finish on a low calibre opponent for the full time firefighter. Not bad Griggs.
Jorge Masvidal (22-6) defeated KJ Noons (10-4) by unanimous decision
Preliminary Fights
Justin Wilcox (11-3-1) fought Gesias "JZ" Cavalcante (15-4-2) to a no contest
Preview of UFC on Versus 4
The UFC returns to the Versus network this Sunday for what should be a pretty entertaining show.
Rick Story (13-3) vs Nate "The Great" Marquardt (31-10-2)- Marquardt is making his welterweight debut after competing at middleweight for his entire UFC career and challenging him on short notice is Rick Story who is just coming off a big victory over top ten ranked Thiago Alves. Marquardt has some great stand-up but he has been known to lose fights to top level wrestlers which is ecactly what Story is. Story's gameplan is going to be much different that Anthony Johnson's who was Marquardt's original opponent and I''m not entirely sure if he's made those adjustments to his training camp although I would have to assume that training at Jackson's camp, I'm sure they have. Story has a great chin but tends to leave himself open to receive punches and if your going to tempt fate and test that chin each fight. Eventually it will break. If Marquardt can keep this standing he's got a better chance of finishing it but if Story works his wrestling, it could favour him and leave us with a fairly boring fight. My money's on the larger and more experienced Marquardt here
Prediction: Marquardt by tko
Cheick Kongo (15-6-2) vs Pat Barry (6-2)- On paper, this has all the makings to be a terrific stand-up battle with two hard hitting heavyweights. Barry throws some of the most vicious leg kicks you'll ever see in MMA and has some great accuracy with his punches while Kongo has terrific hands and technical striking. Barry would most likely have the edge standing but he hasn't been overly impressive lately and Kongo has a far better ground game if he's able to get the fight there. Kongo's back is to the wall here as he's 0-1-1 in his last two UFC fights, both times looking rather underwhelming. I'm willing to bet Kongo works his ground game in this one and steals himself a much needed victory while taking down Barry at will and avoiding having this one contested on the feet.
Prediction: Kongo by unanimous decision
John "Doomsday" Howard () vs "The Immortal" Matt Brown (11-10)- This fight has the potential to steal the show as both men are known for crowd pleasing fights. Both men were originally scheduled to face different opponents as Rich Attonito was to take on Brown and Martin Kampmann to face Howard but due to the Kampmann injury, the card was re-shuffled and we now get this one. Neither Howard nor Brown have much of a ground game and both men should be looking to add another knockout to their records. Howard has a good chin, powerful punches and probably takes the edge when it comes to the ability to get the fight to the ground but Brown can't be counted out. Brown was able to have a fairly close fight with top welterweight contender Dong Hyun Kim which is definitely something to be proud of but Brown has shown in the past that his submission defense is an area where he needs work. I don't know if Howard is going to be able to finish Brown but he should be able to take Brown wherever the fight is contested.
Prediction: Howard by unanimous decision
Christian Morecraft (7-1) vs Matt Mitrione (4-0)- This is another fight that will most likely be contested on the feet with both men having legitimate power in their hands. For anyone who reads this often, Im not sold on Mittrione who has won all his UFC fights against low level heavyweights however I dont thinks Morecraft has the ability to beat him. Morecraft is coming off a loss in an impressive showing against Stefan Struve that saw him rock and almost finish Struve several times in the first round only to get careless and keep his hands down and get knocked out in the early stages of the second round. Im not counting Morecraft out cause he did look pretty good against Struve and if he can rock Mittrione and stay patient he can probably win this one but due to the limited exposure ive had on Morecraft, I think Mittrione finds that chin and exposes it again.
Prediction: Mittrione by tko
Tyson Griffin (14-5) vs Manny "The Anvil" Gamburyan (11-5)- This is Griffin's first UFC fight at Featherweight after losing his last three fights and he finds himself in a fight where the winner will more than likely be let go. Gamburyan is a fighter who has good hands and great Judo game but unfortunately he's one of the smaller fighters in the division and should be giving up a significant reach advantage to Tyson. Tyson has great wrestling with a defensive game that doesnt make him easy to submit. Manny is a difficult guy to finish and I can see Tyson fighting a safe fight and getting a much needed win by unanimous decision
Prediction: Griffin by unanimous decision
Facebook Fights
Javier "Showtime" Vazquez (15-5) vs Joe "Daddy" Stevenson (31-13)- Prediction: Vazquez by unanimous decision
Joe "J-Lau" Lauzon (19-6) vs Curt Warburton (7-2)- Prediction: Lauzon by submission
Daniel Roberts (12-2) vs Rich Attonito (9-4)- Prediction: Roberts by submission
Charlie Brenneman (13-2) vs TJ Grant (16-5)- Prediction- Prediction: Brenneman by unanimous decision
Charles " Do Bronx" Oliviera (14-1) vs Nik "The Carnie" Lentz (21-3-2)- Prediction: Oliviera by unanimous decision
Ricardo Lamas (9-2) vs Matt "The Wolverine" Grice (13-3)- Prediction: Lamas by submission
Edward Faaloloto (2-1) vs Michael Johnson (8-5)- Prediction: Johnson by unanimous decision
Breakdown of UFC 132: Cruz vs Faber
On July 2nd the UFC returns to Las Vegas for what on paper looks like one damn fine show with the UFC's first bantamweight title defense between two competitors who don't seem to like one another..
UFC Bantamweight Championship - "The California Kid" Urijah Faber (25-4) vs Dominick Cruz (17-1)- I know my personnal opinion is not always needed but you're reading my column so Im sure it has to mean a little. That being said, Dominick Cruz is my favourite fighter and the most entertaining fighter out there today. Do I think that everyone feels the same way? No, in fact I KNOW a lot of people that couldn't disagree with me less. Cruz is easily the most active fighter you could watch with fast movement and in and out striking. If I could compare him to one fighter Id probably say he fights like Frank Edgar. Cruz has some great takedown defense and mostly likes to wear out his opponents and win decisions which is something Faber has done in the past. Faber is easily the most and possibly only WEC fighter with legitimate charisma and has defeated Cruz before, in Cruz's only career loss. Both men are quite different than their first meeting and there seems to be a lot of resentment between them which should make for an intense staredown and even more intense fight. Urijah trains at Alpha Male and that camp is well known for their wrestling and guillotine chokes and he was able to submit Cruz the first time but I think Cruz has made the more drastic changes to his game than Urijah and I dont think Urijah is going to find it easy to get Cruz down. Urijah has some powerful punches but I think the volume that Cruz uses will be far too much for Urijah. It'll be interesting to see just what type of draw Cruz, Faber and the featherweight division is as this is the first time the featherwight championship has been defended in the UFC.
Prediction: Cruz by unanimous decision
"Crippler" Chris Leben (25-7) vs "The Axe Murderer" Wanderlei Silva (33-10-1)- This fight should end in a knockout and be one of the all time most entertaining stand up batlles in UFC, on paper that is. Chris Leben is a striker with good power in his hands, a great chin, and aggressive style which is everything Silva has, with the exception of a great chin. Silva hasnt fought in over a year and seems to be winding down his career and looking to take on a fighter who could best complement his style but Wandy is getting older and has slowed down a lot since his days of steamrolling opposition in PRIDE and I dont think picking and choosing his opponents is a wise decision especially if youve chosen Leben. Leben is coming off only his second career knockout, a loss to middleweight contender Brian Stann and looking to get back on track after winning three fights in a row prior to taking on Stann. Both men's styles could be considered wreckless but Leben tends to keep his hands up a lot more and blocks more punches then Wandy who goes balls to the wall with his striking. Either man is quite capable of knocking out the other but I like Leben's chances here as he should be able to find Wandy's chin and finish the fight with a knockout if he can stay out of Wandy's clinch where Wandy holds the edge.
Prediction: Leben by knockout
Ryan Bader (12-1) vs "The Huntington Beach Bad Boy" Tito Ortiz (15-8-1)- No way in hell can Tito win this as Bader is WORLDS better both standing and with the wrestling... and has actually won fights since 2006. Bader has some powerful punches and elite level wrestling not too mention the fact that Tito is going through a break-up with Jenna Jameson, a court case which he has been named in and of course the pressure of knowing that if he loses his UFC tenure and career are and may be in fact over. Goodbye Tito, we wont miss you!
Prediction: Bader by unanimous decision
Dong "Stun Gun" Hyun Kim (14-0) vs "The Natural Born Killer" Carlos Condit (26-5) - I'm real excited for this one as these are two of my favorite UFC welterweights. Kim has some terrific single leg takedowns that he makes look flawless while Condit is an active striker with a well rounded ground game. Kim has been given the label of "boring" by some due to his lay and pray type strategy but I dont think thats fair as the guy has some good punching power, strikes from the top and great control when on the ground. Condit is coming off a big win in his last fight with Dan Hardy in which he was able to knockout the tough Brit. As good and quick as Condit is on the feet, I think Kim is able to get him to the mat repeatedly and keep him there for 15 minutes to win this one. One of Kim's best attributes is his ability to get people to the ground and keep them in the center of the cage as opposed to against the fence where his opponent may be able to use the fence and return the fight to the feet and I think that's something he utilizes in this one.
Prediction: Kim by unanimous decision
Matt Wiman (13-5) vs Dennis Siver (18-7)- Matt Wiman fighting on a main card? Wiman is a good mid level UFC lightweight with nice takedowns and great submission defense but boy of boy is he in for a fight. Siver is coming off the biggest win of his career over George Sotiropoulous in a fight not many felt he can win. Sotiropoulous has awesome submissions but wasnt able to get Siver to the mat and Siver picked him apart for 15 minutes because of it. Sivers takedown defense is above average and although Wiman has some nice takedowns he will more than likely be unable to get the fight to the mat and if he did, Siver can spring back up quickly. Wiman is going to have to apply constant pressure throughout the fight if he hopes to stay competetive but Siver will annihilate Wiman standing using front kicks and spinning back kicks and should be able to finish this one rather quickly.
Prediction: Siver by tko
Spike Fights
Shane Roller (10-3) vs Melvin "The Young Assassin" Guillard (27-8-2)- I'm not a big fan of Melvin or his attitude not to mention that I truly feel that he's been favored in his match making and this fight is no exception. Roller is coming off a victory over former WEC lightweight champion Jamie Varner and looking to climb the ranks with a win over Melvin. The one area that, on paper, Roller has the edge is wrestling, a style that Melvin has had many problems with throughout his career. Melvin can and should be able to win this fight if it stays standing as Roller is someone who really isn't a fan of being punched. Melvin has shown some improvement with his takedown defense since moving to training at Greg Jackson's camp and although "on paper" Roller should be able to take down Melvin, Melvin should be able to return to his feet quickly and batter Roller standing for a stoppage in the later stages of the fight.
Prediction: Guillard by knockout
Rafael Dos Anjos (14-5) vs George Sotiropolous (14-3)- Poor Dos Santos! Despite being 4-3 in the UFC, Dos Anjos has faced the higher level of competition throughout his career. Losses to Clay Guida, Tyson Griffin and Jeremy Stephens are not exactly all that bad especially when he was beating both Clay and Jeremy in those fights prior to being finished. George is a top ten UFC lightweight no questions asked and again Dos Anjos finds himself facing off against a tough opponent. Both men are pretty even on the feet and although Dos Anjos has some good submissions, George is a wizard down there and should be able to finish Dos Anjos. Never count Dos Anjos out as he's a real game opponent who lays down for no one. This should be a fun ground game fight.
Prediction: Sotiropolous by submission
Prielim Fights
Brian Bowles (9-1) vs Takeya Mizugaki (14-5-2)- Prediction: Bowles by unanimous decision
Aaron Simpson (9-2) vs Brad Tavares (7-0)- Prediction: Simpson by unanimous decision
Anthony Njokuani (13-5) vs Andre Winner (11-5-1)- Prediction: Njokuani by unanimous decision
Erik Koch (12-1) vs Cub Swanson (15-4)- Prediction: Koch by unanimous decision
Upcoming Events
Strikeforce: Fedor vs Henderson- July 30th, 2011
Fedor "The Last Emperor" Emelianenko (31-3) vs Dan Henderson (27-8)
UFC Featherweight Women's Championship- Maloes "Rumina" Connen (19-4) Meisha "Takedown" Tate (11-2)
Muhammed "King Mo" Lawal (7-1) vs Roger Gracie (4-0)
Ovince St. Preux (10-4) vs Rafael "Feijao" Cavalcante (10-3)
Paul "Semtex" Daley (27-10-2) vs Evangelista "Cyborg" Santos (18-14)
Scott 'Hands of Steel" Smith (17-8) vs Tarec "Sponge" Saffiedine (10-3)
UFC 133 from Philadelphia, Pennsylvania- August 6th, 2011
"Sugar" Rashad Evans (15-1-1) vs Phil "Mr. Wonderful" Davis (9-0)
Alessio "Legionarius" Sakara (15-8) vs Jorge "El Conquistador" Rivera (19-8)
Vitor "The Phenom" Belfort (19-9) vs Yoshiro "Sexyama" Akiyama (13-3)
Constantinos Phillippou (7-2) vs Rafael Natal (11-3-1)
Dennis "Superman" Halman (50-13-2) vs Brian Ebersole (47-14-1)
Antonio Rogerio Noguiera (19-5) vs Rich "Ace" Franklin (28-6)
Mike Pierce (12-3) vs Johnny Hendricks (10-1)
Nam Phan (16-8) vs Mike Thomas Brown (24-8)
Alexander "The Mauler" Gustafsson (11-1) vs Vladimir "The Janitor" Matyushenko (26-5)
Ivan Menjivar (22-8) vs Nick Pace (6-1)
Rory "The Waterboy" MacDonald (11-1) vs Mike "Quicksand" Pyle (21-7-1)
Chad "Money" Mendes (10-0) vs Rani Yahya (16-6)
UFC on Versus 5 from Milwaukee, Wisconsin- August 14th, 2011
Amir Sadollah (5-2) vs Duane "Bang" Ludwig (20-11)
Cole Miller (17-5) vs TJ "The Spider" O'Brien (16-4)
Karlos Vemola (8-1) vs "Ronny Markes" Marki Sales Da Silva (11-1)
Jim Miller (20-2) vs Ben Henderson (13-2)
Dan "The Outlaw" Hardy (23-9) vs Chris "Lights Out" Lytle (30-18-5)
Danny "Last Call" Castillo (11-3) vs Jacob "Christmas" Volkman (12-2)
Edwin Figueroa (7-1) vs Jason Reinhardt (20-2)
Jared Hamman (12-3) vs C.B "The Doberman" Dollaway (11-3)
Joseph Benavidez (14-2) vs Eddie Wineland (18-7-1)
Leonard "Bad Boy" Garcia (15-7-1) vs Alex "Bruce Leroy" Caceres (4-3)
Kyle "KO" Noke (19-4-1) vs "Filthy" Tom Lawlor (7-3)
"Relentless" Paul Taylor (11-6-1) vs John "The Bull" Makdessi (9-0)
UFC 134 from Rio de Janiero, Brazil- August 27th, 2011
UFC Middleweight Championship- Anderson "The Spider" Silva (28-4) vs Yushin "Lionheart" Okami (26-5)
Mauricio "Shogun" Rua (19-5) vs Forrest Griffin (18-6)
Antonio Rodrigo "Minotauro" Nogueira (32-6-1) vs Brendan Schaub (8-1)
Stanislav Nedkov (11-0) vs Luiz Cane (11-3)
Thiago Tavares (15-4-1) vs Spencer "The King" Fisher (24-7)
Edson Barboza (8-0) vs Ross Pearson (12-4)
Paulo Thiago (13-3) vs David Mitchell (11-1)
Rousimar Palhares (12-3) vs Alexandre Ferreira (18-6)
Mike Swick (14-4) vs Erick Silva (12-1)
Ian "The Barn Owl" Loveland (14-8) vs Yves "Tiger" Jabouin (15-7)
Yuri "Marajo" Alcantra (25-3) vs Antonio "Pato" Carvalho (13-4)
UFC Fight Night 25 from New Orleans, Louisiana- September 17th, 2011
Alan "The Talent" Belcher (16-6) vs Jason "The Athlete" MacDonald (25-14)
Court "Crusher" McGee (13-1) vs Dong Yi "The Hammer" Yang (10-1)
Erik "New Breed" Koch (12-1) vs Jonathan Brookins (12-3)
UFC 135 from Denver, Colorado- September 24th, 2011
UFC Light Heavyweight Chanmpiionship- Jon "Bones" Jones (13-1) vs Quinton "Rampage" Jackson (32-8)
Matt Hughes (45-8) vs Diego "The Dream" Sanchez (23-4)
Ben Rothwell (31-7) vs Mark Hunt (6-7)
Norifumi 'Kid' Yamamoto (18-4) vs Damacio "The Angel of Death" Page (15-6)
Travis "Hapa" Browne (11-0-1) vs Rob "The Bear" Broughton (15-5-1)
Nate Diaz (13-7) vs Takanori "The Fireball Kid" Gomi (32-7)
UFC 137 from Las Vegas, Nevada- October 29th, 2011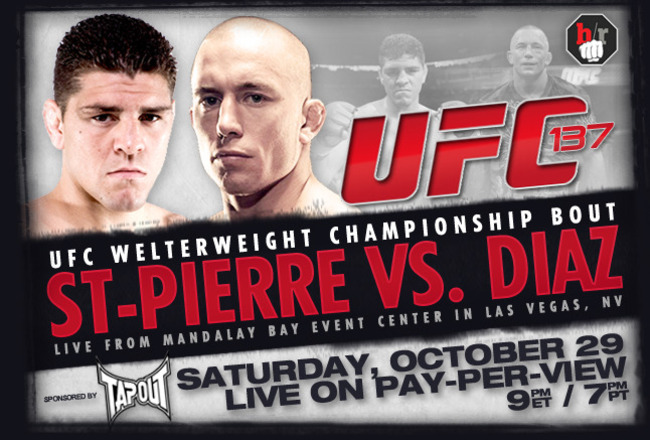 UFC Welterweight Championship- Georges St. Pierre (22-2) vs Nick Diaz (25-7)
That's all for this week, Ill be back in a few with a Recap of UFC on Versus 4 and UFC 132: Cruz vs Faber as well as a preview of Strikeforce: Fedor vs Henderson and breakdown of UFC 133: Evans vs Davis. Take care everyone!
---
---
blog comments powered by Disqus
| | |
| --- | --- |
| My Son Lucas JG's Facebook Insanity: Let's Infuriate Your Friends (33 Minutes) James Guttman's Free 2009 Interview With Mr. Fuji JG's 10/19/15 Raw Insanity: Hell of a Sell JG's 10/5/15 Raw Insanity: Flashing The Brock Signal JG's Insanity: The 12th Annual WWE Memorial Day Barbecue JG's Insanity: The 11th Annual WWE Memorial Day Barbecue JG's Ten Facebook Posts To Annoy Your Friends JG's Ten Beloved TV Characters Who Were Obvious Psychopaths JG's 10 More Fun Ways To Infuriate People Online JG's Ten Insider Wrestling Terms You Shouldn't Use When Talking About Something Besides Wrestling JG's Insanity: The 10th Annual WWE Memorial Day Barbecue JG's Ten Demented Ways We Misused Our Toys JG's 15 Fun Ways To Infuriate People Online JG's Ten Sesame Street Muppets That Are Missing And Presumed Dead JG's Scene From WWE Raw (After Vince McMahon Goes Senile) JG's Ten Signs You Were A Wrestling Fan Of The 1980s JG's Insanity: Stone Cold's Greatest Moments (Without Stone Cold) JG's Ten Wrestling Moves That Really Hurt When You Try Them At Home JG's Insanity: Everybody Is Tito Santana JG's Ten Reasons Why WWF LJN Figures Were The Greatest Toys Ever JG's Ten Judges Who Would Make American Idol Worth Watching JG's 2012 in Pictures (As Hulk Hogan Will Remember It) JG's Quintuple Bypass Surgery Insanity JG's Five Episodes of Diff'rent Strokes That Scarred Me For Life JG's Ten Facebook Posts That Are Slowly Driving Me Crazy JG's Ten Truly Terrible Reality Competition Shows JG's Ten 1980s TV Characters Who Taught Me To Hate JG's Ten Wrestling Characters Who Went Through Massive Personality Changes JG's Ten Old School Wrestlers Who Would Terrorize Today's PG WWE | The ROHbot Report: Honor United Previews, ROH TV Episode 348, And More The Challenge: Champs vs. Stars 3 - Episode 5 TGIF: Nia Gets Rowdy, All In All Sold Out, and More The Challenge: Champs vs. Stars 3 - Episode 4 The ROHbot Report: War of the Worlds Reviews, Chicago TV Taping Preview, And More TGIF: Pop Goes The Charlotte, Johnny Survivor, and More The ROHbot Report: War of the Worlds, Bound By Honor: Lakeland, And More TGIF: Hornswoggle Won The Rumble, Los Ingobernables de Jericho, and More The Challenge: Champs vs. Stars 3 - Episode 3 The Review - Avengers: Infinity War The ROHbot Report: War of the Worlds Main Events Announced and More TGIF: Roman Reigns Has The Worst Royal Rumble and More The Challenge: Champs vs. Stars 3 - Episode 2 The Challenge: Champs vs. Stars 3 - Episode 1 The ROHbot Report: Pittsburgh TV, Masters of the Craft Review, And More The Challenge: Vendettas - Reunion (Part 2) TGIF: Miz vs. Bryan Finally, Nikki Not Seeing Cena, and More The ROHbot Report: Supercard of Honor XII, Masters of the Craft, And More A Quiet Place: Hardly Horror The Challenge: Vendettas - Reunion (Part 1) TGIF: Unhappy Rusev Day, After The Mania, and More The Challenge: Vendettas Episode 14 The ROHbot Report: Flip's Proving Ground, Returning to Florida, and More TGIF: Miz Baby Face, Will Ospreay Survive, and More The ROHbot Report: Supercard of Honor XII Preview, Defy or Deny, More The Challenge: Vendettas - Episode 13 TGIF: Shane-moa Joe, Gray Wyatt, and More Worth Your Money? "ROH Elite" Halloween 2018: What To Expect TGIF: Welcome Back Daniel, Maybe Hulk Too, and More |