---
Fightin' Words: Recap of UFC 132 and UFC on Versus 4, Breakdown of Strikeforce: Fedor vs Henderson, Preview of UFC 133: Evans vs Davis, and The Cards For All Upcoming Shows

By Kevin Wallace Jul 26, 2011 - 1:55 PM
---
Recap of UFC 132: Cruz vs Faber 2
The UFC was live from Las Vegas on July 2nd for their annual 4th of July show and the show provided some early fireworks for the weekend!
UFC Bantamweight Championship - Dominick Cruz (1 8 -1) defeated "The California Kid" Urijah Faber (25- 5 ) by unanimous decision in a very competetive fight that could have probably gone either way. I actually had Faber w inning the fight although it was close enough that neither verdict would have been all that controversial. A fight like this really does touch on some of the problems with MMA's scoring system. Faber dropped Cruz on three occasions throughout the fight and although Cruz was dropped, I believe a couple of times he was off balance and he was able to do enough even in those rounds to be awarded by the judges. With the win, Cruz avenges his only career loss and seemingly sets up a third battle between the two somewhere down the line. Although this is Faber's third title shot in the last two years he's a legitimate draw in a division they need stars and if Faber can get a couple wins in the next 6-9 months then another fight with Cruz would make a lot of sense. I for one really enjoyed this fight and believe Im not in the minority here. Both men were awarded another $70 000 for fight of the night.
"Crippler" Chris Leben (2 6 -7) knocked out "The Axe Murderer" Wanderlei Silva (33-1 1 -1) at 0:27 of the first round in a quick fight that ended much the way most felt it would. Wanderlei landed a couple punches to Leben's head in the opening seconds of the fight but Leben was able to follow that up with an overhand right that stunned Wanderlei and capitalized with some uppercuts in the clinch that ended Wanderlei's night. The punches that Leben threw and landed were not his most powerful shots and the fact that they were able to finish Wanderlei so quickly probably spells the ends of The Axe Murderers career as thats 4 brutal knockouts he's been on the receiving end of in the last 5 years and I don't think he can take anymore.
"The Huntington Beach Bad Boy" Tito Ortiz (1 6 -8-1) submitted Ryan Bader (12- 2 ) to a guillotine choke at 1:56 of the first round in what would have to be described as one of the biggest upsets of the year. Tito stunned Bader with a right hook at the beginning of the fight and followed Bader to the ground where he yanked on a guillotine choke with everything he had in him and earned a MUCH needed victory over a top ten UFC light heavyweight and giving himself another lease on his career. Before the fight, Tito knew a loss would force him to retire and the look on this man's face when he came out to fight was a look of sadness, mixed with anger and a hint of confidance. Although this fight was pretty quick, it's tough to say if it was a case of Tito being "back", Bader on an "off" night or a couple of other intangibles but to be honest, I dont think many people really care. Tito is a genuine draw in this business and although the majority of his "fans" don't even like Tito, he still knows how to sell a fight and people love to pay to watch him get in the octagon. Expect Tito to take on Forrest Griffin in his next fight which would be their third outing together with each man holding a victory over the other. Tito was awarded an additional $70 000 for submission of the night even though there were no other submissions on the show.
"The Natural Born Killer" Carlos Condit (2 7 -5) knocked out Dong "Stun Gun" Hyun Kim (14- 1 ) to a flying knee and punches at 2:58 of the first round in an impressive showing for Condit. Kim was able to get Condit down in the early minutes of the fight but couldn't do anything when he got him there as Condit was able to return to his feet quickly. Condit threw a big flying knee that rocked Kim and sent him to the mat where Condit landed some more punches for good measure until the referee stepped in to stop this one. Although Kim is not a "big name" UFC fighter, he was considered one of the best in the division and a finish of him is a giant win for Condit. The win sees Condit only one or two more fights away from a title shot and someone like a Jon Fitch, Josh Koscheck or BJ Penn should most likely find themselves as Condit's next opponent. Condit was given an additional $70 000 for his knockout of the night.
Dennis Siver (1 9 -7) defeated Matt Wiman (13- 6 ) by unanimous decision in a fight that really could have went either way. Wiman was the bigger guy and was able to control Siver against the cage and even get him to the mat a couple of times but there were many stand-offs throughout the fight with neither man really doing all that much to unanimously give them the decision. We're all tired of hearing it but there is always the potential of a questuinable decision any time you leave it in the judges hands and when you have a fight as close as this then there really isn't thts controversial.
Spike Fights
Melvin "The Young Assassin" Guillard (2 8 -8-2) knocked out Shane Roller (10- 4 ) at 2:12 of the first round in another impressive performance for Guillard. Guillard bounced around the cage early and was able to drop Roller on two occasions with punches and the second time he did, he followed Roller to the mat and landed some follow up shots for good measure until Roller went completely out and the referee stepped in to stop it. Guillard is 5-0 on 4th of July weekend now and asked for a fight at the Texas show later in the year. Guillard continues to slowly climb the ranks of the lightweight division and a fight with Denis Siver or Anthony Pettis probably makes a lot of sense right now.
Rafael Dos Anjos (1 5 -5) knocked out George Sotiropolous (14- 4 ) at 0:59 of the first round due to punches in an upset. Sotiropolous has never had all that great of a chin and Dos Anjos proved it when he dropped George early with a right hook and followed that up with some more punches until the referee put a stop to it. The loss marks George's second in a row and at one point this year many people felt he would get a title shot if he kept winning but unfortuinately George hasn't been able to do that. Dos Anjos has always been one of those guys you can't sleep on and even in losses the guy looks good, case in point his fights with Clay Guida, Tyson Griffin and Jeremy Stephens. Dos Anjos' career seems to be back on track and he should find himself in competition with a top ten UFC lightweight in his next fight.
Facebook Fights
Anthony Njokuani (1 4 -5) defeated Andre Winner (11- 6 -1) by unanimous decision
Brian Bowles ( 10 -1) defeated Takeya Mizugaki (14- 6 -2) by unanimous decision
Aaron "A-Train" Simpson ( 10 -2) defeated Brad Tavares (7- 1 ) by unanimous decision
Jeff "Hellbound" Hougland (10-4) defeated Donny Walker (15-7) by unanimous decision
Recap of UFC on Versus 4
A few months back the UFC returned to the Versus network for a pretty strong card with one of the biggest comebacks in UFC taking place in the main event.
Cheick Kongo (16-6-2) knocked out Pat Barry (6-3) at 2:39 of the first round. Barry landed some vicious leg kicks early to which Kongo responded with some of his own. After a moment of feeling one another out, Barry began rocking Kongo with several combinations that had Kongo dropped and on his knee. Referee Dan Miragliotta came as close as humanly possible to stopping this one, at one point even placing his hands on Barrys back but second guessed himself and decided to allow it to continue which actually helped out Kongo greatly when he was able to land two overhand rights that dropped Barry and followed it up with three shots on the ground that had Barry sleeping and the referee forced to step in and stop it. As a main event, this fight was as thrilling as it gets and ended up more entertaining than what the original main of Nate Marquardt and Rick Story would have produced. I'm unsure of where the win or loss puts either guy but Barry is a small heavyweight and I don't know how possible it is for him to get down to 205 but it may be something for him to think about. Kongo may find himself against a Matt Mitrione, Stephan Struve or even Brock Lesnar in his next fight and is also an even bigger winner after taking home an extra $50 000 for the knockout of the night .
Charlie "The Spaniard" Brenneman (14-2) defeated Rick Story (13-4) by unanimous decision. Charlie Brenneman took the most of a late minute replacement roll and outwrestled the highly touted Story for three rounds. After Nate Marquardt was forced to pull out of his fight with Story due to problems from his Testosterone Replacement Therapy , Brenneman filled in as he was originally to take on TJ Grant at the show but Grant became ill and Brennaman left without a fight. Here's where it gets weird, Dana White must have known that something was going on with Nate and instead of letting Brenneman get back to training, Dana told him to continue with the weight cut as if he was to fight. Sure enough, Nate was unable to fight and Brennaman got the nod on 24 hour notice to fight in the semi main event in his hometown. Story seemed to be breathing hard in the first round, most likely due to his body having not been adjusted to two fights in a month and Brenneman was able to outwrestle Story impressively. For a fight contested mostly on the mat, this was actually a fun and competetive match up with two high level wrestlers. The win for Brenneman is the biggest of his career and puts him hovering around the number 10 spot in the UFC's welterweight division. I don't see the loss hurting Story too much as he did take this fight on only a few weeks notice and with him having recently defeated top contender Thiago Alves, I think the loss may be a small hiccup but he should still find himself facing a top contender in his next fight.
" The Immortal " Matt Brown (12-10) defeated John " Doomsday " Howard (14-7) by unanimous decision. Matt Brown was able to take advantage of a lackluster John Howard and earn himself a much needed victory after losing his last three. Pretty uneventful fight here as Howard did very little in terms of offense and was even beaten soundly on the ground, something not expected. The less time spent on this one the better and Howard was released from the UFC following the loss.
Matt Mitrione (5-0) knocked out Christian Morecraft (7-2) at 4:28 of the second round. Mitrione has finally one over this columnist! Although neither is considered a legit top contender to Cain Velasquez's UFC heavyweight championship, there is no more denying Mitrione's durability or fists. Mitrione was able to hurt Morecraft with a straight right hand in the first round and even dropped him at one point but was patient, not rushing in on Morecraft instead continuing to keep the fight standing and picking Morecraft apart. Morecraft was actually able to get Mitrione to the ground a couple of times but wasn't able to do anything more then just lay on top of him until the referee re-stood up both men. Mitrione continued to blast Morecraft with punches until Morecraft finally dropped and covered up. I'm all for having a definitive winner in all fights and sometimes its understandable to land one or two extra punches or wait for the referee to pull you off the guy but Mitrione showed a lot of class by walking away, knowing the fight was over instead of landing more unnecessary punishment to Morecraft's prone body. Mittrione continues to impress people and although with his lack of experience and age he may never be considered a top contender, he IS coming along well and a fight with someone like a Travis Browne or Cheick Kongo seems very likely.
Facebook Fights
Tyson Griffin (15-5) defeated Manny " The Anvil " Gamburyan (11-6) by unanimous decision. A competetive but boring fight here with Griffin looking kind of flat at 145. Griffin was able to edge out Manny standing and on the ground but just barely as he was awarded the 29-28 score from two judges and 29-29 score from the third.
Javier " Showtime " Vazquez (16-5) defeated Joe " Daddy " Stevenson (31-14) by unanimous decision. Pretty boring fight here with Vazquez out wrestling Stevenson for 15 minutes and seemingly giving Stevenson the boot from the UFC as this is his fourth loss in a row.
Joe " J-Lau " Lauzon (20-6) submitted Curt Warburton (7-3) to a kimura at 1:58 of the first round. Lauzon manhandled Warburton throughout the entire fight and powered his way into a submission victory with a kimura in a one sided ass kicking clinic. Lauzon took home an extra $50 000 for submission of the night as well as Warburton's arm.
Rich Attonito (10-4) defeated Daniel Roberts (12-3) by unanimous decision. Attonito was able to outclass Roberts wherever this one took place and earned another victory after 15 minutes.
Charles " Do Bronx " Oliviera (15-1) submitted Nik " The Carnie " Lentz (21-4-2) to a rear naked choke at 1:48 of the second round. This fight was just plain weird on a couple of levels. Lentz has always been considered to be a boring fighter although a boring fighter that finds a way to win while Oliveira has yet to be involved in a bad fight. This fight ended up being very entertaining as it lasted, even winning fight of the night honours and making both men recipients of an additional $50 000. The fight was contested all over the place with Oliveira having the edge but in the second round Oliveira landed an illegal knee while Lentz was still down which hurt Lentz and eventually lead to Oliveira submitting him to a rear naked choke. Although the knee was illegal, the referee didn't stop this one which he should have and Lentz now needs eye surgery due to the knee. The crowd which was far more educated throuhout the night then most , began booing loudly as soon as the knee landed and seemed genuinely pissed off at Oliveira. Joe Rogan commented in the post fight interview that he had just talked to the commision and they would be reviewing the outcome. After a few days of deliberation, the commission ruled the fight a no contest.
Ricardo Lamas (10-2) knocked out Matt " The Wolverine " Grice (13-4) at 4:41 of the first round. Grice never really got anything off in this one as Lamas took the fight to him and finished him with punches in the early stages of the first round.
Michael Johnson (9-5) defeated Edward Faaloloto (2-2) by tko at 4:42 of the first round. Great opener here with both men throwing and landing leg kicks and punches with ill intent. Johnson seemed to find his range half way through the first round and rocked Faalaloto with punches to finish him off.
Breakdown of Strikeforce: Fedor vs Henderson
-
On July 30th, 2011 , Strikeforce presents one of the biggest main events in recent memory with two of the all time greats taking one another on for the first time.
Fedor "The Last Emperor" Emelianenko (31-3) vs Dan Henderson (27-8)- Although this fight should be "f'ing awesome", I question the match making. This fight will be contested at 220lbs which is not far off the regular fighting weight of either man. Dan Henderson has faced some of the best fighters in the world and although Fedor is coming off two losses in a row, he's looking to regain some momentum with a victory over the light heavyweight champio. Fedor swings for the fences in every fight and doesn't exactly set up combos which would probably be best effective. Meanwhile , Dan's not much different with his jab followed by a right hook being his main offense. The real difference between these two is the wrestling that Dan has which is the style that beat Fedor in his last fight although to be fair, Fedor's last opponent was Antonio "Bigfoot" Silva, a MUCH larger fighter than Dan is. Dan should be able to take down Fedor who's defense of takedowns has never been anything to brag about and he can definitely win this one if he fights a smart fight that keeps him from wanting to stand and trade. On the feet these men are very evenly matched and I can see them standing and trading punches. Henderson is another one of those guys who has deveoped some great stand up throughout his career and seems to adandon his wrestling in his last few fights instead to hope to land the "H-Bomb". I ' m not saying Dan cant knock out Fedor but his chances of winning here are far better if he sticks to wrestling him . Real tough fight to call but I think Fedor wins this much needed victory over Dan.
Prediction: Fedor by tko
Strikeforce Featherweight Women's Championship- Ma r loes "Rumina" Connen (19-4) Meisha "Takedown" Tate(11-2)- Not to be sexist but both of these girls can give Gina Carano a run for her money in terms of most attractive girl in MMA. For Connen, the reigning Strikeforce featherwight women's champion, Tate will be her toughest challenge since winning the title late last year. With a great submission game and striking learned from the men at Golden Glory in Holand , Connen is a tough girl with a never quit attitude who has faced some adversity in more recent fights yet still finds a way to win. The last time Connen stepped in the cage she was taken down and pummeled with punches for two rounds by late replacement Liz Carmouche yet still found a way to submit her in the late r rounds. Tate has developed a "name" for herself mostly due to her attractive good looks as opposed to her fighting style although she's still no "easy fight". Tate likes to pressure her opponents and should bring the fight to Connen, however Tate has been verbally feuding with another women's fighter in Tara LaRos a for the last few months and the energy being wasted on something like that when you're about to challenge for a championship is not necessarily a good thing. Tate could always win this one and I believe she will come out strong and probably even win a couple of rounds but the longer the fight goes the better it favors Connen who will be patient in the early stages and capitalize on a mistake. Classic veteran vs young prospect fight where I see the veteran walking away with the victory.
Prediction: Connen by submission
Tim Kennedy (13-3) vs "Ruthless" Robbie Lawler (18-7)- On paper, this fight has all the makings of a knock down drag o ut WAR. Lawler is one of the hardest punchers in the business and is the owner of some of the sweetest knockouts in recent memory over the likes of Melvin Manhoef and Matt Lindland, just to name a couple. As good as Lawler is on his feet his submission defense can and should be questioned. Despite having good cardio, Lawler has always been someone that can be beaten with a good game plan that sees his opponent out work him on the ground or finish his when he's taken in to the deep water of later rounds. Is Lawler a push-over? God no and anyone who thinks he is, is wrong but his weaknesseses seem to play well into the hand that Kennedy is showing. Despite not being a well established "star", Kennedy has looked real impressive in Strikeforce, losing a VERY closely contested fight to Jacare for the middleweight championship and dis s posing of Melvin Manhoef earlier this year. Kennedy's bread and butter is his wrestling but he does have the tools to finish opponents as his submission game is ever evolving. For Kennedy to win this one he's going to have to focus on getting Lawler to the mat and staying away from trading punches for any delayed period of time. Being a former Marine, Kennedy is a well disciplined, game-plan type fighter that is aware that a win over Lawler puts him in line for another title shot. Kennedy should be able to out wrestle Lawler here and get that title shot.
Prediction: Kennedy by decision
Tyron "T-Wood" Woodley (8-0) vs Paul "SEMTEX" Daley (27-10-2)- Daley has some vicious power in his hands and should be extra motivated as the winner of this fight gets a title shot at the Strikeforce welterweight championshp and having been so close to defeating former champion Nick Diaz he has to be thinking he can get there again and win it this time. In Daley's way is highly touted prospect Tyron Woodley who has terrific wrestling and submissions which have been Daley's downfall throughout his career. Although Woodley should be able to win this one by wrestling Daley and working for a submission, he still hasn't really been tested throughout his young career and Daley is a good guy to test him. With Daley's one punch knockout power and precise stiking, he may certainly test Woodley's heart throughout the fight.
Prediction: Woodley by unanimous decision
Scott "Hands of Steel" Smith (17-8) vs Tarec "Sponge" Saffiedine (10-3) - To be honest, I'm not all that familiar with Tarec but at first glance he seems to be a difficult guy to finish with a great submission game which is the exact strategy to beat the one dimensional Smith. Smith's heart has gotten him through a couple rough fights in his career such as his contests with Cung Le and Pete Sell but he's coming off a brutal knockout at the hands of Paul Daley since dropping down from 185 to 170. I think Smith is being given a fight he could win on account of his fan friendly fights and although this type of thing doesn't always work out the way matchmakers want, I see Smith walking away with the victory after using his sprawl to keep this one on the feet where he should have the edge.
Prediction: Smith by unanimous decision
Preliminary Fights
Gesias "JZ" Cavalcante vs Bobby Green
Eduardo Pamplona vs Tyler Stinson
Julie Kedzie vs Alexis Davis
Derek Brunson vs Lumumba Sayers
Preview of UFC 133: Evans vs Davis
On August 6th, the UFC makes it's way to Philadelphia for a show that could be real entertaining due to some last minute fill in's.
"Sugar" Rashad Evans vs "The Huntington Beach Bad Boy" Tito Ortiz - Due to a leg injury in training, Phil Davis was forced to pull out of his fight with Rashad Evans and for change the UFC has replaced the fight with one some would argue could be a far bigger fight. Tito Ortiz has decided to step in on behalf of Davis in a rematch of a draw from 2007. The first time Tito and Rashad fought it was pretty competetive fight with the majority of fans giving the fight to Tito on two rounds to one however due to a point deduction when Tito repeatedly grabbed the cage. A lot has changed for both fighters in four years as Rashad's striking has improved drastically and eventhough Tito is coming off a big win over Ryan Bader, he's beginning to show his age. There are a few intangibles to factor into this one. For starters, Tito was not given a full training camp for this fight and his cardio which has been questioned a lot in his last few fights may come into question here but the same goes for Rashad who's been out for over a year and may not show up at his "pique performance". Tito should come out fast and hard and may even get a couple of takedowns and even win a round but I like Rashad's chances here. Rashad's a notoriously slow starter but should get in the groove by the second round and get a couple takedowns of his own while edging out Tito standing. Neither guy is going to sub or knockout the other guy as both men don't get finished very often. It was only a few weeks ago that Tito was being counted out and looked at as an underdog against Ryan Bader and I have to think that the victory MAY have been a fluke. Rashad's a better and more well rounded fighter than Bader and should get the win in this one.
Prediction: Evans by decision
Yoshiro "Sexyama" Akiyama (13-3) vs Vitor "The Phenom" Belfort (19-9)- This has all the makings to steal the show if it stays standing while if it goes to the ground I think Akiyama makes short work of Vitor. Akiyama has lost his last two fights in the UFC and in need of a win, as is Vitor who's coming off a highlight reel knockout loss to UFC middleweight champion Anderson Silva. Both men have vicious power in their hands with Vitor holding the edge with his speed and combinations. Akiyama has a terrific chin and although Vitor was just knocked out , his chin is still durable. I think this fight ends up being contested on the feet as Akiyama seems to like to try and win fights there regardless of the credentials of his opponents and I can see him hanging in there well with Vitor but his edge is with his Judo and he should look to get this one to the mat. I can't see either man knocking out the other but there still is a good possibility Akiyama is able to submit Vitor. With a gun to my head and a verdict needed I ' ll take my chances with Vitor although this fights close enough that I'm not betting any money on it .
Prediction: Vitor by unanimous decision
Dennis "Superman" Halman (50-13-2) vs Brian Ebersole (47-14-1)- Between these two men, they have stepped in the cage for a total of 127 fight s . Not bad considering neither would be considered "past their prime" and a case could be made that both are now in their "prime". Halman has some fantastic takedowns and slick submission s , even subbing former UFC welterweight champion, Matt Hughes on two seperate occasions and only needing two minutes to do it . Halman is 2-1 in the UFC on his current stint and seeing that Matt Hughes is winding down his career, a third meeting against Hughes could be in the making with a Halman victory however first he's going to need to get past Ebersole. Ebersole won over a lot of fans in his first and only UFC appearance when he defeated Chris Lytle earlier this year after taking the fight on two weeks notice. Ebersole can best be remembered for shaving his chest hair to resemble an arrow pointing towards his face, using shoulder thrusts while in a dominant position, landing cartwheel kicks and pointing to different things in the cage to try and get his opponents to lose focus momentarily. Both men can get one another to the ground but I can ' t see this fight being anything but close. The guy who beats his opponent to the takedown will most likely take this one and although, on paper this fight seems like a little bit of a snoozer, it should be anything but. One thing to keep in mind here is that Hallmam tends to fade in the second and third rounds and if Ebersole survives the first, his chances of winning are much better.
Prediction: Ebersole by split decision
Rory "The Waterboy" MacDonald (11-1) vs Mike "Quicksand" Pyle (21-7-1)- Both of these men have quietly been climbing the UFC's welterweight division ranks and each guy is looking to get a step closer to a title shot at the expense of their opponent. Rory is coming off a big win over Nate Diaz while Pyle defeated John Hathaway in his last fight. Pyle has some good wrestling and even holds a victory over Jon Fitch from several years back while Rory has some great takedown defense and striking. Pyle will be looking for the takedown in this one but it won ' t be easy to get it, especially because Rory is a smart fighter that should be able to hold his own against the fence and cirlcle outside of Pyle where he can work his punches but he's going to have to refrain from throwing leg kicks otherwise Pyle will grab the leg and take him down.
Prediction: MacDonald by unanimous decision
Alexander "The Mauler" Gustafsson (11-1) vs Matt "The Hammer" Hamill (10-3)- Real tough fight to call here as we have a classic case of "gatekeeper" against "young prospect". Originally Gustafsson was to take on Vladimir Matyushenko but an injury to Vlad sees Matt Hmmill in as his replacement. Hamill is coming off a loss to top ranked UFC light heavyweight Quinton "Rampage" Jackson in a pretty one sided encounter and looking to get back on track with a win. It's no secret that Hamill should be looking for the takedowns here and grind out a decision but Gustafsson has faired alright against top level wrestlers and the fact that Hamill is taking this one om short notice shows he may not be as up to the challenge of Gustafsson the same way he would if he had a full training camp. Gustafsson is pretty damn offensive when it comes to striking and pushes a good pace that Hamill may have problems adjusting too. Tough fight to call but I'll lean towards Hamill here although Gustafsson winning would not and should not be all that much of an upset.
Prediction: Hamill by decision
Spike TV Fights
Alessio "Legionarius" Sakara (15-8) vs Jorge "El Conquistador" Rivera (19-8)- These men were originally supposed to face one another late last year but a last minute injury to Sakara forced him to pull out and now we get this fight some nine months later. Both men are strikers with limited skills on the ground and should both be looking to keep this one standing. Rivera is coming off a unanimous decision loss to Chris Weidman while Rivera just lost to Michael Bisping in a controversial fight and both are in need of a win here to stay in the mix in the UFC's middleweight division. Both Rivera and Sakara have been knocked out before and although they have good stand-up, both men leave themselves open for punches and this one should most likely be a slugfest. Rivera should hope to keep this fight sloppy and win the exchanges in close but he's going to have to be careful considering Sakara's edge with technical boxing. Rivera has some good dirty boxing and should be able to rock Sakara with punches in the clinch and finish him on the mat with punches.
Prediction: Rivera by tko
Chad "Money" Mendes (10-0) vs Rani Yahya (16-6)- Chad Mendes is one of the best wrestlers, if not, best wrestler in the UFC's f eather weight division and has looked near invin c ible so far in his career. Although wrestling is Mendes' strong suit, he has some power in his hands and shouldn't be counted out there. Yahya is a good competitor but not the high level that Chad needs to answer the question as to if he is ready for the divisions elite like current champion Jose Aldo. Chad's wrestling will win him this one but if he gets Yahya in a guillotine, this one could be over quick.
Prediction: Mendes by unanimous decision
Preliminary Fights
Mike Pierce (12-3) vs Johnny Hendricks (10-1) Prediction: Pierce by decision
Mike Thomas Brown (24-8) vs Nam Phan (16-8) Prediction: Brown by decision
Ivan Menjivar (22-8) vs Nick Pace (6-1) Prediction: Menjivar by tko
Rafael Natal (11-3-1) vs Constantinos Philippou (7-2) Prediction: Natal by submission
Preview of UFC on VERSUS 5
The UFC returns to the Versus network for Versus 5 from Milwaukee, Wisconsin on August 14th, 2011 for a very strong free show.
Dan " The Outlaw " Hardy (23-9) vs Chris " Lights Out " Lytle (30-18-5) - If this fight plays out the way it should on paper then were going to have another fight of the year on our hands. Hardy has lost his last three fights and in desperate need of a victory to avoid getting a pink slip from the UFC. Hardy has great hands but his ground game skills are lacking and has proved to be his weakest area. Chris Lytle is one of the most fan friendly fighters in the UFC and a win here should bring him back into the UFC's welterweight top ten and back in line for a potential title shot. As much as Lytle likes to keep fights standing and look for the knockout, he has one of the most underrated submission games in the company and although it's unlikely Hardy would be able to knock him out, Lytle's chances of succes s are far greater on the mat. As limited as Hardy is on the ground, he's proved to be a difficult man to finish and Lytle is going to have to be slick to pull anything off. In the past. Lytle has had problems abandoning a "win" mentality in favour of giving the fans a war even if his opponent is superior on the feet. I think Lytle comes into this fight looking to go with the flow and mixes up some takedowns throughout the rounds to earn the judges decision.
Prediction: Lytle by decision
Jim Miller (20-2) vs Ben Henderson (13-2)- It's safe to say that the winner of this fight will challenge for the UFC lightweight championship once a champion is determined between Frank Edgar and Gray Maynard. Henderson is 1-0 in the UFC since moving from the WEC following a run as their champion and has proved to be a tough test to everyone he's ever faced. Henderson has proved to be someone who is nearly impossible to submit due to his thick neck and flexibility but if anyone is going to give him a test it ' s Jim Miller. Miller ' s only losses in his career have come at the hands of Frank Edgar and Gray Maynard, the two top UFC lightweights and he's hoping to get a chance to avenge one of the losses following his fight with Henderson. Henderson tends to be a reflex fighter who stays away from pushing the pace and looks to counter with combinations or submissions. Miller used to be a guy who would grind out decision s but he's had a submission and tko stoppage in his last two fights and looking for a third. Miller should have the edge wherever this fight is contested and a victory here is most likely in the cards.
Prediction: Miller by decision
Joseph Benavidez (14-2) vs Eddie Wineland (18-7-1)- This fight should provide us with a ton of competetive and fast paced action. Wineland is coming off an impressive showing in his last fight with Urijah Faber and although Wineland lost, he showed some great ground work, good takedown defense and precise striking , all things he's going to need if he hopes to beat Benavidez. Benavidez is a top fighter and one of the best 135 pounders in the world and although he'd benefit greatly from a 125 pound division due to his size or lack there of, he's given current bantamweight champion Dominick Cruz a run for his money on two seperate occasions. Training with Chad Mendes and Urijah Faber at Team Alpha Male, Benavidez has a top level wrestling game as well as quick movement and combinations on the feet. Wineland's last fight was with Urijah who is a similar fighter to Benavidez although I'd probably say that Benavidez is slightly better. Benavidez has too many way to win this fight and should be able to control Wineland wherever it goes as Wineland's best shot is to land a knockout punch or kick, since he won't be able to out wrestle Benavidez. Benavidez should hope that the rumour of a UFC 125 pound division does indeed happen as he won't face Urijah due to their friendship and a third battle with Cruz doesn't make sense right now, until the division opens up a little bit. Until the new division opens up, Benavidez will be the Jon Fitch of the bantamweight division, defeating everyone in his path except the champion.
Prediction: Benavidez by unanimous decision
Amir Sadollah (5-2) vs Duane " Bang " Ludwig (20-11)- I question why this fight is on the main card with the undercard as stacked as it is. Amir is one of those fighters such as Matt Mitrione who has only fought in the UFC and no other promotion. This is good and bad as it develops the fighter slowly as he continues to evolve and although he's no world beater he's certainly no slouch defeating established fighters such as Phil Baroni, Brad Blackburn and losses in the form of Johnny Hendricks and Dong Hyun Kim, both considered by many to be top ten UFC welterw e ights. Amir's kryptonite tends to be guys with goo d takedowns and top game and Duane is little more than a striker who the UFC sees as another "name" casualty for Amir although sometimes these things don't work out the way you would expect.
Prediction: Amir by unanimous decision
Cole Miller (17-5) vs TJ " The Spider " O ' Brien (16-4)- These are two of the tallest UFC lightweights out there but what seperates the two is a far superior submission game from Miller. Both men are coming off losses and in search of a win to stay relevant in the UFC's lightweight division. O'Brien didn't look all that impressive in his last outing when he lost to Paul Kelly who outclassed him on the ground. Kelly isn't even known for his ground game and if K elly gave O'Brien fits then Cole will finish him quick. Lately Cole has been more comfortable standing but always prides himself on "finishing fights" and should be intelligent enough to take this one to the ground and finish O'Brien quickly.
Prediction: Miller by submission
Facebook Fights
"Cowboy" Donald Cerrone (15-3) vs Charles "Do Bronx" Oliveira (14-1-1) Prediction: Oliveira by decision
Kyle "KO" Noke (19-4-1) vs Ed "Short Fuse" Herman (22-9) Pred iction: Herman by decision
Karlos Vemola (9-1) vs Ronny " Ronny Markes " Marki Sales Da Silva (11-1) Prediction: Vemola by tko
Danny " Last Call " Castillo (11-3) vs Jacob " Christmas " Volkman (12-2) Prediction: Volkmann by unanimous decision
Jared Hamman (12-3) vs "The Doberman" C.B Dollaway (11-3) Prediction: Dollaway by unanimous decision
Leonard " Bad Boy " Garcia (15-7-1) vs Alex " Bruce Leroy " Caceres (4-3) Prediction: Garcia by unanimous decision
Edwin Figueroa (7-1) vs Jason Reinhardt (20-2) Prediction: Figueroa by submission
Upcoming Events
UFC 134 from Rio de Janiero, Brazil- August 27th, 2011
-
UFC Middleweight Championship- Anderson " The Spider " Silva (28-4) vs Yushin "Lionheart" Okami (26-5)
Mauricio " Shogun " Rua (19-5) vs Forrest Griffin (18-6)
Antonio Rodrigo " Minotauro " Nogueira (32-6-1) vs Brendan Schaub (8-1)
Stanislav Nedkov (11-0) vs Luiz "Banha" Cane (11-3)
Thiago Tavares (15-4-1) vs Spencer " The King " Fisher (24-7)
Edson Barboza (8-0) vs Ross Pearson (12-4)
David Mitchell (11-1) vs Paulo Thiago (13-3)
Rousimar Palhares (12-3) vs Dan Miller (13-5)
Mike "Quick" Swick (14-4) vs Erick Silva (12-1)
Ian " The Barn Owl " Loveland (14-8) vs Yves " Tiger " Jabouin (15-7)
Yuri " Marajo " Alcantra (25-3) vs Felipe "Sertanejo" Arantes (13-3)
Raphael Assuncao (16-4) vs Johnny Eduardo (25-8)
UFC Fight Night 25 from New Orleans, Louisiana- September 17th, 2011
Jake Shields (26-5-1) vs Jake "The Juggernaut" Ellenberger (24-5)
Alan " The Talent " Belcher (16-6) vs Jason " The Athlete " MacDonald (25-14)
Court " Crusher " McGee (13-1) vs Dong Yi " The Hammer " Yang (10-1)
Evan Dunham (11-2) vs Shamar Bailey (12-3)
Erik " New Breed " Koch (12-1) vs Jonathan Brookins (12-3)
Donny "Eagle Eye" Walker (15-7) vs Ken Stone (9-3)
"Darkness" Demarques Jhonson (12-9) vs Clay Harvison (7-1)
Mackens "Mack da Menace" Semerzier (6-3) vs Mike Lullo (8-3)
Vagner Rocha (6-2) vs "AK Kid" Cody Mckenzie (12-1)
UFC 135 from Denver, Colorado- September 24th, 2011
-
UFC Light Heavyweight Championship- Jon " Bones " Jones (13-1) vs Quinton " Rampage " Jackson (32-8)
Matt Hughes (45-8) vs Diego Sanchez (23-4)
Norifumi " Kid " Yamamoto (18-4) vs Damacio " Angel of Death " Page (15-6)
Travis Browne (11-0-1) vs Rob Broughton (15-5-1)
Takanori " The Dragonball Kid " Gomi (32-7) vs Nate Diaz (13-7)
Tony "Cucuy" Ferguson (11-2) vs Aaron Riley (30-12-1)
Ben Rothwell (31-7) vs Mark Hunt (6-7)
James Te Huna (12-5) vs Ricardo Romero (11-2)
Tim "The Barbarian" Boetsch (13-4) vs Nick "The Promise" Ring (12-0)
Diego "The Gun" Nunes (16-2) vs Manvel "Pitbull" Gamburyan (11-6)
Cole "Apache Kid" Escovedo vs Takeya Mizugaki (14-6-2)
UFC On Versus 6- October 1st, 2011
UFC Bantamweight Championship- Dominick Cruz (17-1) vs Demetrious "Mighty Mouse" Johnson (9-1)
Charlie "The Spaniard" Brenneman (13-2) vs Anthony "Rumble" Johnson (9-3)
"Handsome" Matt Wiman (13-5) vs Mac Danzig (20-8-1)
Michael "The Menace" Johnson (9-5) vs Paul Sass (11-0)
UFC 136 from Houston, Texas- October 8th, 2011
UFC Lightweight Title Fight- Frank Edgar (13-1-1) vs Gray Maynard (10-0-1)
UFC Featherweight Title Fight- Jose Aldo (19-1) vs Kenny "Ken Flo" Florian (14-5)
Chael Sonnen (25-11-1) vs Brian Stann (11-3)
Demian Maia (14-3) vs Jorge Santiago (23-9)
Melvin "The Young Assassin" Guillard (29-8-2) vs Joe Lauzon (20-6)
Anthony "Showtime" Pettis (13-2) vs Jeremy Stephens (20-6)
Dave "Pee Wee" Herman (21-2) vs Mike Russow (14-1)
Matt "The Wolverine" Grice (13-3) vs Josh "The Fluke" Grispi (14-3)
Aaron "A- Train" Simpson (10-2) vs Nick Catone (9-2)
Joey "Mexicutioner" Beltran (13-5) vs Stipe Miocic (6-0)
UFC 137 from Las Vegas, Nevada- October 29th, 2011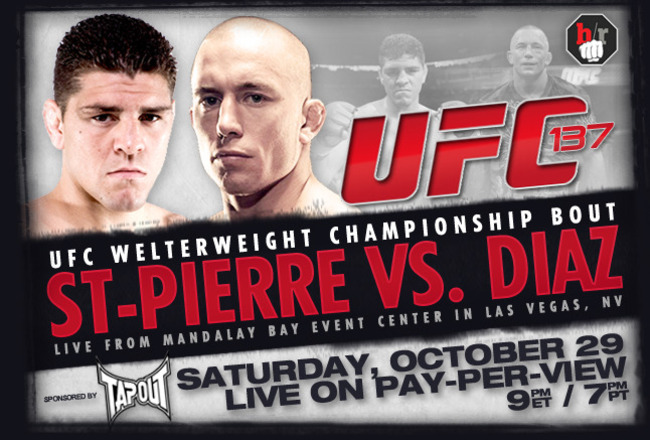 UFC Welterweight Championship- Georges St. Pierre (22-2) vs Nick Diaz (25-7)
BJ Penn (16-7-2) vs Carlos Condit (26-5)
Roy "Big Country" Nelson (15-6) vs Mirko "Cro Cop" Filipovic (27-9-2)
Sam "Hands of Stone" Stout (17-6-1)vs Dennis Siver (18-7)
Cheick Kongo (15-6-2) vs Matt Mitrione (4-0)
Hatsu Hioki (24-4-2) vs George Roop (12-7-1)
Brandon "The Truth" Vera (11-5) vs Eliot "The Fire" Marshall (10-3)
Tim Credeur (12-4) vs Brad Tavares (7-1)
Tyson Griffin (14-5) vs Bart Palaszewski (35-14)
Daniel "Danny Boy" Downes (8-2) vs Ramsey Nijem (4-2)
UFC 138 from Birmingham, England- November 5th, 2011
"The Crippler" Chris Leben (26-7) vs Mark Munoz (11-2)
Thiago "Pitbull" Alves (18-8) vs Papy "Makambo" Abedi (8-0)
Terry Etim (14-3) vs Edward "Falo" Faaloto (2-2)
Anthony Njokuani (13-5) vs "Relentless" Paul Taylor (11-6-1)
Brad "One Punch" Pickett (20-5) vs. Renan Barao (26-1)
James Head (7-2) vs Mark Scanlon (7-2)
Jason "Shotgun" Young (8-4) vs Michihiro Omigawa (12-10-1)
John Hathaway (15-1) vs Pascal "Panzer" Krauss (10-0)
UFC 13 9 from San Jose, California- November 19th, 2011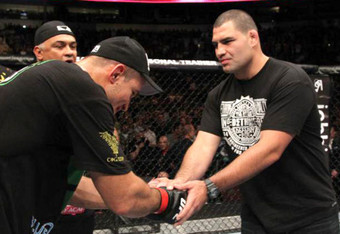 UFC Heavyweight Championship- Cain Velasquez (9-0) vs Junior Dos Santos(13-1)
Urijah Faber (25-4) vs Brian Bowles (10-1)
Chris Weidman (6-0) vs "Filthy" Tom Lawlor (7-3)
TUF 14 Finale from Las Vegas, Nevada- December 3rd, 2011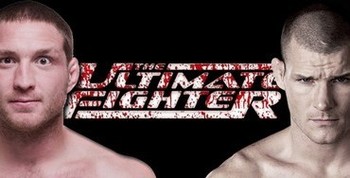 Jason "Mayhem" Miller (24-7) vs Michael "The Count" Bisping (21-3)
That's all for this week but I'll be back soon for a Breakdown of UFC 134: Rio as well as a recap of UFC 133: Evans vs Davis , UFC on Versus 5 and the Strikeforce: Fedor vs Henderson. Take care everyone and enjoy the fights.
---
---
blog comments powered by Disqus
| | |
| --- | --- |
| My Son Lucas JG's Facebook Insanity: Let's Infuriate Your Friends (33 Minutes) James Guttman's Free 2009 Interview With Mr. Fuji JG's 10/19/15 Raw Insanity: Hell of a Sell JG's 10/5/15 Raw Insanity: Flashing The Brock Signal JG's Insanity: The 12th Annual WWE Memorial Day Barbecue JG's Insanity: The 11th Annual WWE Memorial Day Barbecue JG's Ten Facebook Posts To Annoy Your Friends JG's Ten Beloved TV Characters Who Were Obvious Psychopaths JG's 10 More Fun Ways To Infuriate People Online JG's Ten Insider Wrestling Terms You Shouldn't Use When Talking About Something Besides Wrestling JG's Insanity: The 10th Annual WWE Memorial Day Barbecue JG's Ten Demented Ways We Misused Our Toys JG's 15 Fun Ways To Infuriate People Online JG's Ten Sesame Street Muppets That Are Missing And Presumed Dead JG's Scene From WWE Raw (After Vince McMahon Goes Senile) JG's Ten Signs You Were A Wrestling Fan Of The 1980s JG's Insanity: Stone Cold's Greatest Moments (Without Stone Cold) JG's Ten Wrestling Moves That Really Hurt When You Try Them At Home JG's Insanity: Everybody Is Tito Santana JG's Ten Reasons Why WWF LJN Figures Were The Greatest Toys Ever JG's Ten Judges Who Would Make American Idol Worth Watching JG's 2012 in Pictures (As Hulk Hogan Will Remember It) JG's Quintuple Bypass Surgery Insanity JG's Five Episodes of Diff'rent Strokes That Scarred Me For Life JG's Ten Facebook Posts That Are Slowly Driving Me Crazy JG's Ten Truly Terrible Reality Competition Shows JG's Ten 1980s TV Characters Who Taught Me To Hate JG's Ten Wrestling Characters Who Went Through Massive Personality Changes JG's Ten Old School Wrestlers Who Would Terrorize Today's PG WWE | The Challenge: Champs vs. Stars 3 - Episode 5 TGIF: Nia Gets Rowdy, All In All Sold Out, and More The Challenge: Champs vs. Stars 3 - Episode 4 The ROHbot Report: War of the Worlds Reviews, Chicago TV Taping Preview, And More TGIF: Pop Goes The Charlotte, Johnny Survivor, and More The ROHbot Report: War of the Worlds, Bound By Honor: Lakeland, And More TGIF: Hornswoggle Won The Rumble, Los Ingobernables de Jericho, and More The Challenge: Champs vs. Stars 3 - Episode 3 The Review - Avengers: Infinity War The ROHbot Report: War of the Worlds Main Events Announced and More TGIF: Roman Reigns Has The Worst Royal Rumble and More The Challenge: Champs vs. Stars 3 - Episode 2 The Challenge: Champs vs. Stars 3 - Episode 1 The ROHbot Report: Pittsburgh TV, Masters of the Craft Review, And More The Challenge: Vendettas - Reunion (Part 2) TGIF: Miz vs. Bryan Finally, Nikki Not Seeing Cena, and More The ROHbot Report: Supercard of Honor XII, Masters of the Craft, And More A Quiet Place: Hardly Horror The Challenge: Vendettas - Reunion (Part 1) TGIF: Unhappy Rusev Day, After The Mania, and More The Challenge: Vendettas Episode 14 The ROHbot Report: Flip's Proving Ground, Returning to Florida, and More TGIF: Miz Baby Face, Will Ospreay Survive, and More The ROHbot Report: Supercard of Honor XII Preview, Defy or Deny, More The Challenge: Vendettas - Episode 13 TGIF: Shane-moa Joe, Gray Wyatt, and More Worth Your Money? "ROH Elite" Halloween 2018: What To Expect TGIF: Welcome Back Daniel, Maybe Hulk Too, and More The Challenge: Vendettas - Episode 12 |