---
Fightin' Words: Recap of Strikeforce: Fedor vs Henderson, UFC 133: Evans vs Davis, a Breakdown of UFC 134: Rio, Upcoming Shows, and More

By Kevin Wallace Aug 23, 2011 - 5:21 PM
---
Recap of Strikeforce: Fedor vs Hendo
On July 30th, Strikeforce held a show out of Chicago, Illinois that on paper looked to be pretty darn fun but didn't necessarily live up to the expectations.
Dan Henderson (2 8 -8) knocked out Fedor Emelianenko (31- 4 ) at 4:12 of the first round. Pretty solid main event here with neither guy blowing away the other. Both men were swinging for the fences early on, both glancing the other guy. Henderson got Fedor against the cage for a minute, trying to use the cage to help him get Fedor down but Fedor circled off and landed some pounches in the clinch. Fedor was able to land a couple punches that seemed to leave Henderson off balance and then followed Henderson to the mat but Dan swept Fedor onto all fours and blasted Emelianenko with un uppercut from a strange angle which saw Fedor's head hit the mat and Dan continue to land punches to the back of Fedor's head until referee Herb Dean stepped in to stop it. Fights don't get that much more thrilling then this one right here but the ending did produce a little bit of controversy. I do believe that Fedor was hurt from Hendo's punches and he could have easily been out but he got from his stomach to his back as Herb Dean stepped in and a couple more seconds may have turned the tide. Herb Dean may be the best our one of the best referees in the world and I'll give him the benefit of the doubt as he was actually in the ring seeing things up close while we all watch from our homes. I dont really know whats next for either man as Dan Henderson appears to be up on his contact following the victory and Fedor is now 0-3 in his last three fights. Following the loss Fedor was released from his cointract from Zuffa but looks to want to continue to fight albeiyt against much lower calibre opponents in Japan or Russia.
UFC Women's Featherweight Championship- Meisha "Takedown" Tate (1 2 -2) submitted Marloes Connen (19- 5 ) to a head and arm choke at 3:03 of the fourth round. Pretty competetive fight here as Tate was able to take down Marloes throughout the four rounds, earning her nickname of "Takedown". I don't know if this was the action packed classic that many women fighting fans were hoping for but it was still farily entertaining and fun. Tate won the first round with her wrestling but in the second round, Connen was able to sweep Tate and stay on Tate's back for the whole round, restricting Tate's breathing by applying a body lock and working for a rear naked choke. Tate seemed to be pretty gassed in the third and fourth rounds but continued to press forward and finally in the fourth round she was able to get Connen down again and apply a tight head and arm choke to which Connen could not escape and was eventually forced to tap out. Tate erupted following the victory celebrating by breaking down and crying with her corners. With the women's division seemingly in disarray, I have no clue what's next for either fighter but I hope the women's division is still givin a fair shake at trying to keep this division going, regardless of Zuffa and Dana White's opinions on it.
Tim Kenne dy (1 4 -3) defeated "Ruthless" Robbie Lawler (18-7) by unanimous decision. This fight had a really entertaining first round when Kennedy attempted several takedowns only to have Lawler sprawl all over the cage and try to keep the fight on the feet. Lots of scrambles in this one but in the second and third rounds Kennedy was able to get Lawler to the mat and keep him there using some ground and pound and repeatedly advancing his position. Although Lawler came away with the loss he was still able to land a few significant punches including one in the second round where he bloodied up Kennedy's nose with an uppercut. Following the fight, Kennedy cut one of his solid promos where he told the judges that he wasn't a big fan of them, that he wants another title shot and then dedicated the fight to the troops and one of his biggest fans, a marine with no hands and facial burns. Killer promo for Kennedy whose charisma continues to rise in each fight.
Tyron "T-Wood" Woodley ( 9 -0) defeated Paul "SEMTEX" Daley (27-1 1 -2) by unanimous decision. This wasn't as easy as a fight for Woodley as I thought it may be as Daley's improved takedown defense helped him to keep this fight standing for about half of the fight. Woodley was only succesful on two of ten takedowns but stayed in a dominant position on the succesful ones. Woodley should find himself in the running for the Strikeforce welterwight title with this victory.
Tarec "Sponge" Saffiedine (1 1 -3) defeated Scott "Hands of Steel" Smith (1 8 - 9 ) by unanimous decision. Smith was battered for 15 minutes as Saffiedine tore him up with some accurate jabs and kicks. Smith did next to nothing here landing 24 punches to Saffiedine's 137. With the Strikeforce weltwerwight division being wide opened I'd have to say that Saffiedine will be in the running for a title shot.
Prelim Fights
Gesias "JZ" Cavalcante (1 6 -4-1) defeated Bobby "King" Green (15- 5 ) by split decision Alexis Davis ( 10 -4) defeated Julie "Fireball" Kedzie (16- 9 ) by unanimous decision
Derek Brunson (7-0) submitted Lumumba Sayers (4-1) to a rear naked choke at 4:33 of the first round
Tyler "The Evolution" Stinson (2 1 -7) knocked out Eduardo Pamplona (15- 3 ) at 0:17 of the first round
UFC 133: Evans vs Ortiz 2 Results
A couple of weeks ago the UFC held a show from Philadelphia, headlined with a fight where the winner would most likely be the top contender to Jon Jones' UFC light heavyweight title. The show started off rather slow and boring but picked up once the pay per view portion started and finished with a strong main event and crowd reaction.
"Sugar" Rashad Evans (1 6 -1-1) defeated "The Huntington Beach Bad Bay" Tito Ortiz (16- 9 -1) by tko at 4:48 of the second round. Tito held his own pretty well in the early stages of this one but it wasn't long before Rashad took control and got Tito to the mat where he reigned down some ground and pound the way Ortiz used to. The second round began with a visibly gassed Tito getting taken down and slammed by Rashad and soon Rashad landed a brutal knee to Tito's chest that sent Ortiz flat on the mat and Rashad follwing it up with punches until the referee stepped in. Both men were classy to one another following the fight with Tito saying that Rashad was the better fighter. Rashad should find himself challenging for the lightheavyweight chanpionship late this year or early next when a champion emerges following the Jon Jones/Quinton Jackson fight on September 24th.
Vitor "The Phenom" Belfort ( 20 -9) defeated Yoshiro "Sexyama" Akiyama (13- 4 ) by knockout at 1:52 of the first round. Belfort overwhelmed Akiyama early and never looked back when he dropped him with some punches and followed it up with more on the ground. Belfort was certainly "on" in this one and if he keeps winning fights in this manner he could challenge for Anderson Silva's middleweight championship again but being that he was knocked out so quickly by Anderson, he's going need to get past some top contenders first.
Rory MacDonald (1 2 -1) defeated Mike "Quicksand" Pyle (21- 8 -1) by tko at 3:54 of the first round. Pyle got the takedown early but MacDonald returned to his feet where he rocked Pyle with a combination and chased him to the mat where he followed the scramble up with vicious punches and elbows until Pyle was defenseless and the referee stepped in. MacDonald is another hot young prospect and it will be intereting to see who the UFC stacks him up with next.
Brian Ebersole (4 8 -14-1) defeated Dennis "Superman" Halman (50-1 4 -2) by tko at 4:28 of the first round. Fun fight here while it lasted. Both men came in looking to showcase their wacky personalities as Ebersole had an arrow shaved into his chest again and Hallman being brave enough to fight in speedo's, yes that's right, SPEEDO's! Hallman came out aggressive and had Ebersole on his back with a takedown within the first 20 seconds and took his back as he attempted a rear naked choke but Ebersole wasn't going down without a fight and managed to survive the attempt and get on top of Hallman. Ebersol landed several unanswered punches to Hallman until an elbow made him go limp and the referee step in to stop it in one of the better referee stoppages in a little while. Ebersole is now 2-0 in the UFC and should most likely take on a top ten welterweight in his next outing. Following the fight, Ebersole protested for a UFC edition of Fear Factor to Joe Rogan since the show is making a return. Ebersole earned some bonus points in the eyes of fans and a $70 000 bonus from Dana White for allowing us to all be cut short of a 15 minute visual of a man in speedo's.
Constantinos Philippou ( 8 -2) dfeated Jorge "El Conquistador" Rivera (19- 9 ) by split decision. Good competetive contest here with two guys looking to finish the other on the feet. Crowd was solidly behind River here as not much was known of Phillippou coming into the fight as a late replacement for the injured Alessio Sakara. I had Phillippou winning this fight as his stand-up and clinch work against the cage seems to have been the reason however Rivera had Phillippou in trouble a couple of times after landing some overhand rights and left hooks. This is two losses in a row for the 39 year old Rivera and if he wants to continue to fight in the big leagues, he's going to need to win his next fight. It'll be interesting to see who UFC brass match Phillippou up with next following the victory.
Spike Prelims
Alexander "The Mauler" Gustafsson (11-1 ) defeated Matt "The Hammer" Hamill (10-3) by tko at 3:41 of the second round. Pretty uneventful first round with Hamill being shrugged off on his takedown attempts and Gustafsson landing punches in close. In the second round Gustafsson landed a flurry of uppercuts that dropped Hamill and soon Gustafsson was able to get the mount and reign down elbows and punches until the refere called a stop to the fight. Gustafsson is going to be a real threat ats he coninues to develop and posses a difficult challenge to future opponents with his reach and 6'5 frame. Matt Hamill retired following the loss.
Chad "Money" Mendes (1 1 -0) defeated Rani Yahya (16- 7 ) by unanimous decision. Story of the fight here was Mendes getting Yahya to the mat and not letting him back up. Pretty uneventful fight with crowd booing throughout. Mendes is knocking on the door for a title shot at Jose Aldo's featherweight championship but his lack of finishing fights is holding him back in the eyes of fans, Joe Silva and Dana White.
Facebook Fights
Rafael Natal (1 2 -3-1) defeated "The Gentleman" Paul Bradley (16- 3 ) by unanimous decision- Not a bad little opener here as Natal used several leg kicks and a reach advantage to keep Bradley at a distance and make him Bradley shoot from far out for the takedowns. Bradley was able to win a couple of stand-up exchanges but Natal kept the fight on the feet for the majority of this one and left Bradley on wobbly and beaten up legs where he was little more then a standing target.
Mike Thomas Brown (2 5 -8) vs Nam Phan (16- 9 ) - Competetive fight here with Brown getting Pham down early in the first round and pummeling him with punches for four minutes while the second round saw a winded Brown be little more then a sparring dummy for Pham who put a hurt on Brown with body shots and better combinations. Fight came down to the third round where Brown continued with the takedown attempts and kept Pham from really letting go on his punches. Real difficult fight to call but the judges most likely made the best decision.
Johnny Hendricks (1 1 -1) defeated Mike Pierce (12- 4 ) by split decision. Good fight here that actual made the pay per view portion. Although both men are wrestlers, they were willing to let there hands do the talking. Close fight with the smaller fighter in Johnny Hendricks walking away the winner on two of three judges cards.
Ivan Menjivar (2 3 -8) defeated Nick Pace (6- 2 ) by unanimous decision. Pace actually did better for himself here than I anticipated, even getting Menjivar's back in the first round and coming close to securing a rear naked choke. Menjivar proved to be the better fighter in the second and third rounds, edging out Pace on the scorecards with three scores of 29-28 in his favor.
Recap of UFC on Versus 5
Last Sunday the Versus network hosted a night of free fights and what materialized was perhaps the best UFC card in several months. With only four fights shown on Versus, the eight men involved put on one hell of a show and some fantastic fights which should be difficult to follow over the next few months.
C hris "Lights Out" Lytle (3 1 -18-5) submitted Dan "The Outlaw" Hardy (23- 10 ) to a guillotine choke at 4:16 of the third round. Fantastic main event if you're a fan of two guys trying to knock one another out but I don't think you'd be able to find anyone who didn't like this one regarless of where they prefer to see fights contested. Both men were able to rock one another on several occasions but the main story of the fight was Lytle outboxing Hardy despite a six inch reach disadvantage and Hardy's inability to press forward and mix his striking up with the Muay Thai kicks he has. The third round began with the crowd going wild and standing for both men and with only one minute left, Hardy shot in for a takedown on Lytle to which Lytle applied a guillotine choke until Hardy tapped out ending the thrilling contest. Going into the fight, Lytle openly talked about retiring and did so following in an emotional speech in the octagon with his son and daughter. Lytle pocketed another $65 000 for fight of the night honors and is now the current holder of the most "of the night" bonuses in UFC history. Hardy needed to win this one as he had lost his previous three fights and no one stays in the UFC following four losses in a row regardless of how fun the fight was to watch and even though Lytle held the edge on the ground, he said going into the fights that he would let Hardy have the type of fight that Hardy deseerved, a stand up battle. Well Lytle gave Hardy that type of fight but it was Hardy who chose to take the fight to the mat and Lytle ended up making him pay for it. One of those main event that definitely lived up to it's expectations and one of the UFC's best fights of the year. Despite losing his fourth fight in a row, Dana White has publicly stated that Hardy will not be released from his contract. I don't have enough room in this column for my opinion on how stupid that decision is despite having the "fight of the night". Dan and Chris were also awarded the fight of the night bonus and Chris another bonus for submission of the night giving Lytle a total of 10 "of the night" bonuses in the equivalent of half a million dollars in his UFC career.
Ben Henderson (1 4 -2) defeated Jim Miller (20- 3 ) by unanimous decision in what has to be a contender for fight of the year. Going into the fight Miller was though to be the better wrestler, striker and submission specialist but Henderson was actually able to outwrestle and outpunch him in a fight coontested all over the place. Miller was very active off of his back in the first and second round even coming close on a standing arm triangle joke and armbar but as the fight continued, Miller slowed down and wasn't able to do anything to Henderson except for eat punches and elbows as Henderson say in side control and mount position. The crowd loved this fight at let both fighters know how much when they gave them both a standing ovation. Miller was the number one contender to the UFC lightweight championship prior to the fight and now finds himself several wans away from a shot with the loss. The win marks Henderson's second in a row in the UFC and another one or two more may see him fall in line with a shot at reclaming his championship early next year. Absolutely awesome fight that is a must see capped off with Henderson getting on his knees and begging Dana White to give his training partners an opportunity to fight in the UFC. I'm hoping a Ben Henderson vs Clay Guida or Henderson vs Donald Cerrone 3 fight happens soon to line up a number one contender to the UFC lightweight championship now that Miller seems out of the running.
Donald "Cowboy" Cerrone (16-3) defeated Charles "Do Bronx" Oliveira (14-2) by tko at 3:01 of the first round- Both men seemed more than content to keep this fight contested on the feet which ended up working to Cerrone's advantage where he dropped Charles with an overhand right and followed him to the mat where he landed more punches. It's debatable as to how many he actually landed cleanly as Charles did a ghood job blocking but it was evident he wouldn't be able to get out of the position and a referee stppoage was definitely acceptable. This is Cerrone's third win in a row since entering the UFC and a step up in competition should be expected in his next fight. Fun fight while it lasted.
Duane "Bang" Ludwig (2 1 -11) defeated Amir Sadollah (5- 3 ) by unanimous decision. Hot opener here with both men looking to test their chin's and their opponents. Ludwig started strong but faded in the third round while the opposite was the case for Amir who turned up the aggressiveness inthe last round. This may have been one of the best performances in the UFC for Ludwig who ricked Amir with punches on a couple of occasions and slowed him down with kicks to his legs and body. Amir came out really aggressive in the third round and stalked Ludwig down as Ludwig became flat footed and gassed however Ludwig was able to hold his own and survive the round and pick up a much needed win against a good chellenger. Even in a loss this may have been one of Amir's best performances in the UFC and definitely and fun fight that the crowd truly enjoyed.
Facebook Fights
Jared Hamman (1 3 -3) defeated "The Doberman" C.B Dollaway (11- 4 ) by tko at 2:38 of the second round- Hamman was able to expose CB's inability to take punches on the feet if he can't keep his opponent on the ground in this one with CB keeping Hamman on his back for the first half of the fight. Hamman was able to stun CB with a nice combination and got the stoppage when the referee stepped in to halt the punishment being dished out to CB.
Joseph Benavidez (1 5 -2) defeated Eddie Wineland (18- 8 -1) by unanimous decision- Despite giving up a significant reach advantage, Benavidez was able to win this fight standing instead of relying on his takedown's to win his usual style of fight. Wineland seemed tentative to overcommit on his combinations and leave himself open for a takedown which led to him fighting defensively instead of the usual aggressive style he normally shows up with. Benavidez cut Wineland open with pucnhes on several different spots on his face throught this one and the crowd seemed entertained for the entire 15 minuts.
Ed Herman (22-9) submitted Kyle "KO" Noke (19- 5 -1) to a heel hook at 4:15 of the first round- Herman almost ripped Noke's heel right off his foot here and looked pretty damn good in the process. Herman has now gone 2-0 in his last two fights since returning to the UFC from a two year delay due to knee injuries and he looks like the break did him well, finishing his last two opponents in the first round. Still early to tell how well Herman's knee holds up once faced with adversity but until then the old Herman seems to be back.
Ed Herman (22-9) submitted Kyle "KO" Noke (19- 5 -1) to a heel hook at 4:15 of the first round- Herman almost ripped Noke's heel right off his foot here and looked pretty damn good in the process. Herman has now gone 2-0 in his last two fights since returning to the UFC from a two year delay due to knee injuries and he looks like the break did him well, finishing his last two opponents in the first round. Still early to tell how well Herman's knee holds up once faced with adversity but until then the old Herman seems to be back.
Cole Miller (1 8 -5) submitted TJ "The Spider" O'Brien (16- 5 ) to a guillotine choke at 2:38 of the second round. Both men resembled one another in both lanky frames and in game plans in this one. During the first round, both men looked to keep this one on the feet with neither really stealing the round from the other but once O'Brien attempted a takedown and Miller wrapped his arm around his neck then it was all over for O'Brien. The win gets Miller back to his winning ways while the loss marks O'Brien's second in the UFC and a cut is very possible for the big man.
R onny "Ronny Markes" Marki Sales Da Silva (1 2 - 1) defeated Karlos "The Terminator" Vemola (8 -2 ) by unanimous decision- Markes was able to show a glaring weakness in Vemola's fighgting style by repeatedly taking him down and keeping the big man on his back for the majority of this one and avoided the exchanges on the feet. One of the slower fights on the card which is a downer as on paper this one looked like it would be awesome.
J acob "Christmas" Volkman (1 3 -2) defeated Danny "Last Call" Castillo (11- 4 ) by unanimous decision- Really competetive ground based fight here that the educated crowd really seemed to enjoy. Volkman had some great takedown defense throughout the fight and applied several D'Arce chokes when Castillo attempted to get the fight to the mat. Good fight for both men and as with lots on the undercard, a disappointment that it didn't get shown on the live portion however, time did not permit that decision.
Jim "The Kid" Hettes (9-0) submitted Alex "Bruce Leroy" Caceres (4- 4 ) to a rear naked choke at 3:12 of the second round- Caceres has improved his submission defense and it showed here as Hettes was active off his back attempting several submissions early to no avail. Caceres gave up his back in the second round and Hettes took full advantage of it and applied a rear naked choke for the victory.
Edwin Figueroa ( 8 -1) defeated Jason Reinhardt (20- 3 ) by tko at 0:50 of the second round. Slow start from both men here with neither looking to be the aggressor early but once the second round began it was evident that Reinhardt would not ba able to match Fig's skills anywhere. I expected Fig to blow away Reinhardt and eventhough he got the victory, A win over Reinhardt is not much harder then a sparring contest in the gym. Expect Reinhardt to be released following this one.
Breakdown of UFC 134: Rio
On August 27th the UFC returns to Brazil for a pretty intriguing card and a show that gives me fits trying to make predictions.
UFC Middleweight Championship- Anderson "The Spider" Silva (28-4) vs Yushin "Lionheart" Okami (26-5) - Although Okami walked away with the victory the last time these two fought, the win came via an illegal up kick by Anderson, many think Okami won the fight convincingly which isn't exactly the case. Anyone who has seen Anderson fight knows that he's probably the best striker in all of MMA with a good Jui Jitsu game to boot while Okami is a far less fan friendly fighter who has a good wrestling game as well as patient counter punching strategy. As a main event I have to say that styles make match ups and this fight may go the same way as Anderson's wins over Thales Leites, Patrick Cote and Demian Maia with not much action taking place. Anderson seems to get frustrated early in fights when his opponent isn't looking to push the pace and this could be the case in this one. For Okami to win this one he's going to have to use Chael's blueprint and keep Anderson on his back because he's going to have problems on the feet and to be honest this game plan is do-able as Chael has been training for months with Okami. As much as Okami is being looked at as an underdog, this has all the makings to end in an upset if Okami can kick it into high gear early and never look back. Anderson's striking is unmatched but if he's taken down, his Jui Jitsu may not be all that effective against someone with the defense of Okami but Anderson's like GSP, you never pick against the guys! As a betting man putting a couple bucks on Okami may be a good idea but I think Silva wins this one after five rounds maybe only losing a round or two to Okami.
Prediction: Silva by decision
Mauricio "Shogun" Rua (19-5) vs Forrest Griffin (18-6) - The last time these two fought Griffin was able to submit Shogun in Shogun's debut UFC fight and it's probably a safe bet that the outcome is much different this time. Shogun is one of the elite level strikers in MMA and throws some vicious kicks while Griffin is just one of those guys who doesn't necessarily shine in one specific catagory but is one of the most well rounded fighters in the game today. For Forrest to win here he's going to need to take down Shogun at will and use his size to his advantage while Shogun should be looking to pick Forrest apart on the feet if he is to escape with the victory. Can Forrest keep Shogun down for 15 minutes? Probably. Can Shogun knock out Forrest? Absolutely! I know Forrest did win the one fight they've had but that was years ago while Shogun was coming off a lengthy layoff and still adjusting to fighting in a cage and not a ring like in PRIDE. I see Shogun finishing Forrest on the ground with his brutal ground and pound and keeping him in the mix of the UFC's light heavyweight contenders with the victory.
Prediction: Shogun by tko
Antonio Rodrigo "Minotauro" Nogueira (32-6-1) vs Brendan Schaub (8-1) - This is another one of those tough fights too call based on a bunch of things. For starters, it's been almost a year and a half since Nog last competed in the octagon and he didn't look good at all, losing by knockout pretty quickly to current UFC heavyweight champion Cain Velasquez. At one point Minotauro was considered one of the top heavyweights in the world but that was in the days of Pride and Nog hasn't looked all that great in the UFC and has begun to show his age. Brendan Schaub is a young heavyweight who has done well for himself having defeated Cro Cop and Gabriel Gonzaga convincingly in his last couple fights. Although pretty one dimensional, Schaud packs a mean punch and could finish Nog with a knockout especially considering Nog doesn't seem to be able to take a punch the way he used too but if the fight is contested on the mat then Nog should be able to submit him. Schaub doesn't shoot for takedowns all that often or throw too many kicks and his combo's are pretty standard and Nog should be able to win this one, especially in his home town but that's what makes MMA fun since you never know what will actually happen until it happens. If the Nog that fought Frank Mir and Cain Velasquez shows up then Schaub should be able to take this one but if not Nog should be able to get back on track.
Predictions: Nogueira by submission
Edson Barboza (8-0) vs Ross Pearson (12-4) - This fight will most likely be contested on the feet as both men tend to lean more towards a striking approach to fighting as opposed to working the ground. Barboza is 2-0 so far in the UFC and Pearson is a step up in competition for him as Pearson's also coming off a win over veteran Spencer "The King" Fisher. Barboza likes to mix up his strikes with lots of leg kicks and this fight should be no different. Ross is going to have to keep a distance from Barboza if he wants to win here and stay out of Barboza's leg kick range while counter striking when Barboza moves in, meanhwile Barboza should look to chop down Pearson with leg kicks and finish him when Pearson slows down. This fight has the potential to be the fight of the night and I think its probably a safe bet that it succeeds at that.
Prediction: Barboza by tko
Stanislav Nedkov (11-0) vs Luiz "Banha" Cane (11-3) - Cane knocked out Eliot Marshal rather quickly in his last fight and is primarily a striker while Nedkov is making his UFC debut. I'll admit to not knowing all that much about Nedkov as his primarily fought overseas on smaller shows and has very little footage available. What I do know about Nedkov is that he has a credentialled wrestling background, something he will need here. I hate predicting fights like this when I don't know much about one of the fighters but I think I'm going to side with Cane here as he seems to have a good enough ground game to keep the fight on the feet. I do question Cane's chin as for a striker, he doesn't take punches as well as someone would be expected too and if Nedkov actually has some good striking then it's very possible he stops Cane. I ' m going with the safest bet here.
Prediction: Cane by tko
S pike Prelims
Thiago Tavares (15-4-1) vs Spencer "The King" Fisher (24-7) - Tavares is a pretty jacked 155 pounder who's coming off an upset loss at the hands of Shane Roller while Fisher is a good wrestler with a durable chin who is also looking for a win to get himself back on track. Tavares should have the advantage on the mat here while Fisher should enjoy the edge with his standup here. I think Tavares may have some problems getting this one to the mat as Fisher's quite good at stuffing takedowns and should be able to pick Tavares apart on the feet. Even if Tavares is able to get Fisher down, Fisher's not an easy guy submit or keep down and it should be a long 15 minutes for Tavares.
Prediction: Fisher by decision
Paulo Thiago (13-3) vs David Mitchell (11-1) - Thiago is a top ten UFC welterweight with big wins over Josh Koscheck and Mike Swick while Mitchell is looking to make a name for himself with a win over a credible opponent. Mitchell is a submission specialist however he hasn't faced anyone the level of Thiago or Thiago's opponents. Thiago should look to keep this fight standing, however he has some good Jui Jitsu and wont be out of his element on the ground either. Thiago should be able to put another loss on Mitchell's record in this one.
Prediction: Thiago by decision
Facebook Fights
Rousimar Palhares (12-3 ) vs Dan Miller (13-5)- As a big fan of the submission game of elite level Jui Jitsu fighters, this fight is defintely very appealing to me. Palhares has his go to heel hook manuever that seems to something people can't handle while Miller has one of the tightest guillotines in the game. If I had to give an edge in striking and submission I'd probably have to lean towards Palhares but he's a rather short middleweight who will most likely have problems utilizing his reach against Miller. Miller should be looking to keep this one standing while keeping Palhares at a distance and probably wont get finished when on the mat but Palhares should be able to get the victory in his hometown and bring himself back into the UFC's top ten middlewights category.
Prediction: Palhares by decision
Erick "Indio" Silva (12-1) vs Luis "Beicao" Ramos (19-6)- Prediction: Silva by decision
Ian "The Barn Owl" Loveland (14-8) vs Yves "Tiger" Jabouin (15-7) - Prediction: Loveland by decision
Yuri "Marajo" Alcantra (25-3) vs Felipe Arantes (13-3)
Raphael Assuncao (16-4) vs Johnny Eduardo (25-8)- Prediction: Assuncao by decision
Upcoming Events
Strikeforce Heavyweight World Grand Prix: Barnett vs Kharitonov from Cincinnatti, OH- September 10th, 2011
Strikeforce Middleweight Championship- Ronaldo "Jacare" Souza (14-2) vs Luke Rockhold (7-1)
Daniel Cormier (8-0) vs Antonio "Bigfoot" Silva (16-2)
"The Babyfaced Assassin" Josh Barnett (30-5) vs Sergei Kharitonov (18-4)
Roger Gracie (4-0) vs "King" Mo Lawal (7-1)
UFC Fight Night 25 from New Orleans, Louisiana- September 17th, 2011
Jake Shields (26-5-1) vs Jake "The Juggernaut" Ellenberger (24-5)
Alan " The Talent " Belcher (16-6) vs Jason " The Athlete " MacDonald (25-14)
Court " Crusher " McGee (13-1) vs Dong Yi " The Hammer " Yang (10-1)
Erik " New Breed " Koch (12-1) vs Jonathan Brookins (12-3)
Evan Dunham (11-2) vs Shamar Bailey (12-3)
"Darkness" Demarques Jhonson (12-9) vs Clay Harvison (7-1)
Vagner Rocha (6-2) vs "AK Kid" Cody Mckenzie (12-1)
Donny "Eagle Eye" Walker (15-7) vs Ken Stone (9-3)
Mike Lullo (8-3) vs Mackens "Mack da Menace" Semerzier (6-3)
Matthew Riddle (5-2) vs Lance Benoist (5-0)
Daniel "Ninja" Roberts (12-3) vs Anthony "T.J." Waldburger (13-6)
Jorge "Lil' Monster" Lopez (11-1) vs Justin Edwards (6-1)
UFC 135 from Denver, Colorado- September 24th, 2011
UFC Light Heavyweight Championship- Jon " Bones " Jones (13-1) vs Quinton " Rampage " Jackson (32-8)
Matt Hughes (45-8) vs Diego "The Dream" Sanchez (23-4)
Norifumi " Kid " Yamamoto (18-4) vs Damacio " Angel of Death " Page (15-6)
Travis Browne (11-0-1) vs Rob Broughton (15-5-1)
Takanori " The Dragonball Kid " Gomi (32-7) vs Nate Diaz (13-7)
Tony "Cucuy" Ferguson (11-2) vs Aaron Riley (30-12-1)
"Big" Ben Rothwell (31-7) vs Mark Hunt (6-7)
James Te Huna (12-5) vs Ricardo Romero (11-2)
Tim "The Barbarian" Boetsch (13-4) vs Nick "The Promise" Ring (12-0)
Diego "The Gun" Nunes (16-2) vs Manvel "Pitbull" Gamburyan (11-6)
Takeya Mizugaki (14-6-2) vs Cole "Apache Kid" Escovedo (17-7)
UFC On Versus 6- October 1st, 2011
UFC Bantamweight Championship- Dominick Cruz (17-1) vs Demetrious "Mighty Mouse" Johnson (9-1)
Charlie "The Spaniard" Brenneman (13-2) vs Anthony "Rumble" Johnson (9-3)
"Handsome" Matt Wiman (13-5) vs Mac Danzig (20-8-1)
Pat Barry (6-3) vs Stefan "Skyscraper" Struve (21-5)
Paul Sass (11-0) vs Michael "The Menace" Johnson (9-5)
Mike "The Hulk" Easton (10-1) vs Jeff "Hellbound" Hougland (10-4)
Yves "Thugjitsu Master" Edwards (40-17-1) vs Rafaello "Tractor" Oliveira (14-4)
Shane Roller (10-4) vs T.J. Grant (16-5)
Fabio Maldanado (18-4) vs Aaron Rosa (16-4)
UFC 136 from Houston, Texas- October 8th, 2011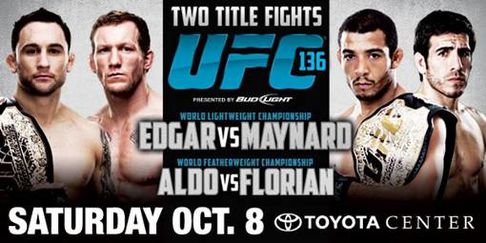 UFC Lightweight Title Fight- Frank "The Answer" Edgar (13-1-1) vs Gray "The Bully" Maynard (10-0-1)
UFC Featherweight Title Fight- Jose Aldo (19-1) vs Kenny "Ken Flo" Florian (14-5)
Chael Sonnen (25-11-1) vs "All American" Brian Stann (11-3)
Demian Maia (14-3) vs Jorge Santiago (23-9)
Melvin "The Young Assassin" Guillard (29-8-2) vs Joe "J-Lau" Lauzon (20-6)
Anthony "Showtime" Pettis (13-2) vs Jeremy "Lil Heathen" Stephens (20-6)
Dave "Pee Wee" Herman (21-2) vs Mike Russow (14-1)
Joey "Mexicutioner" Beltran (13-5) vs Stipe Miocic (6-0)
Matt "The Wolverine" Grice (13-3) vs Nam Phan (16-8)
Aaron "A- Train" Simpson (10-2) vs Nick Catone (9-2)
Steve "The Robot" Cantwell (7-4) vs Mike Massenzio (12-5)
Tie Quan "The Mongolian Wolf" Zhang (13-1) vs Darren Elkins (12-2)
UFC 137 from Las Vegas, Nevada- October 29th, 2011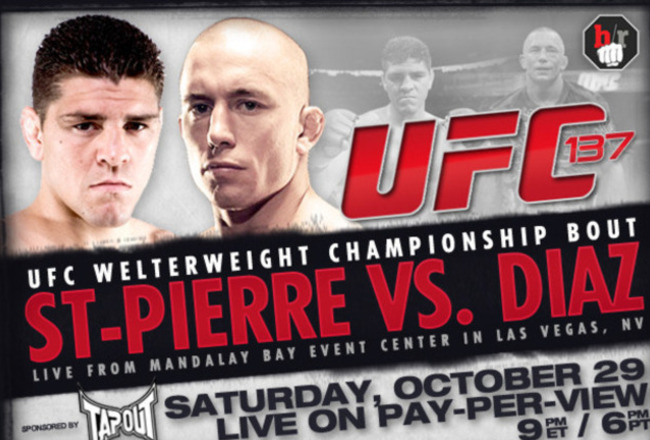 UFC Welterweight Championship- Georges "GSP" St. Pierre (22-2) vs Nick Diaz (25-7)
"The Prodigy" BJ Penn (16-7-2) vs "The Natural Born Killers" Carlos Condit (26-5)
Roy "Big Country" Nelson (15-6) vs Mirko "Cro Cop" Filipovic (27-9-2)
Sam "Hands of Stone" Stout (17-6-1) vs Dennis Siver (18-7)
Cheick Kongo (15-6-2) vs Matt Mitrione (4-0)
Hatsu Hioki (24-4-2) vs George Roop (12-7-1)
Scott Jorgensen (12-4) vs Jeff "Big Frog" Curran (33-13-1)
Tyson Griffin (14-5) vs Bart Palaszewski (35-14)
Brandon "The Truth" Vera (11-5) vs Eliot "The Fire" Marshall (10-3)
"Crazy" Tim Credeur (12-4) vs Brad Tavares (7-1)
Daniel "Danny Boy" Downes (8-2) vs Ramsey Nijem (4-2)
UFC 138 from Birmingham, England- November 5th, 2011
"The Crippler" Chris Leben (26-7) vs "The Phillippine Wrecking Machine" Mark Munoz (11-2)
Thiago "Pitbull" Alves (18-8) vs Papy "Makambo" Abedi (8-0)
Terry Etim (14-3) vs Edward "Falo" Faaloto (2-2)
Anthony Njokuani (13-5) vs "Relentless" Paul Taylor (11-6-1)
Brad "One Punch" Pickett (20-5) vs. Renan Barao (26-1)
Mark Scanlon (7-2) vs James Head (7-2)
Michihiro Omigawa (12-10-1) vs Jason "Shotgun" Young (8-4)
John Hathaway (15-1) vs Pascal "Panzer" Krauss (10-0)
Chris "Kamikaze" Cariaso (11-3) vs Vaughan Lee (11-6-1)
Phillip De Fries (7-0) vs Oli Thompson (9-2)
Che Mills (13-4) vs Chris "C-Murder" Cope (5-1)
UFC Fox Fight Night 1- November 12th, 2011
Dustin "The Diamond" Poirier (10-1) vs Pablo "Scarecrow" Garza (11-1)
UFC 13 9 from San Jose, California- November 19th, 2011
UFC Heavyweight Championship- Cain Velasquez (9-0) vs Junior Dos Santos(13-1)
"The California Kid" Urijah Faber (25-4) vs Brian Bowles (10-1)
Chris Weidman (6-0) vs "Filthy" Tom Lawlor (7-3)
Rafael Dos Anjos (15-5) vs Gleison Tibau (23-7)
Martin "The Hitman" Kampmann (17-5) vs Rick "The Horror" Story (13-4)
TUF 14 Finale from Las Vegas, Nevada- December 3rd, 2011
Jason "Mayhem" Miller (24-7) vs Michael "The Count" Bisping (21-3)
That's all for this week everyone, I'll be back in two weeks with a recap of UFC 134: Rio and Breakdowns of Strikeforce Grand Prix: Barnett vs Kharitonov and UFC Fight Night 25. Enjoy the fights!
---
---
blog comments powered by Disqus
| | |
| --- | --- |
| My Son Lucas JG's Facebook Insanity: Let's Infuriate Your Friends (33 Minutes) James Guttman's Free 2009 Interview With Mr. Fuji JG's 10/19/15 Raw Insanity: Hell of a Sell JG's 10/5/15 Raw Insanity: Flashing The Brock Signal JG's Insanity: The 12th Annual WWE Memorial Day Barbecue JG's Insanity: The 11th Annual WWE Memorial Day Barbecue JG's Ten Facebook Posts To Annoy Your Friends JG's Ten Beloved TV Characters Who Were Obvious Psychopaths JG's 10 More Fun Ways To Infuriate People Online JG's Ten Insider Wrestling Terms You Shouldn't Use When Talking About Something Besides Wrestling JG's Insanity: The 10th Annual WWE Memorial Day Barbecue JG's Ten Demented Ways We Misused Our Toys JG's 15 Fun Ways To Infuriate People Online JG's Ten Sesame Street Muppets That Are Missing And Presumed Dead JG's Scene From WWE Raw (After Vince McMahon Goes Senile) JG's Ten Signs You Were A Wrestling Fan Of The 1980s JG's Insanity: Stone Cold's Greatest Moments (Without Stone Cold) JG's Ten Wrestling Moves That Really Hurt When You Try Them At Home JG's Insanity: Everybody Is Tito Santana JG's Ten Reasons Why WWF LJN Figures Were The Greatest Toys Ever JG's Ten Judges Who Would Make American Idol Worth Watching JG's 2012 in Pictures (As Hulk Hogan Will Remember It) JG's Quintuple Bypass Surgery Insanity JG's Five Episodes of Diff'rent Strokes That Scarred Me For Life JG's Ten Facebook Posts That Are Slowly Driving Me Crazy JG's Ten Truly Terrible Reality Competition Shows JG's Ten 1980s TV Characters Who Taught Me To Hate JG's Ten Wrestling Characters Who Went Through Massive Personality Changes JG's Ten Old School Wrestlers Who Would Terrorize Today's PG WWE | The Challenge: Champs vs. Stars 3 - Episode 9 TGIF: The Greatest Professional Wrestling Match Of All Time The ROHbot Report: San Antonio/Dallas Previews, Bullies Dominate, and More The Challenge: Champs vs. Stars 3 - Episode 8 TGIF: CM Punk Gets One More WWE Victory, Constable Corbin, and More The ROHbot Report: Austin Aries Goes For The Gold, NY TV Results, And More Solo: A Star Wars Story Review TGIF: You Can't Teach Rap, NBC's World Wrestling Embarrassed, and More The Challenge: Champs vs. Stars 3 - Episode 7 The ROHbot Report: UK Tour Reviews, TV Recap, And More The Challenge: Champs vs. Stars - Episode 6 TGIF:The Lashley Girls Kill RAW, Merging Impact, and More The ROHbot Report: Honor United Previews, ROH TV Episode 348, And More The Challenge: Champs vs. Stars 3 - Episode 5 TGIF: Nia Gets Rowdy, All In All Sold Out, and More The Challenge: Champs vs. Stars 3 - Episode 4 The ROHbot Report: War of the Worlds Reviews, Chicago TV Taping Preview, And More TGIF: Pop Goes The Charlotte, Johnny Survivor, and More The ROHbot Report: War of the Worlds, Bound By Honor: Lakeland, And More TGIF: Hornswoggle Won The Rumble, Los Ingobernables de Jericho, and More The Challenge: Champs vs. Stars 3 - Episode 3 The Review - Avengers: Infinity War The ROHbot Report: War of the Worlds Main Events Announced and More TGIF: Roman Reigns Has The Worst Royal Rumble and More The Challenge: Champs vs. Stars 3 - Episode 2 The Challenge: Champs vs. Stars 3 - Episode 1 The ROHbot Report: Pittsburgh TV, Masters of the Craft Review, And More The Challenge: Vendettas - Reunion (Part 2) TGIF: Miz vs. Bryan Finally, Nikki Not Seeing Cena, and More The ROHbot Report: Supercard of Honor XII, Masters of the Craft, And More |