From WorldWrestlingInsanity.com


MMA
Fightin' Words: Recap of UFC 134: Rio, Breakdown of Strikeforce Grand Prix: Barnett vs Kharitonov, and Upcoming Shows
By Kevin Wallace
Sep 5, 2011 - 11:30 AM



Recap of UFC 134: Rio
On August 27th, the UFC returned to Brazil for yet another awesome show, continuing the tradition of great cards during the summer. When the night was said and done, Anderson Silva continued to show that he is undoubtedly the greatest fighter in the world today and perhaps even the world. Shogun avenged a tough loss from 2007 against Forrest Griffin in a one sided affair. Plus "Minotauro" knocked out a tough young prospect in spectabular fashion. What ended up being an awesome show for the hometown Brazilians translated great to the viewers watching from home.
UFC Middleweight Championship- Anderson "The Spider" Silva (2 9 -4) defeated Yushin "Lionheart" Okami (26- 6 ) by tko at 2:04 of the second round. Anyone who reads this column regularly would know that I am not exactly the biggest Anderson Silva however Silva is hands down, the best fighter in the world right now. Even my blind friend, JB, told me that Anderson looked unstoppable in toppling Okami and avenging his loss from 2006. Okami did next to nothing in the two rounds he competed in, other than a half assed attempt of a takedown against the cage in the first round that Anderson shrugged off with ease. Okami seemed to want to be anywhere other than standing across the cage from Anderson and the results of the fight show it. Anderson was growing frustrated in the second round with Okami's refusal to push forward or do anything but just stand there and in typical bored Anderson fashion and allow Okamia to hit him with his best shot which Okami refused to do. When Okami finally did move in for a punch, he was dropped with a big right and Anderson followed him to the mat where he reigned down more punches as Okami covered up until the referee called a stop to this one. I'm not big on fighters trying to make their opponents look bad but if you can do it effectively like Anderson did then how can I really argue? It still remains to be seen as to who or what strategy can beat Anderson but the best bet is someone with the takedowns of Chael Sonnen and aggressiveness that isn't going to make Anderson just stand there. The win marks Anderson's 14th in a row in the UFC and the longest winning streak in UFC history. Okami should remain a high level middleweight for the rest of his tenure in the UFC however he will most likely never find himself in another title shot due to this rather abysmal performance. Expect an Okami vs Vito Belfort fight in Okami's next outing while Anderson should most likely take on Chael Sonnen or Brian Stann, depending who walks away the winner after the two face off in October.
Mauricio "Shogun" Rua ( 20 -5) defeated Forrest Griffin (18- 7 ) by knockout at 1:53 of the first round. Classic case of one fighter being motivated for a fight and the other showing up for a paycheck. Griffin's days as a top level fighter seem far removed from what we saw at UFC 134 as Griffin looked slow, was flat footed and refused to try and get the fight to the mat where he enjoyed succes the first time. Griffin didn't do anything of note except for getting clipped on the side of the head in a flurry from Shogun and fall to the ground where he did "the Forrest Griffin" which consists of flopping around the mat like a fish out of water where Shogun landed several unanswered punches until Griffin was out and the referee had to step in. In everyway possible Shogun looked flawless although it is still difficult to gauge whether he is indeed "back" considering how short the fight was. Shogun's knee problems have made him hit or miss since debuting in the UFC in 2007 but showed no signs of still being injured in this one. Expect a third fight with Lyoto Machida. Rashad Evans or Rampage in his next fight.
Antonio Rodrigo "Minotauro" Nogueira (3 3 -6-1) defeated Brendan Schaub (8- 2 ) by knockout at 3:09 of the first round. Schaub was looking for the knockout early but not before Antonio attempted a takedown against the cage to no success. Schaub had Antonio in trouble several times, having timed his right hook to Nog's face on a few occasions that seemed to put him on wobbly legs until Nog's boxing came in to play and Nog landed a one, two to Schaub's head which caused Schaub to go out on his feet. Nog landed a few additional punches which dropped Schaub and followes it up with one more on the ground until the referee stepped in to call a stop to this one as the crowd erupted and cheered their Brazilian legend. Nog wasn't overly impressive here as he really did look like the half blind, bummed knee and hips fighter that he is, looking slow and lothargic but there's no denying that a win over Schaub is a big accomplishment for the former UFC interim heavyweight champion. Nog was awarded an additional $100 000 for knockout of the night after all was said and done.
Edson Barboza ( 9 -0) defeated Ross Pearson (12- 5 ) by split decision. Very close fight here with both men looking impressive. Pierson took the fight to Barboza in this one and kept pushing forward throughout the fight, refusing to give Barboza an opportunity to stay stationary and unload with kicks. Barboza was still able to work his high kicks and body shots while Pierson chose to unload with combinations with his fists. This fight really could have gone either way as it was a difficult fight to score and both men were aggressive throughout. Each man left Rio with an additional $100 000 for fight of the night.
Stanislav Nedkov (1 2 -0) defeated Luiz "Banha" Cane (11- 4 ) by tko at 4:20 of the first round. Cane enjoyed a significant reach advantage in this one and was the first to find his range on the feet where he put together a couple of nice combinations that saw him cut open Nedkov with some punches. Nedkov attempted to shoot in on Cane for a takedown but Cane was able to keep it on the feet with his improved sprawl. Nedkov was eventually able to rock Cane with a nice combination which caused Cane to go limp and begin backpeddaling and trying to literally run out ot the cage in defense. Nedkov followed Cane to the side of the cage where he landed several follow up punches that continued to put Cane in trouble until the referee stepped in to stop this one. Not the most impressive debut for Nedkov but he did leave with the victory so I shouldn't rag on him too much.
Spike Prelims
Thiago Tavares (1 6 -4-1) defeated Spencer "The King" Fisher (24- 8 ) by tko at 2:51 of the second round
Rousimar Palhares (1 3 -3) defeated Dan Miller (13-6) by unanimous decision
Facebook Fights
Paulo Thiago (1 4 -3) defeated David Mitchell (11- 2 ) by unanimous decision
Yuri "Alcantra" Marajo (2 6 -3) defeated Felipe Arantes (13-4) by unanimous decision
Erick Silva (1 3- 1) defeated Luis Ramos (19-7) at 0:40 of the first round by knockout
Yves "Tiger" Jabouin (1 6 -7) defeated Ian "The Barn Owl" Loveland (14- 9 ) by split decision
Raphael Assuncao (17-4) defeated Johnny Eduardo (25-9) by unanimous decision
Breakdown of Strikeforce Grand Prix: Barnett vs Kharitonov
Strikeforce hosts another event this weekend with the semi-finals of the heavyweight tournament as well as a couple more intriguing fights.
Strikeforce Middleweight Championship- Ronaldo "Jacare" Souza (14-2) vs Luke Rockhold (7-1)- Rockhold is a young prospect with a frightening submission who's been nursing injuries since early 2011 while Jacare is Strikeforce's middleweight champion and a stand out submission specialist in his own right. Jacare has defeated Robbie Lawler, Tim Kennedy and Matt Lindland in his recent outings, a much higher level of competition than the Jesse Taylor's of the world that Rockhold's been in with as of late. Jacare has some powerful punches but is quite aware of the edge he holds against almost anyone in MMA on the ground and should be able outclass Rockhold and end his night within the 25 minute frame as with over a year of inactivity, you're in for a rough night against Jacare.
Prediction: Souza by submission
Daniel Cormier (8-0) vs Antonio "Bigfoot" Silva (16-2)- Cormier is coming in as a late replacement for an "injured" and recently released Strikeforce heavyweight champion Alistair Overeem. That's right, you read that last sentence correctly, Strikeforce has gotten rid of their third champion in the last year. Cristiane "Cyborg" Santos, Nick Diaz and now Alistair Overeem have all been let go by Strikeforce in the last few months and if that doesn't say ,"were going under", then I don't know what does. This tournament has been an absolute nightmare with Overeem now out, constant injuries to participants that saw the tournament delayed and trying to find a venue in which Josh Barnett is allowed to fight. No matter what, this tournament seems destined to fail. Daniel Cormier is a hot young prospect however he's never faced somoene with the challenge that Silva presents and the much larger fighter in Silva is not tailor made for Cormier's game plan. Silva is the much larger heavyweight while Cormier's frame is best suited at 205. For Cormier, his only way of winning is to stay on top of Silva after getting him down while Silva has the advantage with the reach, striking power and maybe even submissions. Cormier seemed content standing in his last fight, a decision victory over Jeff Monson but Monson's stand-up sucks and beating him on the feet is not all that large of an accomplishment. Silva is just going to be too big for Cormier to toss around or get to the mat and even if he does I think he's going to use up all of his energy doing it. Silva should be able to stop the majority of Cormier's submissions and pick him apart standing to hand Cormier his first loss. For the sake of MMA, I hope to God that Silva wins this as it would be a damn shame to see Cormier in the finals against Josh Barnett or Sergei Kharitonov after entering the tournament on late notice and especially consider the big names that were in the tournament such as Fedor Emelianenko, Fabricio Werdum, Alistair Overeem and Andrei Arlovski and how none of them are currently involved.
Prediction: Silva by tko
"The Babyfaced Assassin" Josh Barnett (30-5) vs Sergei Kharitonov (18-4)- Kharitonov is a kickboxer with limited ground skills while Barnett is a well rounded former UFC heavyweight champion with much better wrestling than Kharitonov. Barnett should and will be able to take down Kharitonov and finish him with punches in the mount or a submission. I don't want to count out Kharitonov entirely but the guy has little more than a "punchers chance" here and Barnett should outclass him on the ground. Khartitonov has done well against low calibre opponents but Barnett's a giant step up from that and will walk away with his hand raised.
Prediction: Barnett by submission
Roger Gracie (4-0) vs "King" Mo Lawal (7-1)- Classic wrestler vs Jui Jitsu match up here with King Mo having the wrestling background and Roger being a Gracie, Jui Jitsu's royal family. King Mo hasn't fought in over a year, losing his last contest by knockout to former Strikeforce champion Raphael "Feijao" Cavalcante and is a very one dimensional fighter, kind of similar to his opponent. Gracie is considered by many to be the future of the family with submission skills that make even Royce look like amateur but as with most Gracie's his stand-up has been neglected. Mo is a top level wrestler and should be able to take down Roger quickly however, he's never been tested on the ground against someone of Roger's Jui Jitsu skills and a safe bet for him is to have the fight contested on the feet where Mo should enjoy the advantage. Really difficult fight to call here as if it stays standing then Mo should be able to knock out Roger but if it goes to the mat Roger should be able to catch Mo sleeping.
Prediction: Gracie by submission
Prelim Fights
Rafael Cavalcante (10-3) vs Yoel Romero Palacio (4-0)- Prediction: Cavalcante by tko
Mike Kyle (18-8-1) vs Marcos Rogerio de Lima (8-0)- Prediction: de Lima by knockout
Maximo "Maxi" Blanco (8-2-1) vs Pat "Bam Bam" Healy (25-16) - Prediction: Healy by decision
Jordan Mein (22-7) vs Evangelista Santos (18-14)- Prediction: Mein by tko
Amanda Nunes (6-1) vs Alexis Davis (10-4)- Nunes by decision
Upcoming Events
UFC Fight Night 25 from New Orleans, Louisiana- September 17th, 2011
Jake Shields (26-5-1) vs Jake "The Juggernaut" Ellenberger (24-5)
Alan " The Talent " Belcher (16-6) vs Jason " The Athlete " MacDonald (25-14)
Court " Crusher " McGee (13-1) vs Dong Yi " The Hammer " Yang (10-1)
Erik " New Breed " Koch (12-1) vs Jonathan Brookins (12-3)
Evan Dunham (11-2) vs Shamar Bailey (12-3)
Clay Harvison (7-1) vs Seth Baczynski (13-6)
Vagner Rocha (6-2) vs "AK Kid" Cody Mckenzie (12-1)
Donny "Eagle Eye" Walker (15-7) vs Ken Stone (9-3)
Mike Lullo (8-3) vs Robert Peralta (14-3)
Matthew Riddle (5-2) vs Lance Benoist (5-0)
Daniel "Ninja" Roberts (12-3) vs Anthony "T.J." Waldburger (13-6)
Jorge "Lil' Monster" Lopez (11-1) vs Justin Edwards (6-1)
UFC 135 from Denver, Colorado- September 24th, 2011
UFC Light Heavyweight Championship- Jon " Bones " Jones (13-1) vs Quinton " Rampage " Jackson (32-8)
Matt Hughes (45-8) vs Diego "The Dream" Sanchez (23-4)
Norifumi " Kid " Yamamoto (18-4) vs Damacio " Angel of Death " Page (15-6)
Travis Browne (11-0-1) vs Rob Broughton (15-5-1)
Takanori " The Dragonball Kid " Gomi (32-7) vs Nate Diaz (13-7)
Tony "Cucuy" Ferguson (11-2) vs Aaron Riley (30-12-1)
"Big" Ben Rothwell (31-7) vs Mark Hunt (6-7)
James Te Huna (12-5) vs Ricardo Romero (11-2)
Tim "The Barbarian" Boetsch (13-4) vs Nick "The Promise" Ring (12-0 )
Takeya Mizugaki (14-6-2) vs Cole "Apache Kid" Escovedo (17-7)
Junior Assuncao (12-4) vs Eddie "The Philiipino Phenom" Yagin (15-4-1)
UFC On Versus 6- October 1st, 2011
UFC Bantamweight Championship- Dominick Cruz (17-1) vs Demetrious "Mighty Mouse" Johnson (9-1)
Charlie "The Spaniard" Brenneman (13-2) vs Anthony "Rumble" Johnson (9-3)
"Handsome" Matt Wiman (13-5) vs Mac Danzig (20-8-1)
Pat Barry (6-3) vs Stefan "Skyscraper" Struve (21-5)
Paul Sass (11-0) vs Michael "The Menace" Johnson (9-5)
Mike "The Hulk" Easton (10-1) vs Jeff "Hellbound" Hougland (10-4)
Yves "Thugjitsu Master" Edwards (40-17-1) vs Rafaello "Tractor" Oliveira (14-4)
Shane Roller (10-4) vs T.J. Grant (16-5)
Fabio Maldanado (18-4) vs Aaron Rosa (16-4)
Josh "The Dentist" Neer (31-10-1) vs Keith "The Polish Connection" Wisniewski (28-12-1)
Joseph Sandoval (6-0) vs Walel "The Gazel" Watson (8-2)
UFC 136 from Houston, Texas- October 8th, 2011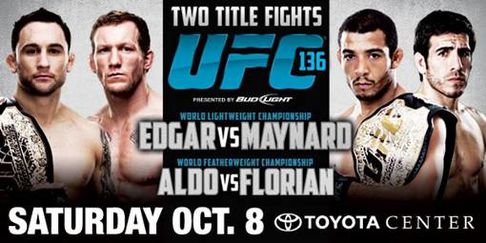 UFC Lightweight Title Fight- Frank "The Answer" Edgar (13-1-1) vs Gray "The Bully" Maynard (10-0-1)
UFC Featherweight Title Fight- Jose Aldo (19-1) vs Kenny "Ken Flo" Florian (14-5)
Chael Sonnen (25-11-1) vs "All American" Brian Stann (11-3)
Demian Maia (14-3) vs Jorge Santiago (23-9)
Melvin "The Young Assassin" Guillard (29-8-2) vs Joe "J-Lau" Lauzon (20-6)
Anthony "Showtime" Pettis (13-2) vs Jeremy "Lil Heathen" Stephens (20-6)
Dave "Pee Wee" Herman (21-2) vs Mike Russow (14-1)
Joey "Mexicutioner" Beltran (13-5) vs Stipe Miocic (6-0)
Matt "The Wolverine" Grice (13-3) vs Nam Phan (16-8)
Aaron "A- Train" Simpson (10-2) vs Nick Catone (9-2)
Steve "The Robot" Cantwell (7-4) vs Mike Massenzio (12-5)
Tie Quan "The Mongolian Wolf" Zhang (13-1) vs Darren Elkins (12-2)
UFC 137 from Las Vegas, Nevada- October 29th, 2011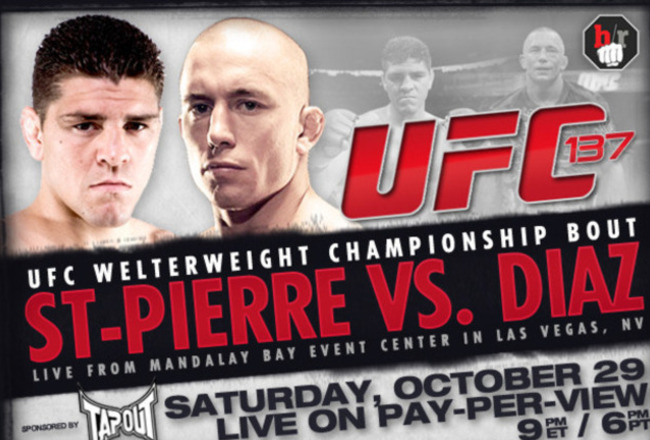 UFC Welterweight Championship- Georges "GSP" St. Pierre (22-2) vs Nick Diaz (25-7)
"The Prodigy" BJ Penn (16-7-2) vs "The Natural Born Killers" Carlos Condit (26-5)
Roy "Big Country" Nelson (15-6) vs Mirko "Cro Cop" Filipovic (27-9-2)
Donald "Cowboy" Cerrone (16-3) vs Denis Siver (19-7)
Cheick Kongo (15-6-2) vs Matt Mitrione (4-0)
Hatsu Hioki (24-4-2) vs George Roop (12-7-1)
Scott Jorgensen (12-4) vs Jeff "Big Frog" Curran (33-13-1)
Tyson Griffin (14-5) vs Bart Palaszewski (35-14)
Brandon "The Truth" Vera (11-5) vs Eliot "The Fire" Marshall (10-3)
"Crazy" Tim Credeur (12-4) vs Brad Tavares (7-1)
Daniel "Danny Boy" Downes (8-2) vs Ramsey Nijem (4-2)
UFC 138 from Birmingham, England- November 5th, 2011
"The Crippler" Chris Leben (26-7) vs "The Phillippine Wrecking Machine" Mark Munoz (11-2)

Thiago "Pitbull" Alves (18-8) vs Papy "Makambo" Abedi (8-0)

Terry Etim (14-3) vs Edward "Falo" Faaloto (2-2)

Anthony Njokuani (13-5) vs "Relentless" Paul Taylor (11-6-1)

Brad "One Punch" Pickett (20-5) vs. Renan Barao (26-1)

Mark Scanlon (7-2) vs James Head (7-2)

Michihiro Omigawa (12-10-1) vs Jason "Shotgun" Young (8-4)

John Hathaway (15-1) vs Matt "The Immortal" Brown (12-10)

Chris "Kamikaze" Cariaso (11-3) vs Vaughan Lee (11-6-1)

Phillip De Fries (7-0) vs Oli Thompson (9-2)

Che Mills (13-4) vs Chris "C-Murder" Cope (5-1)

Cyrille "Snake" Diabate (17-7-1) vs Anthony "Hippo" Perosh (11-6)

UFC Fox Fight Night 1- November 12th, 2011

UFC Heavyweight Championship- Cain Velasquez (9-0) vs Junior Dos Santos(13-1)

Dustin "The Dustin" Diamond" Poirier (10-1) vs Pablo "Scarecrow" Garza (11-1)

Ricardo Lamas (10-2) vs Cub Swanson (15-4)

UFC 13 9 from San Jose, California- November 19th, 2011

"The California Kid" Urijah Faber (25-4) vs Brian Bowles (10-1)

Chris Weidman (6-0) vs "Filthy" Tom Lawlor (7-3)

Rafael Dos Anjos (15-5) vs Gleison Tibau (23-7)

Martin "The Hitman" Kampmann (17-5) vs Rick "The Horror" Story (13-4)

Ryan "Darth" Bader (12-2) vs Jason "The Hitman" Brilz (18-4-1)

Kyle Kingsbury (11-2) vs "American Psycho" Stephan Bonnar (13-7)

TUF 14 Finale from Las Vegas, Nevada- December 3rd, 2011

Jason "Mayhem" Miller (24-7) vs Michael "The Count" Bisping (21-3)

UFC 140 from Toronto, Ontario, Canada- December 10th, 2011

Mitch Clarke (9-0) vs John Cholish (7-1)

That's all for this week everyone but I'll be back next week with a recap of Strikeforce: Grand Prix- Barnett vs Kharitonov and a look at the upcoming Battle on the Bayou Fight Night and UFC 135: Jones vs Jackson.



© Copyright by WorldWrestlingInsanity.com
WorldWrestlingInsanity.com is not affiliated with any wrestling promotion.