---
#FollowTheTweeter: Brodus Clay from Planet Funk, Jessicka Havok as "The Silk Specter", The Final Wrestling Shows in the ECW Arena, and Much More!

By Mike Johns Jan 11, 2012 - 12:24 PM
---
Hello and welcome to the first edition of
#

FollowTheTweeter
for 2012, where we bring you the best and craziest posts from all of your favorite wrestlers on Social Media.
This past Monday, Brodus Clay FINALLY re-debuted on RAW as the Funkasaurus, from Planet Funk. Reaction to this new gimmick has, at best, been mixed. Here is how some in the Wrestling Community reacted to the Man from Planet Funk -
CHIKARA posted a preview of Season 11 this week, promising that in 2012, You Are CHIKARA -
Meanwhile, this Saturday will be the final wrestling shows in the ECW Arena in South Philadelphia, as CZW and EVOLVE hold a double-header. Here are some promos for the CZW Show -

As well as promos for EVOLVE 10 -

Not only will EVOLVE 10 will be the first event held after the announcement that Dragon Gate USA and EVOLVE have merged into the same continuity, but it will also mark Johnny Gargano's first defense of the Open the Freedom Gate Championship against the Blood Warriors' Ricochet. Also, in honor of the final wrestling show in the ECW Arena, Joey Styles and New Jack have also been confirmed for the EVOLVE show this Saturday, to take part in a special farewell ceremony to The Arena and the two decades of wrestling history the building played host to. If you're not able to get to the ECW Arena on January 14, you can still order the EVOLVE show on iPPV by clicking the banner below -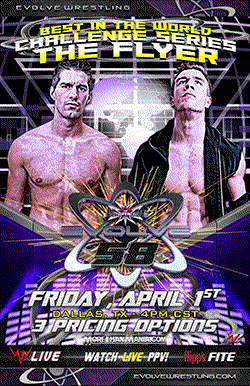 Speaking of Joey Styles...


And now, Colt Cabana with a Message from the folks running WrestleReunion -

Since we're here, let's check out the latest episode of

Creative Has Nothing For You

-

Fun With Jay Briscoe





A couple years ago, I wrote a parody of Alan Moore's

Watchmen

series, called

The unWatched-Men Saga

and based on Impact Wrestling. As it turns out, WSU's Spirit Champion, Jessicka Havok, appears be auditioning for the role of the Silk Specter -



Meanwhile, check out Robbie E's watch -



CM Punk had a couple revelations, recently...



Jim Cornette recently appeared on FOX45 in Baltimore to promote the most recent Ring of Honor TV taping. Here's the interview -

And, finally, because this column would likely be nothing without it, here's the latest episode of the

Z! True Long Island Story

-

---
---
blog comments powered by Disqus
| | |
| --- | --- |
| My Son Lucas JG's Facebook Insanity: Let's Infuriate Your Friends (33 Minutes) James Guttman's Free 2009 Interview With Mr. Fuji JG's 10/19/15 Raw Insanity: Hell of a Sell JG's 10/5/15 Raw Insanity: Flashing The Brock Signal JG's Insanity: The 12th Annual WWE Memorial Day Barbecue JG's Insanity: The 11th Annual WWE Memorial Day Barbecue JG's Ten Facebook Posts To Annoy Your Friends JG's Ten Beloved TV Characters Who Were Obvious Psychopaths JG's 10 More Fun Ways To Infuriate People Online JG's Ten Insider Wrestling Terms You Shouldn't Use When Talking About Something Besides Wrestling JG's Insanity: The 10th Annual WWE Memorial Day Barbecue JG's Ten Demented Ways We Misused Our Toys JG's 15 Fun Ways To Infuriate People Online JG's Ten Sesame Street Muppets That Are Missing And Presumed Dead JG's Scene From WWE Raw (After Vince McMahon Goes Senile) JG's Ten Signs You Were A Wrestling Fan Of The 1980s JG's Insanity: Stone Cold's Greatest Moments (Without Stone Cold) JG's Ten Wrestling Moves That Really Hurt When You Try Them At Home JG's Insanity: Everybody Is Tito Santana JG's Ten Reasons Why WWF LJN Figures Were The Greatest Toys Ever JG's Ten Judges Who Would Make American Idol Worth Watching JG's 2012 in Pictures (As Hulk Hogan Will Remember It) JG's Quintuple Bypass Surgery Insanity JG's Five Episodes of Diff'rent Strokes That Scarred Me For Life JG's Ten Facebook Posts That Are Slowly Driving Me Crazy JG's Ten Truly Terrible Reality Competition Shows JG's Ten 1980s TV Characters Who Taught Me To Hate JG's Ten Wrestling Characters Who Went Through Massive Personality Changes JG's Ten Old School Wrestlers Who Would Terrorize Today's PG WWE | The Challenge: Champs vs. Stars 3 - Episode 9 TGIF: The Greatest Professional Wrestling Match Of All Time The ROHbot Report: San Antonio/Dallas Previews, Bullies Dominate, and More The Challenge: Champs vs. Stars 3 - Episode 8 TGIF: CM Punk Gets One More WWE Victory, Constable Corbin, and More The ROHbot Report: Austin Aries Goes For The Gold, NY TV Results, And More Solo: A Star Wars Story Review TGIF: You Can't Teach Rap, NBC's World Wrestling Embarrassed, and More The Challenge: Champs vs. Stars 3 - Episode 7 The ROHbot Report: UK Tour Reviews, TV Recap, And More The Challenge: Champs vs. Stars - Episode 6 TGIF:The Lashley Girls Kill RAW, Merging Impact, and More The ROHbot Report: Honor United Previews, ROH TV Episode 348, And More The Challenge: Champs vs. Stars 3 - Episode 5 TGIF: Nia Gets Rowdy, All In All Sold Out, and More The Challenge: Champs vs. Stars 3 - Episode 4 The ROHbot Report: War of the Worlds Reviews, Chicago TV Taping Preview, And More TGIF: Pop Goes The Charlotte, Johnny Survivor, and More The ROHbot Report: War of the Worlds, Bound By Honor: Lakeland, And More TGIF: Hornswoggle Won The Rumble, Los Ingobernables de Jericho, and More The Challenge: Champs vs. Stars 3 - Episode 3 The Review - Avengers: Infinity War The ROHbot Report: War of the Worlds Main Events Announced and More TGIF: Roman Reigns Has The Worst Royal Rumble and More The Challenge: Champs vs. Stars 3 - Episode 2 The Challenge: Champs vs. Stars 3 - Episode 1 The ROHbot Report: Pittsburgh TV, Masters of the Craft Review, And More The Challenge: Vendettas - Reunion (Part 2) TGIF: Miz vs. Bryan Finally, Nikki Not Seeing Cena, and More The ROHbot Report: Supercard of Honor XII, Masters of the Craft, And More |
Error processing SSI file

Even More From This Category
>>