From WorldWrestlingInsanity.com


Mike Johns
Something Completely Different: A Preview of Dragon Gate USA's Open the Golden Gate iPPV, featuring Low-Ki vs. BxB Hulk, Ronin vs. The Young Bucks, & Sami Callihan vs. AR Fox
By Mike Johns
Jan 25, 2012 - 9:45 AM




(Please be sure to "Like" this video. I recently entered this in a DGUSA Video Editing Contest, and would sincerely appreciate the help in getting this video to the Finals. Thank you!)
This Friday, January 27, Dragon Gate USA heads to WrestleReunion 6 in Los Angeles to present Open the Golden Gate, live on iPPV. If you're not in the Los Angeles area and can't attend the show in person, you can catch all the action by clicking the banner below and ordering the iPPV.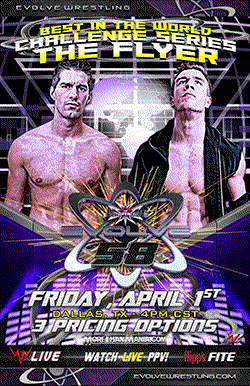 This week, in lieu of a Tweeter column, or a profile on yet another wrestler whose name you're only vaguely familiar with, we're going to preview the upcoming DGUSA iPPV by running down the card, introducing you to some of DGUSA's top stars and factions, and bringing you up to speed on everything that has been going on in both DGUSA and EVOLVE so far in 2012.
For starters, it's probably a good time to bring up DGUSA's biggest talent acquisition to date -

Low-Ki made his DGUSA/EVOLVE debut at EVOLVE 10, defeating Larry Dallas' latest fighter, Ahtu, in short order. This Friday, Low-Ki officially makes his DGUSA debut, taking on the first-ever Open the Freedom Gate Champion, the charismatic and flamboyant BxB Hulk.

These days, Hulk runs with Dragon Gate's elite faction, the Blood Warriors, and he looks to regain momentum in the States after losing to Johnny Gargano last November, one night before Gargano went on to defeat YAMATO for the Open the Freedom Gate Title.
Now, let's take a minute to check out the Most Dominant Faction in DGUSA today, the Blood Warriors!
On a side note, it should be noted that Akira Tozawa and BxB Hulk recently turned on and ousted fellow Blood Warrior (and former leader) CIMA out of the faction back on January 19 in Japan, making Tozawa the new leader of the faction. Meanwhile, CIMA continues to hold the Open the United Gate Tag Team Titles with Ricochet, who is still part of the Blood Warrior faction as of this writing. How DGUSA will reconcile this recent change remains to be seen, but regardless, this Friday, CIMA and Ricochet are set to defend their United Gate titles against the Junction Three team of Masaaki Mochizuki and Jimmy Susumu (a.k.a. Susumu Yokosuka).
Meanwhile, Rich Swann and Chuck Taylor of the Ronin faction have been on a roll as a tag team, lately, taking out the Super Smash Brothers at EVOLVE 10, and trying to lobby their spot as the top contenders to the United Gate Titles.

Unfortunately, as has been the case with the Blood Warriors and Ronin since the Summer of 2010, when CIMA repeatedly refused to even consider Johnny Gargano and Chuck Taylor for his faction before they simply decided to form their own and fight against the elitism in Dragon Gate, the Warriors continue to deny Ronin their title shot. Even though Gargano was able to break through the glass ceiling last November by defeating YAMATO for the Freedom Gate Title, Taylor and Rich Swann continue to be denied their chance to win the United Gate Titles. Friday Night, Taylor and Swann get yet another chance to prove themselves to so-called Dragon Gate Elite as they take on one of the best tag teams in the world today, the Young Bucks.
Speaking of Ronin, Johnny Gargano was originally slated to defend his Freedom Gate Title this Friday. Unfortunately, while successfully defending his title against Ricochet at EVOLVE 10, he suffered a severe back injury during that match and will be unable to compete this Friday. As of this writing, there is no telling how long Gargano will be out.
Jon Davis, formerly of the Dark City Fight Club, put out a challenge to former WWE Star, Fit Finlay, at EVOLVE 10, believing Finlay disrespected him at EVOLVE 9. The fight with Finaly, though, will have to wait, as this Friday, Jon Davis will be taking on Caleb Konley, one half of the Scene, managed by Larry Dallas. While the Scene is currently undefeated in tag team action, Jon Davis has been on a rampage the past year, establishing his dominance as a singles' star and crushing his opponents with his "3 Seconds Around The World" spin-out powerbomb. Will Jon Davis continue his path towards dominance, on his way towards taking out Fit Finlay for disrespecting him, or will Larry Dallas and Caleb Konely get one up on the former Dark City Fight Club member in Los Angeles?
The new Leader of the Blood Warriors, Akira Tozawa, takes on the Man Gravity Forgot, PAC, this Friday in a rematch from last year's Mercury Rising event. Since losing the United Gate Title last year to the team of CIMA and Ricochet, both PAC and his fellow Junction Three member, Masato Yoshino, have returned to singles' action, to mixed results, thus far. Can the Man That Gravity Forgot earn another win over the new Leader of the Blood Warriors, or can Akira Tozawa continue to prove that he is, by far, one of the best wrestlers in the sport today by getting his win back over the man called PAC?
Then, we have Naruki Doi of the Blood Warriors taking on Junction Three's Masato Yoshino in a grudge match nearly 2 years in the making. Since splitting from his team with Yoshino in 2010, Doi has relatively unsuccessfully tried to take out his former partner, a man Doi believes disrespected him by winning and holding the Open the Dream Gate Championship. The bad blood between these two former partners turned enemies is surely enough to make this one hell of fight.
Finally, we come to Sami Callihan. As the ECW Alumni were paying their last respects to the former ECW Arena at EVOLVE 10, members of the CZW Roster, including Sami Callihan, interrupted the Farewell Ceremony and assaulted the ECW Alumni. In the process, Justin Credible showed his true colors, and attacked Sabu, sparking an impromptu match, which Sabu eventually won. After the match, Sami Callihan then brutally attacked Sabu with a bottle. Callihan then went on to talk about the many, many, MANY times "Extreme" has tried to come back from the Grave, becoming more and more watered down as time went on. Callihan then went on to End the Era of Extreme on his own terms, beating Sabu into a bloody pulp, telling the fans to "suck it" (more or less) and demanding that the lights go out on the Asylum Arena. In one fell swoop, Sami Callihan pissed on, and possibly outright killed, the Legacy of Extreme. EVOLVE Management has asked Sami on more than one occasion to apologize for his actions at EVOLVE 10. These are the videos he released -

Needless to say, Sami doesn't regret a thing. Unfortunately, for him, AR Fox, a protege and friend of Sabu's, is not happy about Callihan's actions at EVOLVE 10 and is looking to get a measure of revenge against Callihan for the brutal assault of Sabu this Friday at Open the Golden Gate. Coming off a win over Jigsaw at EVOLVE 10, can AR Fox take out the Callihan Death Machine and gain a measure of revenge for Sabu, or will Callihan destroy Fox, the way he destroyed Sabu and the Legacy of Extreme at EVOLVE 10?
Open the Golden Gate will be Live on iPPV at the Westin Los Angeles Airport ( 5400 West Century Boulevard) starting at 8 PM Pacific Standard Time (11 PM Eastern Standard Time). For ticket information, check out WrestleReuion.com or Highspots.com. For everyone not in the Los Angeles area who can't be there live, click the banner below to order the show on iPPV.
When it comes to the modern Independent Wrestling Scene, few shows are as exciting, bell to bell, as Dragon Gate USA, with some of the best wrestling action you will see in a ring today. There's also a plethora of interesting, exciting characters to invest in, whether it's the flamboyant BxB Hulk, the arrogant team of CIMA and Ricochet, the underdog faction that is Ronin, the exciting, yet incredibly friendly demeanor of PAC, or the pure "F*ck the World" attitude of Sami Callihan. Whether you agree with the Japanese Elitists that are the Blood Warriors, the working-class Americans, Ronin, or simply want to see the world burn the way Sami Callihan does, there really is something for just about every wrestling fan in DGUSA. Please, don't let the #10percenter fanboys, the predominantly Japanese roster, or the preconceived notions of Gabe Sapolsky as a booker deter you from checking out what may very well be one of the best wrestling products in the world today. This is not a mere Ring of Honor redux or a Smart Mark's Wet Dream. Dragon Gate USA is an exciting, fun product that integrates the Japanese, Mexican, and American styles of wrestling, with a wide array of styles ranging from strong-style to high-flying to mat-based technical and even a bit of big-man brawling. Hell, you really like that Brodus Clay gimmick? Guess what - BxB Hulk did it first! No kidding. The dance routine, the girls, the flashy entrance - all things BxB Hulk does. Believe me, folks, this isn't just some smarks' show. If you want to find out more, just click the banner below, and be ready on January 27 when Dragon Gate USA presents Open the Golden Gate!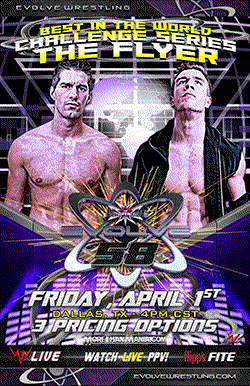 © Copyright by WorldWrestlingInsanity.com
WorldWrestlingInsanity.com is not affiliated with any wrestling promotion.