This is it, ladies and gentlemen. Welcome to the 105th edition of The ROHbot Report, and the finale of the "ROHbot Milestone Series". Ninety-five down, only five classics to go. But that's not all. Last night, ROH crowned its 2011 "Survival of the Fittest" champion. Did I pick smart by banking on The House of Truth, or did someone else step up to the plate? Plus, I have a full preview of tonight's "Glory By Honor X" event. Lets get this thing rolling with some results.

"Survival of the Fittest 2011"- Dayton, OH - November 18, 2011

1. Jay & Mark Briscoe beat The Bravados

2. Kyle O'Reilly beat Andy Ridge

3. Eddie Edwards beat Mike Bennett

4. Michael Elgin beat Adam Cole, Tommaso Ciampa & Kenny King; Elgin pinned Cole

5. El Generico fought Steve Corino to a 15-minute draw

6. Roderick Strong beat Rhett Titus; Rhett had a visual pin fall late, but Truth distracted Todd Sinclair and allowed Roddy to come back on get the win

No return date announced, but a pretty big crowd

7. WGTT of Charlie Haas & Shelton Benjamin beat Davey Richards & Jay Lethal in the "Champion's Challenge" when Haas made Lethal tap to Haas of Pain!

8. "SotF" Finale Elimination match: Jay Briscoe v. Mark Briscoe v. Kyle O'Reilly v. Eddie Edwards v. Michael Elgin v. Roderick Strong

Eliminations: a. Eddie Edwards pinned Jay Briscoe

b. Roderick Strong submitted Mark Briscoe

c. Eddie Edwards eliminated Roderick Strong

d. Michael Elgin pinned Eddie Edwards after he eliminated Strong

e. Michael Elgin pinned Kyle O'Reilly to win "SotF 2011" and a future ROH World Title shot

History was made thanks to these results. For the first time ever (ever!), I predicted everything right. From the qualifiers to tournament winner to the "Champion's Challenge" tag, my preview/predictions from last week was top notch. Guess I can add "Expert Analysis" to my resume now.

Moving on - the reports from the event indicate that the "SotF" finals stole the show like it usually does every year. Not only did Elgin solidify his spot as a future top tier player, but his final standoff with O'Reilly was said to have the fans on their feet. While the spotlight is on "Unbreakable", no one can deny the potential of guys like Kyle O'Reilly and Adam Cole. No matter what anyone says, ROH still has a bright future when it comes to its wrestlers; and the 2011 "SotF" tournament was a good indication of that (Bennett having a reportedly very good match with Edwards, Titus delivering alongside Strong, and the final two in the tournament finals tearing the house down).

The other two matches sound interesting. Lethal - as predicted - took the fall for his team, and WGTT walk into "Glory By Honor X" looking as strong as ever. Probably more important than that match was Generico vs. Corino. Originally scheduled for "Death Before Dishonor IX", the masked man ended up taking on Corino's sponsor Jimmy Jacobs when Corino couldn't break his wrestling commitments to Japan. Rather than worry about what Generico might do to him - who still sees Corino as the manipulative monster who turned Kevin Steen against him - Corino came at the masked man, and took everything Generico threw; even surviving two Brain Busters before the time limit expired. It's hard to say what this means for not only Corino, but also Generico. For the first time they've been in an ROH ring, Corino fought Generico like a man of honor. This could mean a new day for Generico in ROH as he might've found a person willing to help him stop the nightmare that is Kevin Steen when "Mr. Wrestling" shows up.

Speaking of Kevin Steen - ROH is claiming they'll have extra security for tonight. Why would they need to stop an invasion tonight? Well, it's "Glory By Honor" weekend, and it concludes tonight in Chicago when "Glory By Honor X" finally happens. A lot is booked for this one, including two title matches. Lets see what Ring of Honor has in store.

"Glory By Honor X"-11/19/11-Chicago

There will be a special meet & greet autograph session prior to the event with The All Night Express (Kenny King and Rhett Titus). 8 X 10 photos will be available to purchase at the event.

ROH World Title Match: Davey Richards defends vs. El Generico

World Tag Team Title Match: Shelton Benjamin & Charlie Haas defend vs. The All Night Express

Proving Ground Match: World TV Champion Jay Lethal vs. Roderick Strong with Truth Martini

Jay & Mark Briscoe vs. The Young Bucks

"Die Hard" Eddie Edwards vs. Kyle O'Reilly

Jimmy Jacobs with Steve Corino vs. "The Dominant Male" Tommaso Ciampa with The Embassy

Four Corner Survival: Adam Cole vs. "Unbreakable" Michael Elgin vs. "The Prodigy" Mike Bennett vs. Grizzly Redwood

ROH's annual spectacular is one of the biggest events in their calendar year - and for good reason. Looking through the history of "GBH", you find some undeniable memorable occurrences. From Samoa Joe and Low Ki's brutal encounter at the inaugural event to Bryan Danielson unseating James Gibson some three years later to Roderick Strong finally achieving his dream to become the ROH World champion just last year, the "Glory By Honor" moniker is reasonably attached to "epic moments". This year, there's a good chance moments like a shocking title change won't occur. The best a fan can hope for going to this event live is a wonderful night of wrestling. And looking at the card, that's what they'll probably get.

There's no denying that Davey Richards and El Generico are two of the best wrestlers in the company. They have a unique ability to pull you into the action unlike most on the Indy scene. Sometimes it's Generico's babyface-in-peril selling or Richards' fiery courage that makes fans jump to their feet during any of their respective matches. Then there are times when their past accolades make the crowd cheer for them uncontrollably before the first bell rings. In Chicago, the ROH World champ and the "Generic Luchador" have the chance to bring their talents together to wage war over the ROH World title. This will be Generico's third crack at ROH World gold in 2011 after coming short against Roderick Strong earlier this year. Not only did Generico gain some retribution for those losses in a Steel Cage match in July, Generico also won his first singles title the month prior by becoming the third TV champion in history. Much like his year thus far, Generico is a come from behind performer that might get knocked back a few times, but inevitably finds his way to victory. Sadly for the masked man, the same can be said about the champ.

Davey Richards spent a majority of last year just trying to attain a World title shot. Davey failed on two occasions, only to wait a whole year following his classic with Tyler Black at "Death Before Dishonor VIII" to finally defeat fellow American Wolf Eddie Edwards for the championship. Since then, Richards has successfully defended his against Roderick Strong, teamed with Eddie Edwards in some productive encounters, and - like Generico - toured overseas to hone his craft. Similar to what WWE Superstars say about the feeling they get near Wrestlemania time, Davey Richards has expressed verbally and physically that something changes in him during his road to "Final Battle". For Davey, and many other ROH wrestlers, "Final Battle" is the night you show off like never before. It's an event unlike any other on the ROH calendar, and to walk in the World champion at that event, and walk out the same is a must. Richards is as dangerous as ever thanks to his training and the need to enter "Final Battle 2011" as the ROH World champion. More than likely, that's exactly what's going to happen because of Richards making it through Generico in Chicago.

Another pair of champions with their sights set on "Final Battle" is Wrestling's Greatest Tag Team. With The Briscoes lined up to take on whomever is the Tag Team champions in NYC next month, WGTT have made a promise to themselves, and to The Briscoes that Haas and Benjamin will make the Delawareans pay for their sneak attack following that incredible ROH World Tag Team title match at "Best in the World". But there are two men who feel they have every right to be involved in the "Final Battle" Tag title match as much as anyone else. Those two men are Kenny King and Rhett Titus of The All Night Express. Surviving one of the bloodiest, most disturbing matches in ROH history two months ago, The ANX earned their title shot here by literally going through war. Like El Generico, The ANX has seen their early Tag title shots go up in smoke thanks to The Kings of Wrestling on iPPV twice. But in the eyes of Titus and King, this time will be different. Following a clean win over The American Wolves, and gaining a Davey Richards stamp of approval, all signs point to The ANX doing the seemingly impossible by defeating WGTT so close to "Final Battle". Once again, don't expect the historic moment a lot of fans have clamored for since the "9th Anniversary Show" in King and Titus finally attaining ROH gold. WGTT vs. The Briscoes is where it's at. Chicago will witness a great performance from King and Titus, but not a championship level performance.

Speaking of The Briscoes, their mini-rivalry against The Young Bucks restarts in Chicago. During The Bucks rise in ROH before leaving for TNA, the Jacksons tested the Briscoes several times - even besting the former ROH World Tag Team champions at "Glory By Honor VIII". But The Briscoes two years ago are completely different from the angry (maybe angrier?) rednecks they are now. It will take a lot of teamwork, a hope that The Briscoes restarted their Campbell's Chunky diet, and possible some well timed interference from WGTT if The Bucks want to pull off a victory here.

Another man looking at the big picture that is "Final Battle" is Eddie Edwards. Edwards - the number one contender to the ROH World title - will be tested by a member of Team Richards in Chicago in Kyle O'Reilly. This isn't just some random encounter thrown together to excite the crowd. This match has some history dating back to July's "No Escape" event. It was there that Eddie Edwards and Davey Richards took on Future Shock of O'Reilly and Adam Cole. As the match neared its conclusion, Edwards caught Kyle in the Achilles Lock. Rather than just use the hold to make Kyle tap, Edwards started stomping O'Reilly's head until Kyle went limp. The mixture of a miscue between the referee and the timekeeper, and Edwards learning from past mistakes that you never stop until the referee tells you to caused Kyle to suffer a concussion from Edwards' stomps, and a wrenched knee that put him out of action for a month. While Edwards was apologetic afterwards, Eddie seemed distraught that Richards was more concerned about his Team Richards member than his fellow American Wolf, and The Wolves' win. Look for a different, more ruthless O'Reilly here as he tries to avenge what happened to him in Charlotte some four months ago. This could easily be the sleeper of the show for Match of the Night.

Roderick Strong is still hunting championships in ROH since losing the ROH World title, and through a win or a draw in Chicago, Strong will gain his first shot at the TV title. Jay Lethal has been on fire since returning in June, delivering quality contests against Mike Bennett and El Generico. Lethal and Strong have all the qualities to produce something great here, and expect that to happen. As for the end, there's a good chance Roderick might make history by being the first man to win a "Proving Ground" match. Shockingly, even if Bennett and/or Martini interfere on Strong's behalf, Lethal will overcome.

The other two matches look okay on paper, but just scream filler. Jimmy Jacobs is reinvigorated; so don't count him short on delivering a very good match with the impressive Ciampa. The FCS should be exciting, but will most likely be a showing off of the "Survival of the Fittest 2011" champion. Just for fun - everyone reading raise your hands if you believe Grizzly will take the fall in the FCS match? Yep, good luck, Griz.

This show is differently hampered by ROH's long term booking as it's obvious where a lot of the champions are heading in the next month, and how their challengers at "GBH" are just there to deliver a quality match with those wrestlers on their road toward "Final Battle". With that, one must commend ROH for providing a card featuring some of the best possible match-ups of the year in hopes of making the fans in attendance forget about that little nuance of long term booking. Just like the wrestlers, ROH officials want to draw the crowd into an experience second to none. And with a card like this one, expect the official's hopes to be realized. For those in the area still debating to go, tickets will be available at the door, so don't miss out.

Upon returning from Japan, Davey Richards tweeted that he has heard that Edwards has enlisted the services of legendary grappler & former World Champion Dan Severn. This story is currently unconfirmed as Eddie Edwards has not yet returned e-mails or phone calls from ROH officials, but this is something we will stay on top of until we get 100% confirmation that this rumor is legitimate.

With SBG's pockets, it should be pretty easy for ROH to bring in Dan Severn for at least one event. While never a fan of his pro wrestling abilities, no one can deny Dan Severn is one of the greatest mixed martial artists of all time. And with Eddie and Davey's styles leaning toward the MMA side of competition, it only makes sense Edwards would search out a man who has not only MMA credentials, but also pro wrestling knowledge. It would be an amazing sight to see Edwards come to the ring at "Final Battle" with Severn wearing matching towels around their necks. But something about this doesn't seem right. Guess we'll find out in the coming weeks if this story has some validity, or just another red herring to send us gullible fans off track.

And here it is folks, the conclusion of the "ROHbot Milestone Series". It's been nothing short of a treat to create, write and produce this list for you all. The reception from various people has been nothing short of positive, and I thank you all for staying with me through it all. But we still have five matches left before we can call it a day. I've done an exhaustive review of nearly 200 shows over the past six months to determine the 100 matches between "Era of Honor Begins" to "Best in the World 2011" that best represent Ring of Honor. Some of the criteria that helped put these matches on the list includes: Historical significance (to both ROH and the competitors' careers); regard amongst the community (journalistic and fans); of course, in-ring quality; replay ability (can you watch it six months to a year from now, and still experience the same excitement you did when you first saw it).

This is it, guys and girls. After going through matches 100-81 ( http://www.worldwrestlinginsanity.com/am2/publish/ringofhonorlive/The_100th_ROHbot_Report.shtml), 80-61( http://www.worldwrestlinginsanity.com/am2/publish/ringofhonorlive/ROHbot_92411.shtml), 60-41( http://www.worldwrestlinginsanity.com/am2/publish/ringofhonorlive/The_ROHbot_Report_10811.shtml), 40-21( http://www.worldwrestlinginsanity.com/am2/publish/ringofhonorlive/ROHbot_102211.shtml), and 20-6( http://www.worldwrestlinginsanity.com/am2/publish/ringofhonorlive/The_ROHbot_Report_111211.shtml), these are the top five matches in the "ROHbot Milestone Series".

5. Jimmy Jacobs vs. BJ Whitmer - "Supercard of Honor II" (Detroit, MI; 3/31/07)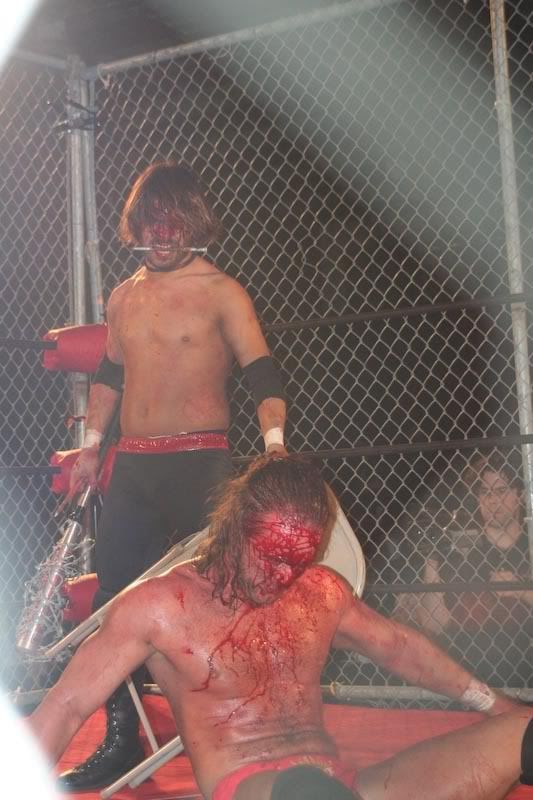 The tale of two partners turned rivals is nothing new in the world of wrestling. Heck, friends turned enemies due to the affection of an outside source is as old as existence itself. But mixing the two is a perfect example of art imitating life. In early 2005, BJ Whitmer found himself partner-less after the disappearance of Dan Maff following a "car accident". For some reason, Jacobs' attitude and Hussing nature convinced BJ this was the guy he wanted to team with. Little did anyone know that Whitmer was onto something as he and Jacobs upset Samoa Joe and Jay Lethal to win the vacant ROH Tag Team title on their first night as a team. While they dropped the titles unceremoniously to the Carnage Crew a few months later, Whitmer and Jacobs kept strong as a unit and regained the gold before holding it for another two and a half months. Losing the title a second time made Whitmer contemplate what could be done to keep their team formidable. Enters Lacey.

The newly dubbed "Lacey's Angels" went on a hot streak in hopes of recapturing ROH Tag gold. But to the detriment of the team, little by little, Jacobs' focus moved from becoming a champion again to being the champion of Lacey's heart. Nearly a year after forming their team, and some three months following the formation of Lacey's Angels, BJ Whitmer got sick of Jacobs' puppy dog infatuation with Lacey, attacking Jimmy to end their partnership. Lacey took Whitmer's abandoning the team as the ultimate insult. Realizing the only person that could gain retribution for BJ's unceremonious leave was someone mentally weak/deep in love enough for her to control - Jimmy Jacobs.

Jacobs went on a mission to destroy BJ Whitmer, but almost died to do so. There were multiple moments in 2006 that saw Jacobs take a risk that should've literally ended his life. The best example has to be their "Dragon Gate Challenge" match where a top rope power bomb went wrong when BJ slipped off the rope and Jimmy landed across the ring's edge upper back and neck first. Another moment witnessed Jimmy being power bombed from the top rope into the crowd at "In Your Face".

Several times during the year, thanks to Lacey's actions, Jimmy lost track of his goal of destroying Whitmer to defend Lacey's "honor". But it didn't take much - usually a promo or some random backstage encounter that turned into a brawl - for the bad blood to return, and also spill wherever they were. It had to end. Somehow, some way, it had to end before someone actually died in this rivalry. Ring of Honor decided to put Jacobs and Whitmer inside a steel cage with no door so whatever they wanted could be handed to them via their seconds (Jimmy had Lacey, and Whitmer was accompanied by Lacey's rival Daizee Haze).

The lack of a door immediately came into play during BJ's entrance when Jimmy dove through the opening to take him down. BJ turned the tables quickly, finally bringing the fight into the cage. Barely five minutes later, Whitmer wound back with a chair. Cracking Jimmy on the head, BJ knocked out one of Jacobs' teeth and chipped another. Even though Jimmy visibly noticed his oral problems, Jacobs mentally recovered before pulling out his famous railroad spike. For the first time in their feud, Whitmer was prepared for the spike by having one of his own. The first disturbing moment of the match was about to occur. Rushing each other, Jacobs and Whitmer started the first and only railroad spike duel in ROH history; bringing the crowd to its feet. Bleeding buckets following the sickening display, Whitmer felt the need to up the ante by calling for a barbed wire baseball bat.

Jimmy acquired the bat first, bashing BJ on the top of his bloody head prior to dangling the bat by a strand of wire from his bleeding mouth. Grabbing both railroad spikes, Jacobs alternated between stabbing Whitmer's head and arms to lay him out so could place the baseball bat on BJ's head. Using the chair, Jacobs executed a bat-con-chair-to the disgust of many, yet the delight of Lacey. With the hatred that kept this rivalry alive for so long flowing through Whitmer, BJ fought back, almost breaking Jimmy's neck thanks to a brain buster on an open chair. This back and forth bloody battle was nearing its culmination, and BJ seemed to have the edge on Jimmy. Once again, then entered Lacey.

After Whitmer executed the Adrenaline Spike on Jimmy (a piledriver like Owen Hart used on Steve Austin), Lacey slid into the ring. The crowd rose to their feet again when Whitmer got a hold of Lacey. Hoisting Jimmy's "love" off the mat, BJ used the Adrenaline Spike on Lacey to a huge ovation! But that was the biggest mistake Whitmer could've made. Upon realizing what happened, something snapped in Jimmy that wouldn't allow him to quit. Avoiding Whitmer's frog splash off the cage, hitting the Contra Code for a near fall, destroying his ACL in the process of executing his patented maneuver, Jimmy wouldn't stop until his hand was raised in victory. That moment came when Jacobs knocked BJ on top of a table. Scaling the cage with one leg, Jimmy perched himself some twelve feet above the prone Whitmer. Gazing at the hundreds of people in attendance standing, Jacobs took in the moment - the reason why he put himself through such a match. Diving off the cage, Jimmy drove Whitmer through the table thanks to a senton splash, gaining the three count seconds later.

The Steel Cage match has a storied history built on hatred, barbaric brutality, animosity, and several other adjectives that express the end of any wrestling blood rivalry. But Jimmy Jacobs added another adjective to the history of the Cage match that night - love. Staring into that crowd from his position atop the cage that night, Jacobs found the will to keep fighting through all the pains and injuries of not just the match, but also life thanks to his love for Lacey. There are very few Cage matches that perfectly display the anger two men have for each other without everything deteriorating into a high spot fest or an unbelievable escape series. Not only did Jacobs and Whitmer's ROH feud ender keep close to the Cage match's original legacy, but also added to it more than anyone would've imagined. Jimmy didn't fight for revenge like Whitmer was. Jimmy wasn't wrestling for notoriety or fame thanks to this feud. In Jacob's heart, he knew that winning this match would attain the love of the woman he cherished more than anyone, even himself. This is, hands down, one of the best Cage matches of the past fifteen years because of so many things. Of course there's the wild nature of two men mutilating each other. But there's also that extra bit of emotion Jimmy Jacobs provided that pushed himself and the match beyond anything the fans watching live, and the people experiencing it on DVD for the first time will never forget.

4. Dragon Kid, Genki Horiguchi, and Ryo Saito vs. CIMA, Naruki Dοi, and Masato Yoshino - "Supercard of Honor" (Chicago Ridge, IL; 3/31/06)

Ring of Honor's first events done during Wrestlemania weekend in the area of WWE's premier event were promised to be ROH's biggest to date. The second of three shows was nothing short of a super card. With Bryan Danielson and Roderick Strong III for the ROH World title headlining the show, everyone going to the show was understandably excited. But little did those in attendance know that the pre-intermission match - the first half main event on this future double disc event - featuring six of Dragon Gate's top stars would garner some of the biggest headlines in ROH's history.

The initial minutes featured a slight feeling out process turned up by arm drag exchanges, feigned 619 dives, and Masato hitting the ropes with the speed of an Olympic runner. With Dragon Gate being a mix of puroresu (Japanese wrestling) and lucha libre (Mexican style grappling), it didn't take long before both teams started stringing together double and triple team maneuvers unlike anything ever witnessed in an ROH ring; and maybe in all the United States. That aforementioned teamwork allowed Blood Generation to isolate the bald one himself, Horiguchi. It would take a little while, but the innovation and ingenuity Dragon Gate is built on was replaced by a simple suplex counter that allowed Genki to make the hot tag to Dragon Kid. And that's when everything broke loose.

The fast paced, yet formulaic tag encounter became the equivalent of a demolition derby inside of an imploding building - crazy but controlled at the same time. The fans quickly rose to their feet, watching as all six men went absolutely insane in an attempt to win the whole thing for their respective teams. In all honesty, words can't do justice to some of the exhilarating things that happened during the last five minutes that convinced every fan in attendance, and probably quite a few people at home, that the end could happen after any move. Would it be Doi power bombing Dragon Kid face first into the mat? Nope. Could the Kid-Saito double team of Kid franksteiner'ing Doi in position for Saito's Superfly splash do the trick? Not tonight. What about CIMA double stomping a held by Blood Generation Saito before rolling across the ring to use a backstabber on Genki prior to turning Kid's springboard hurricarana attempt into Schwein? Only gained CIMA a near fall.

For the first time ever, a chant rang out as Dragon Kid put Doi on the top rope. The fans were pleading with these impressive athletes to, "Please don't stop!" Sadly for them, Dragon Kid couldn't complete their wish as he was determined to win right now. Yanking Doi off the top rope with a super ace crusher, Kid had Doi seeing stars. Kid hastily scaled the ropes, leaping off barely a second later Dragonrana Doi. Hooking Naruki's legs, Kid concluded one of ROH's most impressive thrill rides.

When the final bell rang, everyone in the building was on their feet. More than likely a lot of people at home were giving these six men a standing ovation for delivering this unbelievable battle of high-octane attrition. As written earlier, it's hard to put into words the amount of action the Dragon Gate imports brought to the table that night. But words aren't necessarily needed for wrestling like this because it speaks for itself - as seen when the commentators went mute halfway through the match to let everyone watching at home to experience it like the special individuals witnessing the match live.

Wrestlemania might be the "Grandest Stage of Them All," but in Chicago's Frontier Fieldhouse that night, from the perspective of everyone in attendance, no spotlight shown brighter than the one above that small stage Blood Generation and Do Fixer wrestled, brawled, flew, innovated, and crafted an unmatched classic on.

3. Bryan Danielson vs. Nigel McGuinness - "Unified" (Liverpool, England; 8/12/06)

The ROH World champion versus the ROH Pure champion in Ring of Honor's first show in Liverpool, England. That's a simple enough opening for what would be one of the biggest matches in ROH history. But in reality it really was that simple. Four months earlier, Nigel McGuinness and Bryan Danielson faced off in a Pure Rules match with both belts on the line. Nigel shocked the world by defeating Danielson. Sadly for McGuinness, he won via a count out after clobbering "Dragon" with a chair; thus not attaining the ROH World title due to the stipulation that the World title couldn't change hands due to a count out or a disqualification. Three weeks before ROH headed across the pond, Danielson and McGuinness clashed again. To pay Nigel back for his sneaky win, Danielson stole a victory thanks to his unbreakable inside cradle. The score being one to one forced something to give between, arguably, the two best wrestlers in the world. With full Pure Rules encompassing this contest (three rope breaks; no closed fists; a title can change hands on a DQ or a count out), Danielson and McGuinness had to really defeat the other before they could truly be called "The Best Wrestler in the World."

The impressive looking building stocked to the brim with boisterous pro-McGuinness fans made Danielson take the wind out of the Pure champ's sails immediately with a disrespectful slap to the face. Rather than lose his cool, Nigel dragged Danielson into a grappling battle infused with his European technique. Danielson worked through most of Nigel's maneuvers, but was bewildered early until "Dragon" started targeting Nigel's left arm. Danielson's arm work helped the World champ gain a great advantage when McGuinness resorted to using two of his rope breaks almost in a eight minute span following a cross arm bar and Cattle Mutilation respectively.

The fiery Brits helped Nigel get his wits about him, with Nigel catching Danielson with a lightning fast Tower of London only seconds after surviving the first Cattle Mutilation of the match. Using the ropes to break a possible three count, Danielson lost his first rope break. Converting his failed pin attempt into a submission - Danielson's own Cattle Mutilation - Nigel evened the rope break deficit. Following fifteen minutes of excellent mat action, the wrestling match turned into a brawl as everything spilled to floor. In a moment echoing from their "Weekend of Champions: Night Two" encounter, Danielson put Nigel on his back before placing a table across the Pure champ's throat like Nigel did to him those four months ago to win their inaugural ROH match. Nigel refused to stay down, and reentered the ring to kick start an epic war unlike anything seen between the two in their past matches.

With both men losing their final rope breaks thanks to Danielson's crossface chicken wing and Nigel's crotched rope Lariat, the champions went for broke. A slugfest turned into something nothing short of criminal as both men grabbed the other's wrists while standing in front of a steel ring post. Danielson won the tug of war, ramming Nigel's head into the post over and over again until a small cut on Nigel's forehead turned into a canyon, and his cranium immediately swelled.

The crowd's disturbed reaction was understandable as they feared for the safety of their hometown champion. That genuine emotion flowed from the fans, into Nigel as the bloody Pure champion turned a failed head-butt duel into the Jawbreaker Lariat. Too hurt to capitalize properly, Nigel lost his key moment for victory. Danielson hooked Nigel in Cattle Mutilation once again when McGuinness tried to pick the World champ up. With no rope breaks left, Nigel was on the verge of tapping. The crowd begged Nigel to hold on, and that's exactly what he did. The Pure champion rolled through Danielson's favorite submission, but was still trapped in "Dragon's" clutches. Looking at Nigel's bloody, prone head, Danielson rained down a slew of elbows against Nigel's skull. Following each elbow, Nigel's body flailed lifelessly more and more until he was unconscious. The referee called for the bell, and history was made.

Yes, history was indeed made with Danielson's victory ending the existence of a title that then-ROH booker Gabe Sapolsky hoped to make equal to the ROH World title before having a huge champion vs. champion clash. Looking back now, Gabe accomplished his dream of creating the epic champion challenge focusing on the company's singles titles. But it wasn't because of the titles themselves, but the wrestlers holding them. The whole "best in the world" argument wasn't just some storyline. Both Bryan Danielson and Nigel McGuinness felt that they were the best wrestlers going today. They wanted to prove that in the ring against each other every time they clashed. With a perfect crowd, a wonderful venue, and a story that's simple enough to write, but almost impossible to create properly, Bryan Danielson and Nigel McGuinness also accomplished a dream here by proving their beliefs that they were the best in the world at that time was undeniable while crafting the best match in their illustrious series.

2. Kenta Kobashi vs. Samoa Joe - "Joe vs. Kobashi" (New York, NY; 10/1/05)

For two nights in 2005, Kenta Kobashi graced American audiences live for the first time in his immaculate career. Shockingly, this didn't happen in a company like WWE or TNA, but a small, fledging promotion based out of Philadelphia called "Ring of Honor". In ROH stood a formidable force that reigned as the ROH World champion for twenty-one months. A monster of a man who many felt could rival Kenta in his prime. For ROH fans everywhere, there was only one person worthy of taking on Kenta Kobashi in his only one on one match in ROH history - Samoa Joe. In Manhattan's intimate New Yorker Hotel, Samoa Joe entered the ring to a spotlight brighter than anything he'd witnessed during his time in ROH. With the crowd on its feet, cheering louder than anyone ever heard at an ROH event in that building, Joe stared down the aisle as this almost mythical figure from Japanese lore marched to the ring. Entering the ring, this legend unrobed himself to reveal not a physique ready to quit on him after many years of battle, but a body braced for war. And war is what everyone got.

"This is awesome!" rang out before Kenta Kobashi and Samoa Joe touched for the first time. When they did come into contact, the crowd lost their minds. But none of that mattered to the warriors because to them, they were the only people in the building. To show how Kenta didn't intimidate Joe whatsoever, Samoa Joe shoved Kobashi into the ropes before slapping him in the face. The tone was set from that point on; there was no holding back, no quarter given. Kobashi took the fight to the former ROH champion unlike anyone in history, but Joe held his own. This was perfectly displayed during a Kawada kick-knife edge chop duel between the two that saw Kobashi take every kick Joe threw at his head before turning his chest beat red with his patented machine gun-like chops.

As the match continued, the action moved to ringside where Joe ole kicked Kenta through the guardrails before Kobashi paid the Samoan back by chopping him into the front row. The crowd never settled down, even when Kobashi tried to slow the match's pace by grinding Joe against the mat. Like their striking duel from earlier, Joe wanted to not only match Kenta's grappling abilities, but possibly make Kobashi tap. Kobashi survived some debilitating, almost stomach wrenching submissions such as Joe's high angle Boston crab and the STF when several knee strikes and the Muscle Buster didn't get the job done. Rallying through Joe's onslaught, Kenta unleashed a series of chops in the corner that literally ripped Joe's chest open. It was this series of strikes that started the downfall of Samoa Joe in this match.

Letting Joe stagger out of the corner, Kenta peppered Joe with double knife-edge chops to set up not one, but two half nelson suplexes that dropped Joe directly on his head. When Joe kicked out of Kobashi's pin attempts, the same battle cry that signaled his last stand in Samoa Joe's first ROH match against Low Ki some three years prior came from the Samoan. And similar to Ki, Kobashi took Joe's verbal motion to, "Come on!" as the challenge to do just that. Throwing his famous Burning Lariat to top off some spinning chops to Joe's weakened neck, Kenta Kobashi downed ROH's legendary giant to finally pin him.

Almost as important as the match itself was the crowd here. As seen in the video above, the fans that witnessed this classic battle gave of themselves unlike very few crowds have done in ROH's history. They felt every chop, every submission, and every high impact maneuver as these two behemoths clashed for the first and only time. When that final bell rings, you feel exhausted because it's so emotionally draining. Following the match, many journalists and fans alike called it one of, if not the greatest match in ROH history. In a lot of ways it is the perfect match not just in ROH, but in all of wrestling for those aforementioned variables. But probably nothing made this match more of a classic than the simple story of one of Japan's greatest wrestlers taking on Samoa's fastest rising monster.

And yet, there's one match that's better. All right folks, this is it. Without further ado, the number one match in the "ROHbot Milestone Series"!
1. Samoa Joe vs. CM Punk - "Joe vs. Punk II" (Chicago Ridge, IL; 10/16/04)

Ring of Honor started with the premise of delivering an Indy super show once to twice a month. With Indy wrestling darlings Christopher Daniels, Low Ki, and AJ Styles appearing, the question was if any talent could one day match, and maybe surpass those aforementioned wrestlers in the company's hierarchy if ROH survived the first couple of years. Early in 2003, California native and strong style grappler Samoa Joe slaughtered the second ROH champion Xavier. Successful title defense after defense followed that March night for Samoa Joe, creating this aura of invincibility that many felt Joe used to intimidate his opponents before the bell rang. Joe was as dominate a champion as anyone had seen in years, and those keeping close tabs to possible contenders understandably wondered if there was anyone in company able to fight fire with fire with Samoa Joe and stop him.

On the other end of the spectrum was Chicago's favorite son, CM Punk. Unlike Joe - who came in with a ton of fanfare to fight Low Ki in Joe's first ROH match - Punk had to work his way to an ROH contract by defeating his best friend, Colt Cabana. Punk bled buckets during his star-making feud against Raven, won the ROH Tag Team title alongside Cabana, and started a rivalry with Ricky Steamboat. But no matter how hard he tried, Punk couldn't win singles gold in ROH. The Second City Saint came oh-so close to becoming the first ROH Pure champion, but lost in the finals of the inaugural tournament, and the subsequent rematch to AJ Styles. By June, Punk seemed focused on keeping the Tag Team title when a match was booked; a match against the ROH World champion Samoa Joe in Dayton for the gold. This was Punk's chance to not only do the impossible by defeating Joe for the gold, but to also finally prove that he was better than each and every one of us.

Sadly for Punk, he didn't win in Dayton. But Punk did do something no one expected by taking everything Joe could dish out, ground him with a side headlock, and almost beat him before the sixty-minute time limit expired. For the first time in Joe's reign, someone matched the champ hold for hold, strike for strike, hung in there, and didn't get killed as per the pro-Joe chant of, "Joe's gonna kill you!" Many claimed that it was Punk's belief that the champ couldn't go sixty minutes that proved to be his downfall (though there was Punk's rope-a-dope style that also hurt him in Dayton). If and when the rematch occurred, Punk would be ready to go sixty minutes, but couldn't let that happen if he wanted to be the champion.

As Ring of Honor prepared for its return to Chicago, Samoa Joe and CM Punk were on two different paths once again. Steve Corino was booked to take on the champion, but Corino's commitment to the Japanese promotion Zero-1 overrode his work for ROH, thus leaving the upcoming show main event-less. With fans understandably upset over losing their anticipated main event, ROH officials had to do something to make it up to them. To the surprise of everyone, it was announced via the ROH website three days before the show that Joe had a new opponent. Joe would have to take on the one man he couldn't beat during his reign so far. Samoa Joe was going to enter Chicago Ridge, IL against a Chicago made Punk.

Standing across the ring, Joe and Punk studied each other's movements before the bell as the crowd chanted for their hometown boy. Learning from the Dayton match, Punk used some simple wrestling counters to lure Joe into the side headlock that halted a lot of Joe's initial offense in the first match. And just like the first World title encounter, Joe wanted to firefight his way out of the situation. Punk realized that his strategy from the last battle of taking Joe's strikes just to set up either a hold or a strike that could rock Joe, Punk did everything in his power to avoid the champ's punches, chops, or kicks before firing off an attack of his own. Barely twenty minutes into the match, Punk shockingly had Joe looking for haven on the floor following a flurry of counters that Punk hoped to use as a set up for a successful flash pin similar to what Colt Cabana did at "Survival of the Fittest" to pin and eliminate Joe from the finals shortly after Joe-Punk I occurred. For the first time in his World title reign, Joe seemed frustrated over the fact he was being outwrestled and the fans were against him. That anger lashed out at not only Punk, but also a loudmouth fan that got the guardrail kicked against him.

When Joe reentered the ring, the champ hoped to draw Punk into a striking battle. Once again, learning from their Dayton match, Punk avoided the strikes rather than take them before throwing a barrage of Nick Diaz-like attacks that weren't as powerful as they were precise. This precision stunned Joe long enough for Punk to implement his latest strategy: work over Joe's arms. Stuck in the challenger's clutches, Joe tried to roll to the floor to free himself. Still holding onto Joe's head, Punk made his first mistake of the match. Joe hoisted Punk into the air thanks to the challenger's headlock, belly to back suplexing Punk on the unpadded parquet floor. Rolling Punk into the ring, the Samoa Joe onslaught began as he hit that chop-kick-running knee drop combo he's known for. Against the ropes, Punk reverted back to his Dayton strategy, using the rope-a-dope to counter the running face wash with one of his own.

Punk got a little ahead himself, trying to throw bombs like Joe, only to get caught in a sick stretch that contorted Punk's hurt back in the wrong direction. Like the challenger, Joe found his point of interest on his opponent, wearing out the Saint's back over and over with suplexes, backbreakers, and that high elevated Boston crab. The pro-Punk crowd kept firing Punk up, but the Punk who smartly paced himself in Dayton thinking Joe couldn't hang wasn't here. Instead stood a Punk one step quicker, a little bit tougher, but a lot more sore thanks to Joe's back work. It was obvious around the thirty-five minute mark that Punk was in worse shape in this match compared to the last after taking so much punishment after exhausting too much energy avoiding and sidestepping before firing off strikes. Yet, that same drained Punk found his second wind, taking Joe and himself to the floor via a tope. Punk was on fire, insultingly ole kicking the champion. Finally, the momentum seemed to be in Punk's favor when, just like in Dayton, Punk went for the hurricarana off the apron. Catching Punk in midair, Joe swung the challenger into the barricades like a baseball bat!

With the clock ticking down, and both men lying on the floor, the announcers decided it was time to leave the booth because this match didn't need words to express how amazing it was. The challenger found himself in a bad way, but the champ's gaining confidence blinded him of the fact Punk was setting up for something big. Turning Joe's power bomb attempt into a hurricarana, Punk started through kicks, avoiding submissions, and firing up the crowd. From that moment on, Joe and Punk went for broke in hopes of their next attack being the last needed. Punk's Devil DDT or Pepsi Twist didn't do the trick, nor could Joe make the challenger tap out in the STF.

The fans had been on their feet since the announcers went silent, but weren't roaring with anticipation for a new champion until the last ten or so minutes when Punk made it to the ropes to break the crossface. Stopping the chimeraplex, Punk started going for anything he could think of that would stop Joe; including Joe's own Choke. Joe breaking free of his own submission, and Punk legs feeling much better than they did in Dayton, Punk knew the move that would put him down was a few seconds away. With the crowd screaming, stomping, and slapping the barricades, Punk had Joe set up for the Pepsi Plunge. Unlike Dayton, Joe stopped the maneuver with a superplex some fifty-nine minutes into the match. Joe - similar to Punk - realized his patented top rope-assisted maneuver could do the trick for him. The Chicago crowd booed until Punk started fighting to block this attempted Muscle Buster. Suddenly, the fans were given the ten second warning. As the crowd counted down the last seconds in the sixty-minute time limit, Punk and Joe gracefully fell from the top rope, with Joe executing the Muscle Buster. Rolling over, Joe heard the all-to-familiar sound of the final bell ringing. But for Joe, it wasn't the sound of victory that followed that bell, but uncertainty.

Physically and emotionally drained CM Punk gazed at the ROH World title belt he once again couldn't wrestle out of Joe's grasp. When Joe got to his feet, he confronted the would-be challenger, only for Punk to hand the title belt to Samoa Joe. As Punk slumped in the corner behind him, Joe stood tall with the belt raised high. But this moment for Joe was bittersweet because, once again, Punk had the claim that Joe can't beat everyone, and Joe knew it.

This is the Ring of Honor match. This is the first North American match to garner a five-star rating from Dave Meltzer in seven years. This is the match that bona fide legends like Mick Foley and Ricky Steamboat - who were watching live - declared as one of the greatest matches they'd ever seen. This is the match that made believers out of a lot of people of what not only ROH was capable of, but also what two men determined to prove they are the absolute best can produce. Unbeknownst to Samoa Joe and CM Punk, this was the match that defined a legacy. For sixty minutes, Punk and Joe retold a common story unlike anyone before and anyone after them.

The story of an unstoppable Samoan monster being pushed to the limit on two separate occasions by a scrappy Chicago kid just hoping he'd figured out the formula to unseat the champion in front of a raucous, hometown crowd. Yes, it is an excellent match. Yes, it's a wonderful display of human emotion through the actions of two grapplers valiantly fighting for a chance to prove who is the better man inside of an 18x18 foot ring. Yes, for one night, and many years following, no match better defined Ring of Honor. And most importantly, yes, this is what pro wrestling is all about; and why we love this business.

And there you have it, faithful readers. From bloodbaths to technical marvels to epic rematches, all contained in one list done for you. Big thanks to Vickie Bullock (a.k.a. "My Mom") for taking some time out of her busy schedule to do the drawing of Joe and Punk. Once again, thank you to everyone who responded about the "Milestone Series". It was a work of passion to say the least. And if you enjoyed the "Series", and have yet to jump on board, show your love, or like, for The ROHbot Report and Honor Nation on its Facebook page. Also, keep your eyes peeled for another "Honor Nation" today. And don't forget to send those questions in for the next "Honor Nation either through the comments section below, on Facebook ( The ROHbot Report and Honor Nation on its Facebook page), on Twitter (@fasjab), in the Honor Nation thread on the WWI message board ( http://s14.zetaboards.com/Wrestling_Insanity/topic/6631422/), or by e-mailing me at Bullock@WorldWrestlingInsanity.com.

Okay, time to call it day. Here's to a great weekend to you and yours.

Till Then.