---
The C-Show Showdown: Tyler Reks and Chris Masters vs. Generation Me and Ink Inc

By Tommy Harvey Nov 4, 2010 - 5:49 PM
---
C-Show Showdown shows the C shows, see? Say that 5 times fast. That's right. It's that time of the week again. Superstars vs. Xplosion with a special bonus bout to boot. Put on your tuxedo t-shirt and let's get started.

WWE Superstars:
Match 1: Mark Henry vs Jey Uso w/ Jimmy and Tamina
This is a decent matchup for Superstars. Mark Henry doesn't really have a spot on RAW and he can at least put a W on the board with these types of matches. I think they should put Cryme Time back together and put the Uso's with them in a stable. Big Mizzark gets the win with The World's Strongest Slam. Jey Uso is talented. He has more personality when he is by himself too.
Match 2: Tyson Kidd vs "Long Island Iced Z" Zack Ryder
Woo Woo Woo...You know it! I love this matchup. Kidd is very good and I'm a huge fan of Zack Ryder. Seriously. Ryder needs to be in the US Title mix. The guy is very talented. This is a very good match. Tyson Kidd has some amazing, unique offense. At the end of the match, David Hart Smith comes down to ringside to confront Tyson Kidd and Natalya follows to break up any possible fight. As Tyson gets back in the ring, Ryder hits the Rough Ryder for the win. It's about time Ryder gets a freaking win. The guy lost to Santino Marella a few weeks ago for crying out loud.
Match 3: MVP vs Curt Hawkins
Wow! Another great matchup. I've been waiting on MVP to bust out for a long long time now. Hopefully this new theme music is just the beginning. Curt Hawkins has "IT" in my opinion. What is up with Superstars this week? It's just giving us alot to enjoy. Him and Ryder have come a long way since The Major Brothers. This is a nice, competitive match. MVP wins with the Play of the Day. Very good match for both guys.
Match 4: Chris Masters vs Tyler Reks
This is yet another good match for Superstars. Chris Masters is good and underutilized and Tyler Reks is fresh off the victorious Team Smackdown. The repackaging of Reks is what is striking since he came back. The surfer gimmick just wasn't working. He walked like he had a stick up his butt. Now, the dirty caveman look is pretty cool and he seems to have had that stick removed somehow. Reks gets the win with his impressive Torture Rack face plant finisher.
TNA Xplosion:
Match 1: Magnus vs Eric Young
Pre-match Magnus said that Desmond Wolfe was in England trying out for Chelsea.
In the ring, EY thinks he is in a tag team match with Magnus because...well...because he's Eric Young and he thinks he is everybody's tag team partner at this point. Concussed EY is hilarious. He tries to hit on Chelsea for the majority of the match, which is pretty amusing to watch. He's got some pretty nice dance moves. The end of the match came when both men went to the top rope. EY bit Magnus's nose and pushed him to the canvas. He then hit the big elbow for the pinfall victory. After the match, Magnus attacked EY as he was celebrating and Orlando Jordan came down for the rescue.
Spin Cycle Segment featuring Eric Young, Miss Tessmacher, Lacey Von Erich, and Orlando Jordan. They talk about Halloween costumes.
Match 2: Generation Me vs Ink Inc.
This is a very good matchup. Generation Me really proved themselves against the Machine Guns and Ink Inc is a decent enough tag team to be able to provide a quality match. I'm still not a fan of Jesse Neal, but Shannon Moore is good. Gen Me are heels now apparently. Shannon Moore said Matt and Jeff Hardy from 1995 want their ring gear back. This is a good back and forth, uptempo match. The end sees Jeremy Buck grab a steel chair while the referee is down. He takes out Neal with it and then delivers a blow to Moore's midsection. The Bucks set up Moore for the Spike DDT, and Max gets the cover for the win.
Bonus Match:
Raven traveled up to Pigeon Forge, Tennessee on Friday October 29th to take on a good friend of mine named Shane Daniels. He is a very good big man, who can move well and is constantly improving. Take a look at this match and tell me what you think.
Verdict:
This week's winner is WWE Superstars. It gave us good matches and allowed us to see guys that we should be seeing on the show. MVP, Chris Masters, Zack Ryder, Tyson Kidd, Tyler Reks, and Curt Hawkins are guys that need a build and that is what Superstars should be for.
Showdown MVP: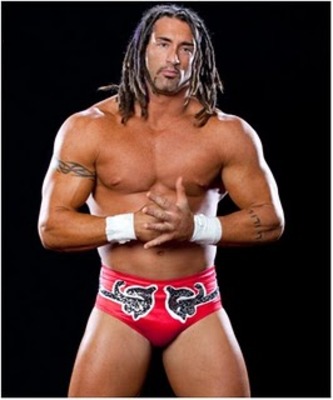 The C-Show Showdown MVP for this week is Tyler Reks. Fresh off being on the victorious Team Smackdown at Bragging Rights, Reks took care of Chris Masters with his awesome looking finisher.
That's it for me this week. Check back again later for another installment of the C-Show Showdown.
---
---
blog comments powered by Disqus
| | |
| --- | --- |
| My Son Lucas JG's Facebook Insanity: Let's Infuriate Your Friends (33 Minutes) James Guttman's Free 2009 Interview With Mr. Fuji JG's 10/19/15 Raw Insanity: Hell of a Sell JG's 10/5/15 Raw Insanity: Flashing The Brock Signal JG's Insanity: The 12th Annual WWE Memorial Day Barbecue JG's Insanity: The 11th Annual WWE Memorial Day Barbecue JG's Ten Facebook Posts To Annoy Your Friends JG's Ten Beloved TV Characters Who Were Obvious Psychopaths JG's 10 More Fun Ways To Infuriate People Online JG's Ten Insider Wrestling Terms You Shouldn't Use When Talking About Something Besides Wrestling JG's Insanity: The 10th Annual WWE Memorial Day Barbecue JG's Ten Demented Ways We Misused Our Toys JG's 15 Fun Ways To Infuriate People Online JG's Ten Sesame Street Muppets That Are Missing And Presumed Dead JG's Scene From WWE Raw (After Vince McMahon Goes Senile) JG's Ten Signs You Were A Wrestling Fan Of The 1980s JG's Insanity: Stone Cold's Greatest Moments (Without Stone Cold) JG's Ten Wrestling Moves That Really Hurt When You Try Them At Home JG's Insanity: Everybody Is Tito Santana JG's Ten Reasons Why WWF LJN Figures Were The Greatest Toys Ever JG's Ten Judges Who Would Make American Idol Worth Watching JG's 2012 in Pictures (As Hulk Hogan Will Remember It) JG's Quintuple Bypass Surgery Insanity JG's Five Episodes of Diff'rent Strokes That Scarred Me For Life JG's Ten Facebook Posts That Are Slowly Driving Me Crazy JG's Ten Truly Terrible Reality Competition Shows JG's Ten 1980s TV Characters Who Taught Me To Hate JG's Ten Wrestling Characters Who Went Through Massive Personality Changes JG's Ten Old School Wrestlers Who Would Terrorize Today's PG WWE | TGIF: RAW's Young Voice, 5 Star Snowflakes, and More The ROHbot Report: Honor Re-United, Dojo Pro Black Belt, And More The Challenge: Final Reckoning - Episode 5 TGIF: Garden of Honor, China Cena, and More The ROHbot Report: UK Tour on FITE, Death Before Dishonor, And More The Challenge: Final Reckoning - Episode 4 TGIF: Missing Monster In The Bank, Broken Gimmicks, and More The ROHbot Report: Global Wars Tour, Alex Shelley Retires, And Mor The Challenge: Final Reckoning - Episode 3 TGIF: Daniel Bryan Goes Full Snitsky, Vince's Riddle, and More The ROHbot Report: New World Champion, Honor For All Review, And More The Challenge: Final Reckoning - Episode 2 TGIF: A New Day For Hulk, MLW's Major League Potential, and More The ROHbot Report: Nashville Return, Top Contenders 6-Man Gauntlet, And More The Challenge: Final Reckoning - Episode 1 TGIF: Japanese Garden Party of Honor, Rib JR's Rib, and More The ROHbot Report: Bully-Burger Steal the Show, NWA Title in ROH, And More Anime Verdict: Street Fighter 2 The Animated Movie TGIF: Hug Therapy, Down Goes Dalton, and More The ROHbot Report: Best in the World Review, Fairfax TV Tapings, And More TGIF: Dog Bites Artist, All Them, and More The Challenge: Champs vs. Stars 3 - Finale & Reunion The ROHbot Report: Best in the World '18, TV Classic Main Event, And More TGIF: Cass'd Away, DIY Does It Again, and More The ROHbot Report: State of the Art Reviews, ROH International Cup, And More The Challenge: Champs vs. Stars 3 - Episode 9 TGIF: The Greatest Professional Wrestling Match Of All Time The ROHbot Report: San Antonio/Dallas Previews, Bullies Dominate, and More The Challenge: Champs vs. Stars 3 - Episode 8 TGIF: CM Punk Gets One More WWE Victory, Constable Corbin, and More |
Even More From This Category
>>