This coming Friday (April 20th 2007), Smackdown will celebrate it's 400th show from Milan, Italy. As you may have seen in my earlier review of the initial pilot episode of the show, I have a personal affinity with it, and I think there have been tons of great moments and tons of great matches in the show's 8 year run. And you have to, as when I asked, you came back to me with stuff even I forgot about! Over the course of this column and an upcoming audio show on Club WWI, we'll look back at those moments and some of it's most significant matches.
My Top 10 Most Significant Matches In Smackdown History!
The following list is in no particular order, and where you can view the match online, a link has been provided.
10: Kaientai & The Brooklyn Brawler vs. HHH (Elimination Handicap match) - July 6th 2000
In the lead up to Fully Loaded, Jericho stole a kiss from Stephanie, prompting HHH to want Jericho's guts for garters. Commissioner of the period, Mick Foley, told HHH he could have Jericho in the match he wanted if he could beat three people. Oddly enough though, it was pretty much the lowest three on the roster. Foley was funny like that. Anyway, HHH was doing a good job of beating up the jobbers, eliminating the Japanese duo in short order. However, Brawler just about hung in there. But when HHH looked to have the match won, Jericho ran in, hitting a bulldog and the Lionsault, putting Brawler on top for the biggest win of his career. Obviously though, HHH & Jericho would end up meeting at Fully Loaded in a Last Man Standing match.
9: HHH vs. Taz - April 20th 2000
This was the first major World Champ vs. World Champ match in over 15 years. And it was a good match, with Tazz booked as HHH's near-equal. Indeed, it took some botched interference from Tommy Dreamer, with a chair shot of his accidentally costing his ECW compatriot the match. Even if they regret booking it now, it was still very cool, and one of my first exposures to ECW.
8: The Rock vs. Booker T (Lights Out match) - August 16th 2001
In all honesty, this isn't here because it was a great match. Rather far form it actually. However, it was the first ever "Lights Out" match, and it main evented the first ever live edition of Smackdown. If you don't know what a "Lights Out" match is, it's basically a "No Rules" match, with a symbolic dropping of the lights before they came out. In actual fact, the dropping of the lights would become important at the end. That would be because when Rock had Booker set for a Rock Bottom on the announce table, Shane McMahon came from under the ring (having gotten there when the lights went out) to low blow rock, allowing Booker to hit the Book End. But Booker didn't make the pin. They just stopped for no real reason, and indeed, it's in the history books as a No Contest.
7: Chris Benoit & Eddie Guerrero vs. Edge & The Rock - August 1st 2002
This match has no true historical significance, other than this was right when Eric Bischoff & Stephanie came in a General Managers, and this was Benoit & Guerrero's first match on Smackdown, having been revealed to have jumped from RAW earlier in the episode. This was a truly awesome match that Benoit won, using the Crossface on The Rock, after a distraction from Rock's challenger for the Undisputed Title, Brock Lesnar.
6: Edge & Hulk Hogan vs. Billy & Chuck (Tag Team Titles Match) - July 4th 2002
With all the talk of who should be the face in the surely impending Edge/Orton feud, if this match and the previous one don't show you that Edge can be an AWESOME babyface, and a very over one too, then nothing will and you can live in your ignorant bliss for all I care, because he was SO over. The match itself was good enough, especially for one with Hogan & Billy Gunn in it. And even if here, Edge had to sell it as if he were the biggest Hogan fan on the planet, Hogan let Edge have the pin, which really kick started Edge on the road to stardom as a singles wrestler, after he had gotten started with his feud with Kurt Angle, shaving Kurt's head. The Edge/Hogan team didn't last long, losing the belts to the UnAmericans a couple of weeks later.
5: Eddie Guerrero vs. John Cena (Parking Lot Brawl) - September 11th 2003
Again, not a match with any real historical significance, but here because it was a damn fine brawl when both men were truly catching fire. It had a very cool setting with them in the parking lot in a circle of cars with various wrestlers standing around. Both guys were dressed "come as you are", as JR would say, with denims and heavy boots on. Cena cut a rap basically making all sorts of homosexual references towards Eddie.. It's funny. He makes a joke about homosexuality or a man's nuts and/or wang today, and every one runs him down, and here he is, in the period everyone supposedly loves saying effectively the same thing. That's why I don't dislike Cena. Intonation is not a valid means of judging someone in my book. The match itself was pretty darn good, with all sorts of plunder coming into play, including a Cena-obtained lawnmower! Eddie won it, after Chavo returned and helped him out.
4: Kurt Angle vs. John Cena (John Cena's Debut) - June 27th 2002
Now, from a personal point of view, never mind the heel rapper phase of Cena's existence. I still prefer the initial days when Cena was allowed to WRESTLE people, his match with Jericho at Vengeance being a case in point. This match itself was a really good match with Cena equalling Angle's offence, forcing Angle to use a unique pin to put him away.
However, Cena's debut brings a larger point. If you look at almost all the current and (tipped for the) future major players, they all had their debuts on Smackdown. Cena. Batista. Lashley. Randy Orton. Ken Kennedy. MVP. Carlito. Rey Mysterio. Nitro & Melina. The Radicalz (Benoit, Eddie, Dean Malenko & Perry Saturn) all had their debut matches on Smackdown (even though they first appeared on RAW). That's a lot of people. And that's something Smackdown doesn't get credited for. It gets a lot of thing either before RAW, if RAW gets it at all, as the rest of the matches will demonstrate.
3: Chris Benoit & Chris Jericho vs. Edge & Christian vs. The Dudley Boyz vs. The Hardy Boyz (Tables, Ladders & Chairs #3) - May 24th 2001
This was the first TLC match that took place on free TV, preceding the RAW match by a whole year. It was also the first to have four teams involved. Benoit & Jericho had recently beaten Austin & HHH (in the match where HHH injured his quad the first time). And it was an almightily awesome match, with a whole bunch of awesome spot, as Jericho & Benoit's involvement freshening the mix up a bit. Cases in point being a Walls Of Jericho on Edge atop 2 ladders and a Benoit diving headbutt form the top turnbuckle to the outside where Hardy was laid out on a table. Hardy moved however, sending Benoit crashing through by himself. As it was, Benoit came back later on and sealed the victory for his team.
2: Big Show & Undertaker vs. The Rock & Sock Connection (Buried Alive Match For The Tag Titles) September 9th 1999 (yep, 9/9/99!)
This match had THREE firsts going for it (and in each case, it's still the only one of it's kind in each way). It was the first Buried Alive match on free TV. It was the first time it has been contested for a Title, and it was the first Buried Alive match to be a tag team match. That said, only one person had to be buried.
This was a pretty good match that saw a truly awesome spot that we don't see anymore where Big Show took Mankind and threw him from the stage almost directly into the open grave. That didn't end it though. Indeed, it ended when Undertaker & Rock took it backstage while Big Show was burying Mankind. HHH then came out (having attacked Rock in the back earlier in the match) came out, smacked Show with the sledgehammer and did the burying for him, thus crowning Taker & Show tag champions, although the show ended with Big Show out cold, Undertaker nowhere to be seen and HHH with his hands in the air. Such is life when Russo books...
1: Kurt Angle vs. Brock Lesnar (WWE Title) - September 18th 2003
This was another first, as it was the first, as it was the first 60 minute Iron Man match on Free TV. Indeed, later on, Smackdown would have 2 firsts with regards to Iron Man matches, as it put on the first Tag Team Iron Man match and the first Iron Man match to go less than 60 minutes in the same match when MNM beat Bob Holly & Charlie Haas in a 15 minute match 2 to 1 in 2005.
But this match was another one out of the "Awesome" drawer. And I personally found it awesome because it made complete sense. Especially Lesnar getting himself disqualified so that he could then score easy pins on Angle, with Angle then making the big comeback and almost tying it at the end, but just running out of time. Brilliant match and booking. My favourite Iron Man match ever.
But then again, Smackdown hasn't been all about the matches. There have been some brief moments of note...
Clean Up In Aisle Five
Indeed, it's the WWE's own 4 favourite Smackdown moment in the countdown they are doing. Booker has aligned with Vince to take down Austin. During the show when this happened, a small fire had broken out in Vince & Booker's suite. Fire officials put it out, but one of them wasn't a fire official at all. It was Austin. Booker hightailed it and Austin gave chase. Booker tired to hide in a grocery store, but Austin tracked him down, and a wild (although pretty one-sided) brawl broke out all over the store, with Booker covered in all sorts of stuff, even taking a frozen pizza upside the head.
Got Milk? Soap?
At the beginning of 2004, Smackdown GM, Paul Heyman, was getting fed up with John Cena running his mouth with his rapping, and so, forced Cena into wrestling a match against Rhyno where the loser (Cena or Heyman) would get their mouth washed out with soap. Unfortunately for Paul E., Cena won the match. Heyman tried to get away, but Chris Benoit brought him back, and put him in the sharpshooter, as Cena stuffed soap in Heyman's mouth.
2 Weddings And A Funeral
Smackdown has hosted 2 wedding, which on the surface were as dumb as each other, but I personally liked for differing reasons. First of all was the "Commitment Ceremony" for Billy & Chuck. In what may well have been one of the most controversial episodes in the history of the show, the couple were going to commit themselves to each other forever. It was so touching. Even a homosexual-right group gave them a gravy boat. It got all sorts of press. However, those backing it would end up with egg of their face. An ageing minister oversaw them giving vows and exchanging rings. However, not one, but both guys got cold feet when it came to saying "I Do". They eventually did, but just before the minister could confirm the "commitment", the couple stopped him, revealing that it was just a publicity stunt gone too far. Then, in the ensuing confusion, the minister peeled off his face to reveal that he was, in fact, RAW General Manager, Eric Bischoff, under an amazing make-up job. Out came MA BOYZ~! Three Minute Warning, to lay waste to everyone in sight, except Eric and Rico (who turned on his "gay" duo for the "thug" duo). This set up a match at Unforgiven, where the losing GM had to acquiesce to a request form the other GM. Smackdown lost, and Steph had to engage in some "Hot Lesbian Action". However, when a clearly dragged up Rikishi came out, Bischoff ended up taking a stinkface. And after that, they acted as if it never happened Indeed, the wedding was one of THE BOSS'S favourite moments:
James Guttman: "One of my favourite SD moments was probably Bischoff as the preacher for Billy/Chuck. It really knocked me for a loop. If they followed up the Billy/Chuck-3MW feud well, that moment would have been huge. Sadly, they didn't and now it's forgotten."
The second wedding was, well, I'm referring to that of Al Wilson & Dawn Marie. Now I know, I said I liked both of them, and I'm sure that right now, you're thinking I've gone gaga. Well, that happened to me a long time ago and I have a point, which I will get to. However, it all began when Torrie Wilson's (real) father, Al turned up one week to say hello to his little girl. However, while he obviously went to the same acting class as Linda McMahon, he kept turning up and turning up, and soon enough, he was found to be boinking Dawn Marie, who wasn't exactly Torrie's best friend at the time. As it is, Al proposed and they had the wedding on the Smackdown of January 2nd 2003 (and yes, I'm skipping right past the part where they teased an "Indecent Proposal" angle where Dawn proposed to Torrie that she would stop seeing Al if Torrie slept with her, a segment heavily edited by UPN and when shown on PPV, was very lame anyway). On that night, Dawn told Stephanie McMahon that she wanted them to recite their vows in the nude. That's right. No clothes. Steph baulked at the idea, but Dawn was determined. When the time came, Dawn started stripping, but Steph made her stop at her bra & panties. Then it came for Al Wilson to do likewise. And I bet Torrie was so proud then Al stripped down to his tighty-whiteys... Either way, this wedding passed off without a hitch, although the honeymoon didn't, as Al bought it taking one for the team, so to speak.
Now, obviously, the angle was gash from day one, but here's why I like it. Personally, I think the angle was far cleverer than people would first imagine. You see, Paul Heyman was writing Smackdown at the time, and he could see what was going on around him. They had had the gay wedding. Then there was the whole HLA guff. And then they had done the Katie Vick angle not long before this wedding. Vince was hungry for "soap opera" crap. But Heyman knowing he's have to produce something similar, came up with this knowing full well that it involved people that no-one cared about at all, and weren't going to affect any title picture, and yet, it looked as if he was towing the company line. And at this point anyway, they had the "Smackdown Six" period going too, so they had that off-setting the crap. Personally, I think it was rather cunning. And listening to Al Wilson, who sounded just like a stoned Ray Romano was hilarious.
I've got a lovely bunch of coconuts!
After making a shocking comeback at Wrestlemania 19, Roddy Piper turned up on Smackdown bringing with him the first Piper's Pit in many years. While his guest was Vince McMahon, the real moment came when Rikishi came out, seeking revenge for Piper smashing his uncle Jimmy Snuka in the head with a coconut, brandishing one of his own. However, Sean O'Haire came out, attacking Rikishi and allowing Piper to do it again, with the Scot smashing another coconut over another Samoan's head.
This one speaks for itself...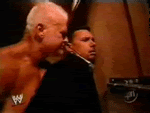 Enough said...
And it is enough said by me. As I said earlier, I asked people what their own favourite moments were. Here is a selection.
Mike Rickard: "Smackdown after 9/11. The U.S. was in shock and Vince stepped up to the plate by bringing some much needed entertainment and a sense of normalcy to U.S. fans."
Kat: "The September 13th show opening…to see that many people live together after September 11 helped begin the healing for me. It took place in Houston, and I remember watching it because our football game had been moved to Sat."
"Muhammad Hassan's "beheading" of Undertaker. (I said memorable)" - Indeed, I personally thought this was blown out of proportion at the time, and surprised they held off on doing such an angle for as long as they did, especially since they started the Hassan character off as eloquent and smart, especially compared to the jingoistic JR & Lawler in those early days. I mean, it wasn't even a "beheading", since Undertaker's is still firmly attached to his head, but that's the word that was first used and stuck to it. Plus Hassan's henchmen were not dressed typically as Arabs. Hell, I can reel four of them off now as Val Venis, The men formerly known as Gymini and ECW's Mike Knox.
However, they filmed it in the wrong week and very wrongly stuck with showing it after the bomb attacks in London, a big mistake on the part of the WWE, even though they took it out of the UK broadcasts.
"OJ Tapping out for Benoit in 22.5 secs the 2nd time after Summerslam. I think that it a classic moment, I was entertained" - Sorry OJ, but I am including everything.
Mike Johns: "In general, I'd like to say the Christmas in Iraq shows, before they switched those to Mondays. I'm not sure why they can't just do one huge supershow live then split it in two parts for the TV audience at home, but there's probably good reason. I've come to look forward to those shows almost as much as Wrestlemania, if not more, simply because of the whole "good will" thing. It's something WWE won't fuck up or put something corny on. In fact, the only real let-down moment I ever had watching these was when Cena and Big Show went at it in Baghdad for the US Title. To this day, I don't see why the title wasn't on the line, especially when Cena and Show had virtually the same damn match a couple months later for the US Title at Wrestlemania XX (which Cena won). To me, it would have made more sense for the title to change hands in Baghdad, not only for the troops sake, but as sort of a milestone for history. John Cena wins the US Title in Iraq. I'm not sure how much bigger a moment you can have in your life outside of Wrestlemania itself, really. But, still, the Cena/Big Show confrontation in Iraq is still a highlight for the WWE, and hopefully WWE gives it the props it deserves for being the main attraction for the first Tribute To The Troops show they ever produced."
Saad Naeem: "The first (series) episode of Smackdown was my very first exposure to wrestling. So that very night was responsible for me being where I am today as it regards to being a wrestling fan. I especially remember that Sweet Chin Music HBK nailed on The Rock in the main event. That's all I needed to stay hooked for life."
Legend Killer: "What about when Big Show's father or grandfather died, and the Boss Man came and towed away the coffin. I know it was before Survivor Series '99."
David: "I would say the whole period of Smackdown when Brock was on top with Heyman, and Edge, Rey and Benoit were having that amazing string of TV matches. I was riveted during that time. At that period even Michael Cole was entertaining because their banter back and forth was really fun to listen to and Cole sounded more genuine and not so forced." - I agree with this, the "Smackdown Six" period was the best ever for the show, in my opinion. At least one great match every week if not 2 or 3. And actually I like to call it the "Smackdown Eight", as Haas & Benjamin got involved at times too.
Well, that's all I've got in terms of written work. You'll have to pay to hear the rest I believe. If you have any favourite Smackdown moments, do PM or e-mail me, but be quick, the audio will be up before the 400th Smackdown airs this Friday. Other than that, I'll be back here on the regular site on Friday with your exclusive review of that landmark show (well, for at least the next couple of years anyway).
So keep reading and listening to WWI, and stay cooler than the other side of the pillow.
I'm out.