05-04-07
"The video game says 'Play me'."
Boo-yah, here we go!!
***
Item #1 – ROH going to PPV!
Listen, you all know how much of an ROH mark I am as I've been touting their greatness pretty much since this website debuted. As such, you can only imagine the sheer joy I'm feeling right now knowing that Ring of Honor is going to pay-per-view beginning July 1st.
Seriously…let that sink in for just a minute or two.
Okay, welcome back. Folks, this is truly a monumental occasion for wrestling fans everywhere. Much like ECW back in the 90s, going to PPV is a form of legitimacy that really helps put a federation on the map. Unlike ECW back in the 90s, ROH is already a profitable company so this decision isn't a last-ditch effort to survive.
Here's an excerpt from the official release:
The agreement calls for a card every 60 days from shows both stateside and abroad, and will premiere July 1. A total of six cards are planned throughout '07/'08. ROH owner Cary Silkin made the announcement today with G-Funk's President Ken Gelman. The debut event, entitled "Respect Is Earned," will be taped May 12 in New York City from the Grand Ballroom of the Manhattan Center, and will feature a glistening array of talent from Japan, England, the U.S. and Mexico.
Long revered by a loyal underground fan base, the Philadelphia-based ROH—currently seen on Canadian, British and Japanese TV—appeals to the disenfranchised wrestling fan fed up with storylines which seem to take precedence over the kind of powerful ring competition that ROH specializes in.
"Fans around the world now know that our brand of action is, indeed, the highest-flying, hardest-hitting most daring and acrobatic action presented today," says Mr. Silkin. "We are thrilled that we can finally show a televised audience what our crowds have known for the last six years…that ROH harkens back to an earlier era of wrestling where authenticity still counted for something. There's a magic at our shows that I, as a wrestling fan, had all but given up on."
The upside? New fans will finally get their chance to see some of the best independent talent in the world today from the likes of Takeshi Morishima (Pro Wrestling NOAH star and the current ROH champion), Nigel McGuiness, Mark & Jay Briscoe, Bryan Danielson, Delirious, Roderick Strong, Davey Richards, Brent Albright, and Claudio Castagnoli. The downside? TNA has officially pulled all of its talent from appearing on any future third party DVD releases or PPV programs so you won't be able to see amazing matches featuring Homicide, Christopher Daniels, Austin (Starr) Aries, Chris Sabin, Alex Shelley, or Samoa Joe.
While some may not care that those names won't be appearing as they are all currently featured on TNA programming, to see them perform in an ROH setting is truly something that has to be seen to be believed. Just think…TNA matches can sometimes be spectacular, but the wrestlers are still being held back just a bit. In ROH, there are truly no limitations to what they are allowed to do.
Regardless, the fantastic thing about Gabe Sapolsky's booking is that he actually tries to create new stars by bringing in the best independent talent from around the world. Fantastic relative unknowns from just two years ago like Davey Richards and Delirious are now ROH mainstays and focal points and, hence, allowed to show the world what they can do.
I really could go on and on about this decision, but I'll try to contain myself as it's so early and there's plenty of time to ramble. I do, however, have one thing that absolutely needs to be addressed if this whole venture is going to be successful:
ROH needs…absolutely NEEDS…to increase their production values tremendously.
The bottom line is that while their production works for their DVD releases, it won't resonate the same way with a wider PPV audience. They need to make sure the lighting is better, the transfer to video is clearer (i.e. new cameras need to be purchased), and the audio is actually audible. These things need to be addressed before the first PPV is taped because, quite frankly, their current amateurish production values will take away from a fantastic product in the eyes of new fans who may be willing to dish out $30+ on a pay-per-view.
Still…either way…this rocks the Casbah.
***
Item #2 – WWE booking mistakes?
Yeah I know…there's always some smart-ass online telling the rest of the Internet world how WWE sucks and how they could make things better. This isn't quite what I'm about to do…but it's kinda close.
Now I didn't have a huge issue with the lack of title changes at WrestleMania. In fact, there's gotta be some type of stability to help titles maintain any type of credibility whatsoever in this day and age of kayfabe. However, at Backlash, I'm starting to really wonder if smart booking decisions were made.
It's not because I'm an MVP fan. It's not because I'm a Mickie James fan. It's not because I'm a huge Cade & Murdoch fan. It's certainly not because I'm an HBK fan. However, when the only title change on a PPV filled with nothing but title matches is one involving Vince McMahon, then you really have to wonder if heads are stuck up asses somewhere.
I understand stability, I really do. I'm not asking that every title changes hands or anything. But what I do think is that when you have rematches from a pay-per-view where nothing much happened (except that whole Undertaker/Batista thing), is it not too crazy to expect that at least one rematch (or new match) would include some type of title change other than the one involving the owner of the company?
I could totally see MVP as United States champion and as much as I love Chris Benoit, I'd hate to see MVP eventually buried like Orlando Jordan was in a similar situation. The way things are going, MVP is really beginning to shine and should (at this point, at least) be getting hot enough to deserve a US title run. And what about Cade and Murdoch? They've been jobbers-to-the-stars for months now and all of a sudden get a tag title shot. Why shouldn't they win? I mean, you've got to re-establish them if you want anybody to take them seriously…so the only way at this point would be with a title run. And don't get me started on the whole HBK/Cena thing.
Listen…I know that this is going to be a 50/50 split in terms of whether people agree with me or not, but that's just fine. I really think that regardless of how good the matches were (and the matches were pretty decent), when you follow-up Mania you need to prove that anything can happen regardless of how big the stage is.
***
Item #3 – Smart WWE booking decisions?
Having said all that, I'm really enjoying what's being put on my television screen lately.
Randy Orton vs. Edge to kick off RAW? Yeah…I'm diggin' on that.
CM Punk vs. Elijah Burke (with the New Breed crumbling in the background)? Yeah…I can follow that, too.
Mr. Kennedy showing up on RAW and having a controversial match on tonight's SmackDown? Sweet stuff, to be sure.
There are certainly some interesting booking decisions that are very intriguing going on lately. I really can't complain too much because the product as a whole is really entertaining me right now.
Cade & Murdoch cheering on the Hardyz? Intriguing. The Great Khali vs. John Cena? You might as well do it now and get it over with. Turning Finlay babyface? I guess…why not? Having a possibly departing RVD feud with Vince McMahon? Now you're cooking with cheese!!
The best thing right now? Because of some unfortunate injuries, the Creative Team is going to be forced to make decisions that could possibly shape the immediate future of the entire company. I'm really looking forward to seeing where WWE programming goes with Undertaker injured for six-to-eight months and Bobby Lashley (we love you, Bobby!!) possibly injured, as well (it's reported that his injury isn't as bad...but it doesn't mean he's not apt to further injury if he continues to battle through the pain - remember Batista's injury?). Who will run SmackDown? Batista or Kennedy? Who will run ECW? Lashley or an Original?
I don't care what anybody says...when you're not sure what's going to happen next and you are looking forward to finding out, that's called a good thing.
***
Item #4 – TNA: the improvement continues.
Y'know, I take a lot of flak on the message boards for daring to question the booking decisions of TNA. Apparently, the TNA faithful think I'm a TNA-hater because I dare speak poorly of any particular part of their beloved product.
Let it be said, however, that lately TNA has definitely stepped-up their game as of late. While I still find parts of the show WAAAAAAY too rushed (most video recaps, the Backlund/Shelley/Sabin & Hemme/VKM segments), they are trying to at least put on some intriguing match-ups that could possibly help sell pay-per-views.
Team 3-D vs. Samoa Joe & Rhino? While the match was quickly thrown out due to the interference of a newly pushed Christopher Daniels (another good thing TNA is doing), the idea of these four men battling helped whet the appetite of fans for a future match for the belt. Jeff Jarrett vs. Robert Roode? Like it or not, TNA has turned Jarrett babyface by using the Impact Zone's favorite son, Eric Young. Signage for Jarrett…chanting for Jarrett…cheers for Jarrett when he's not there…the sign of the apocalypse is upon us and you all better get used to it.
Add to it Jim Mitchell's newest "find", Sting vs. Kurt Angle, Christian promising title shots to his "friends" AJ Styles, Tomko, & Steiner…and you've got some interesting stuff that could help long-term viewership increase.
I've been saying it for months…TNA's future success has got absolutely NOTHING to do with whether or not they've got one hour or two to work with or whether or not they're starting to do live events and tour the country. TNA's future success has got absolutely EVERYTHING to do with doing the most with what you've got.
TNA has got one hour of prime time programming on Spike TV. No more, no less. What they do with that programming will eventually dictate everything…from PPV buys to live event attendance to merchandise purchasing. For the past few months TNA has had a major issue with providing a consistently entertaining program that would help do what it needs to do in order for TNA to be successful.
Currently? TNA is booking for long-term storyline possibilities. That, folks, is an intelligent move to make.
***
Item #5 – The Insanity Tag Team Tournament continues!
Here we go, kids. The results of Round Two!
| | |
| --- | --- |
| Match-ups | Winner |
| Dudley Boys vs. Hollywood Blondes | Dudley Boys |
| Londrick vs. The Eliminators | Eliminators |
| Briscoe Brothers vs. Outsiders | Briscoes |
| Team Canada vs. Edge & Christian | Edge & Christian |
| Steiner Brothers vs. Los Guerreros | Steiner Brothers |
| Anderson/Blanchard vs. La Resistance | Anderson/Blanchard |
| APA vs. Doom | APA |
| Headshrinkers/SST vs. AMW | Headshrinkers/SST |
| Harlem Heat vs. High Flyers | Harlem Heat |
| Kane/Undertaker vs. Demolition | Demolition |
| Generation Next vs. British Bulldogs | British Bulldogs |
| The Rougeaus vs. Rock'n'Roll Express | R'n'R Express |
| Road Warriors vs. Impact Players | Road Warriors |
| Money Inc. vs. Midnight Express | Midnight Express |
| Heavenly Bodies vs. New Age Outlaws | New Age Outlaws |
| Hart Foundation vs. Hardy Boyz | Hart Foundation |
This round was a lot of fun and you have got NO idea just how close a lot of these matches ended up.
The Eliminators, the APA, the Samoan Swat Team, Demolition, the Midnight Express, the New Age Outlaws, and the Hart Foundation all won by only ONE vote each. That, folks, only goes to prove just how important your votes really are. Going forward, keep in mind that no match-up is a given and everybody needs your votes.
Now remember, each team is to be judged based upon their skills during the height of their popularity/success. So vote by sending an email my way or via PM on the message board. Either way, let your voice be heard!
Oh...and please................................no wagering.
ROUND THREE
The Dudley Boyz vs. the Eliminators
Dudleyz: Old-school fans of ECW will remember this match-up. The difference, however, is that the Bubba and D-Von that was in ECW wasn't the same top-notch Dudley Boyz that the Eliminators will face in the third round. Will it be enough?
Elims: The Eliminators were hot during their ECW run and if not for egos, injuries, and contracts for other companies, who knows just how far this team could have gone if given the opportunity? "Total Elimination" was one of the coolest, yet simplest, tag team finishers of all time when the timing was spot-on. The ability of both Perry Saturn and John Kronos to both brawl and wrestle made them a deadly tandem.
Summary: This will be an interesting match-up, but I'm pretty sure that the outcome is set. I, for one, think that the Eliminators are fortunate enough to have gotten past two teams in order to get here, but their "Cinderella story" ends when they face one of the best tag teams of all time…unless you say otherwise with your votes.
The Briscoes vs. Edge & Christian
Briscoes: The current Ring of Honor tag team champions are two of the most talented in-ring competitors I have ever seen. They've got a look that could be marketable with some tweaking and with a little bit more psychology and a little more patience; they could become two of the all-time greats. Their current run is arguably their best so you can probably look at them now (maybe without the concussions and with teeth) to make your decision.
E&C: Edge and Christian are well-known as being one of the top tag teams in professional wrestling history and are certainly one of the favored teams going into this tournament. Their size disadvantage was always made-up with cunning and intelligence. Just when you thought there was no way that E&C could win a match, they found a way.
Summary: Love it, love it, love it. This is the match-up I was hoping for when I saw Round One. While I know I'm personally rooting for the Briscoes, I realize that during their run Edge & Christian were one of the greatest tag teams the WWF has ever produced. Will memories run deep? Or will the flash of one of the best current tag teams outshine the past?
The Steiner Brothers vs. Tully Blanchard/Arn Anderson
Steiners: To me it should be quite obvious that we're going to consider the old NWA/WWF Steiner brothers. At that time, the Frankensteiner was one of the most incredible moves that anybody had ever seen and these two power houses were suplexing their way through every single tag team put into their path...not only in North America but all over the world (their battles with Japanese teams are legendary).
Blanderson: Whether as Horsemen or Brainbusters, you can choose whatever time period you want to for these two. I really enjoyed their WWF run but I totally understand that people may prefer their NWA work more. Suffice to say, JJ Dillon or Bobby Heenan will probably be ringside for this match. Either as part of a foursome or just as a tag team, these two were considered the absolute best in the business at what they did during their time on top. Does history feel the same way now?
Summary: As with some other match-ups in this round, this has already taken place. Both teams clashed not only in the NWA/WCW but also in the WWF, with mixed results. Now with time having passed, you have the opportunity to decide which team gets to hammer the final nail in the coffin of the other. Final dominance is in your hands.
APA vs. Headshrinkers/SST
APA: I think it's safe to say that the beer-swilling bar-brawling APA is the superior version to the original "Acolyte" gimmicked version. During their run, any team that needed to be taught a lesson (hi there, Public Enemy) would be thrown to the wolves in the form of the APA. A spinebuster from Farooq or a Clothesline from Hell from Bradshaw would be all it would take to dominate an opponent. Hardly a weakness to be seen here.
SST: This is tough...which version do you choose? The World Class and NWA version or the WWF version? It's entirely your call. They had success against the likes of High Energy and the Quebecers as the Headshrinkers and then, as the Samoan Swat Team, they were a lethal duo that battled the likes of the Von Erich's, the Steiner Brothers, the Road Warriors and the Midnight Express. In the NWA they were managed at different times by both Paul E. Dangerously and by Sir Oliver Humperdink while in the WWF they were initially managed by Afa before being taken over by Captain Lou Albano and became babyfaces and tag champs. Which version do you choose to battle here?
Summary: This, much like some of the Round One battles, will be one heck of a brawl. You won't see too many suplexes or moonsaults here. Basically, you're gonna have two teams kicking the living snot out of each other. Will a manager get involved and decide the outcome? Whose fists will have more lasting impact?
Harlem Heat vs. Demolition
Heat: How good was Harlem Heat? How about starting off as a team called the Ebony Experience and then becoming ten time WCW tag team champions? That good enough for ya? That type of success is extremely difficult to achieve in any form of entertainment. So over the course of a 7 or 8 year run on top, which version is your favorite? Heel or babyface? With Sister Sherri as their manager or without? Definitely a favorite going into the tournament.
Demo: Demolition...oh where do we begin? Simply put, this Road Warrior knock-off tag team eventually became one of the greatest WWF tag teams of all time. Ax & Smash (let's forget about Crush for now) dominated the WWF tag team division against the likes of the British Bulldogs, the Hart Foundation, Strike Force, the Brainbusters, Andre the Giant & Haku, and yes even the Road Warriors themselves. Not only that, but they had both "Lucious" Johnny Valiant and Mr. Fuji as their manager at different stages in their career.
Summary: As we near the end of Round Three, the matches are getting noticeably tougher to call because we're dealing with some of the greatest tag teams of all time. While these two teams may not be seen at the very top of everybody's list, their successes are undeniable. This, I think, is a clear contrast in styles and definitely the most intriguing match of the round.
The British Bulldogs vs. the Rock'n'Roll Express
Bulldogs: What can I say about the British Bulldogs that you don't already know? These tournament favorites started as adversaries in Stampede wrestling before joining-up in the WWF to become one of the most beloved tag teams of all time. Not only that, but they were tag team innovators...doing tag team moves not seen by wrestling fans before. Injuries and egos led to this team's downfall, but I'd rather prefer their WWF debut run than their "Matilda" days.
R'n'R: Of course, when you talk experience as a tag team you talk about the Rock'n'Roll Express. Ricky Morton and Robert Gibson made up one of the most loved babyface tag teams in the history of professional wrestling. Much like the Bulldogs, the R'n'Rs were the template that many a babyface tag team followed in the years after. Their legendary feuds against the Midnight Express, the Koloffs, the Four Horsemen, and the Heavenly Bodies really help pad their already stacked resume. The leaders in tag team in-ring efficiency, this team has the ability to make it all the way to the end of this tournament.
Summary: Wow…some tag team enthusiasts will be disappointed to lose one of these two teams. During the 80s, both teams helped sculpt how tag team wrestling would evolve over the next 20 years. How in the world do you decide this one? Tough, tough match to predict.
The Road Warriors vs. the Midnight Express
LoD: When people say "greatest tag team of all time", the one team that usually comes out of somebody's mouth more than any other is this one. Hawk and Animal, along with "Precious" Paul Ellering, obliterated teams on their way to multiple AWA, NWA, and WWF tag team championships. The list of teams that fell to a 3-count at their hands is quite impressive: the Koloffs, the Four Horsemen, the Freebirds, the Midnight Express (you can't forget their scaffold match), the SuperPowers, the Powers of Pain, Demolition, the Varsity Club, Doom, the Skyscrapers, the Natural Disasters, the Nasty Boys, Sting & Lex Luger, the Steiner Brothers, the Godwins, the New Age Outlaws, the Samoan Swat Team...the list could very well go on and on and on. Which version will you choose for this tournament?
Midnights: The Midnight Express epitomized tag team wrestling for over ten years in multiple forms. Was there a version that was more famous than the other? It's arguable. I first saw them as Dennis Condrey and Bobby Eaton, but I really think it was the Stan Lane and Bobby Eaton version that lit up the NWA for years. Whether as a heel tag team with James Cornette in their corner or as a babyface team wowing everybody with their technical prowess, the Midnights are definitely a dark horse team in this tournament.
Summary: Another match that actually took place during the height of both teams. While the Warriors dominated the feud, the Midnights normally snuck away with victories when it counted in big matches. Therefore, looking back, do you take the overall success of the Warriors or the occasional sneakiness of the Midnights? Anybody fortunate enough to catch any of their matches in the NWA know just how tough of a call this is to make.
The New Age Outlaws vs. the Hart Foundation
NAO: The New Age Outlaws were thrown together much like the Hart Foundation...just to give each individual something to do. More than maybe any other team other than the Harts, the Outlaws epitomized the whole "taking the ball and running with it" analogy. Who could have foreseen that they would eventually become five-time WWF tag team champions and defeat the likes of the Road Warriors, Cactus Jack & Terry Funk, Mankind & Kane, Owen Hart & Jeff Jarrett, Edge & Christian, the Acolytes, and the Dudley Boyz. While kind of a joke now (Voodoo Kin Mafia?? Please...), the Outlaws were tag team wrestling in the late 90's.
Harts: One of the most famous tag teams in wrestling history and my personal favorite to win the whole thing. Bret "Hitman" Hart and Jim "The Anvil" Neidhart, along with Jimmy Hart, were thrown together on a whim and ended up being trend-setters in the tag team field by winning the WWF tag team titles and through the course of their career defeating a "who's who" of famous teams such as as the British Bulldogs, the Killer Bees, the Road Warriors, Strike Force, Demolition, the Powers of Pain, the Rougeau Brothers, the Rockers, and the Nasty Boys.
Summary: I was really concerned that the Harts wouldn't make it past the Hardyz in Round Two. Thankfully, my predicted winners made it through. The problem? They are now facing a team that absolutely blew away the critics and the fans during their 90s run with DX. So who really was better? Out of all of the tag team championships won between the two teams, which one stood out? Definitely a great way to finish out the round.
Wow…this week is gonna be tough to call. I'm really looking forward to seeing who you vote for. How do you do it? It's simple, really. You can vote either by e-mailing me at Zah@worldwrestlinginsanity.com or by going to the Insanity Message Board and sending me a private message.
***
Item # 7 – LOSER OF THE WEEK.
Each and every week, I pick somebody (not necessarily always from wrestling) who has either acted in a dumb way, said something stupid, or generally was an idiot in some way, shape, or form. This week's choice is gonna be a little bit different. Y'see…while a Canadian, I'm still a tremendous NFL fan. Also, while staying in Houston for the past few weeks, I've been absolutely fascinated with the American fascination with the NFL Draft. Therefore, based on my opinion on how the draft went, ZAH's Loser of the Week will have to be...
Brady Quinn!!!
Okay…so Quinn was still chosen in the first round and ended up going to his home town team. Still…Quinn was arguably the best quarterback in the draft and his freefall from the potential #1 spot to where he eventually ended up being selected, #22, was painful to watch. Even if you didn't think Quinn was worth the #1 selection (the Raiders went with JaMarcus Russell, instead), it was widely assumed that QB-desperate teams the Lions and the Browns would pick up Quinn with either the #2 or the #3 pick.
Neither team bit.
Quinn fell.
And fell…
…and fell.
Poor Quinn sat in the green room with ESPN cameras on him for what seemed like forever. He watched as 21 other players were chosen ahead of him. He watched as potential suitors like the Vikings and the Dolphins passed on him for players that some thought weren't nearly in Quinn's league (Ted Ginn???). It got so bad that he was ushered from the green room to a room without cameras as to not expose him to further ridicule.
That's gotta suck, no?
So yeah…his day ended up pretty good as he not only went with the team that he probably wanted to play for but he also has a new guardian angel in the Browns' #3 pick OT Joe Thomas. However, his slide potentially cost him $33 million in contract dollars and approximately another $18 million in guarantees…not to mention the added attention in the days to follow on how ridiculously embarrassing it must have been to have fallen so far. Therefore, the Browns' new hero is my Loser of the Week!
***
Pillar to Post
Sorry gang…once again no P2P this week. I'm still looking at re-starting once I'm back home in another week or two. So until then…anybody can sign-up to participate?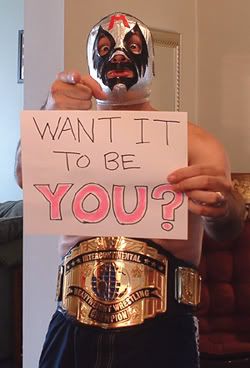 No problem. Seriously...it's not a problem at all. Really...let me know RIGHT NOW!! You can let me know either by e-mailing me at Zah@worldwrestlinginsanity.com or hitting me up at ZAH Nation, found in the Insanity Message Board and letting me know that you'd like to participate. Also, don't forget to stop by my MySpace page and add me.
So until next week…
L8R