HBK - A YANKEE!
Kicks A-Rod, Signs Contract
New York, New York… In a bizarre turn of events, WWE wrestler Shawn Michaels became the new third baseman for the New York Yankees today. The entire situation transpired at a Major League Baseball press conference.
The Yankees had negotiated a trade to acquire Texas Ranger Alex Rodriguez, pending awaiting approval from MLB commissioner Bud Selig to finalize the deal. Selig finally gave consent at a press conference today, but just as A-Rod was about to sign the contract making him a Yankee, Shawn Michaels rushed into the room. He delivered a ten-minute speech about being a man, the importance of a moment, and losing a smile before kicking Rodriguez in the face and signing the contract himself. Yankee coach Don Zimmer attempted to take down Michaels, but was tossed to the ground in the melee.
While it may appear that the transaction is far from legal, it is. A dangerous precedent was set last Monday on WWE programming when Michaels kicked fellow competitor Chris Benoit and signed his contract for a WrestleMania title match. With WWE officials allowing the attack and contract theft, Shawn has found a global loophole. The Boy Toy has been on a tear since that night, finally culminating in today's attack on Rodriguez.
Shawn Michaels's reign of terror began last Tuesday at a T-Mobile store in San Antonio, Texas. Cellular customer Ronald Jenkins recalls the whole story in horror.
"I had just signed up for T-Mobile cell phone service," Jenkins quivered. "Just as I was about to sign the contract, this weird music blared over the intercom. Suddenly this weird dude with a scrunchie ran up to me. I'll never forget his face. He had this upturned lip, like Elvis, ya know? Anyway, he told me that he was taking my cell phone because he needed to finish business with some guy named Hunter something. Before I could answer, he kicked me in my mouth and ran out with my phone. It was so horrible. He tucked his t-shirt into black jeans. I'm still having nightmares."
Jenkins's story is nothing new to police in San Antonio, who have been on the look out for Shawn Michaels since this initial attack.
"We can't do anything to him for taking the phone. Legally, that's his. We want to question him about all this face-kicking," explained Police Chief Scott Nash. "This isn't the only complaint against Shawn. He has pulled this same stunt about a dozen times since his attack on last Monday's Raw. In the last week, Michaels has ambushed various customers and signed their contracts. In the process, he has taken three leased cars, stolen two cell phones, reserved nine motel rooms, ordered eleven cable boxes , made himself the groom in six weddings, and the bride in four others. This guy's insane. As he leaves each crime scene, he blesses his victims and assures them that he is the Source of All Strength, whatever that means."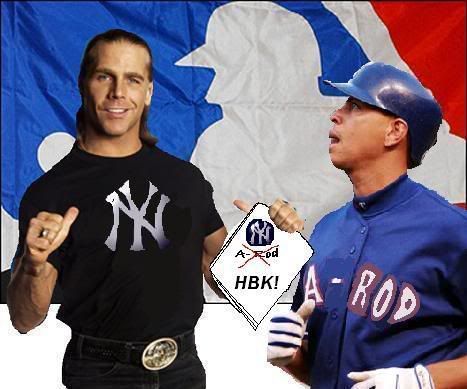 Now it appears that the Source of All Strength should be donning pinstripes for the new season of Major League Baseball, right? Guess again. The Heartbreak Kid's games aren't over. After the press conference, Shawn signed a contract with the ball club's uniform vendor. Starting this season, all Yankees will be wearing leather chaps and sequins.
In an unrelated story, following the new uniform announcement, Mets Catcher Mike Piazza expressed interest in being traded to the Yanks.
---
I'm from New York, I can say that. Speaking of New York, the empire that McMahon built continues it's major push towards Madison Square Garden's showing of WrestleMania 20. What storylines will play out? What questions will be answered? Does Bill Goldberg have some 'splainin' to do after assisting in the Eddie Guerrero upset of Brocktune Lesnar? Will Stone Cold also request some answers from Billy G following his "accidental" Spear last week? Do Miss Jackie Gayda and former Testicle Handler Stacy have more surprises in store? How's Kane going to continue to avoid the wrath of the brother that burned him…ummm, gave him wedgies? Can Randy Orton hold off the maniacal Mick Foley for yet another week? Does Chris Benoit plan to make mincemeat of Baseball's Boy Toy Shawn Michaels for his contract theft? If he does, will World Champion Triple H have anything to do with it? At what point do you think Beefcake realized he had forgotten something at work? Check your pockets, lock the doors, and evacuate the subway, it's Monday Night and it's time for Raw!
February 16, 2004...Bakersfield, California
Recap of Shawn Michaels kicking Chris Benoit in the face and signing his Wrestlemania contract. If you didn't already know about this then the opening to this report must have made no sense.
Buckle up, bee-otches! Jimmy Jam Ross and the King of Memphis Jerry Lawler tell us that we're in for a bumpy ride as Chris Benoit faces Shawn Michaels! It's a Slobberknocker! Puppies!
Raw Theme Plays. If you don't like it, Old Spice'll buy you a stick of yours.
Also on the card tonight: Rob Van Dam and Booker T sneak onto the show and challenge Ric Flair and Batista for the tag straps.
Steph! Damnit, Steph! Did you use my conditioner again? I told you it's my special conditioner! You see this hair, baby? You see it? This hair pays the bills!
Triple H hits the scene and his shirt is way too big. It's tucked half in and half out and as he walks, he looks like he's about to fly away. He runs down the conflict that surrounds his title match at WrestleMania. Does it go to Chris Benoit or Shawn Michaels? Hunter's momma didn't raise no fools. Trippie sees where this situation is going. Remember WrestleMania 10? No? Let him refresh you. Yokozuna defended the title twice on the show. Before the night's end, he had lost it. The Game assures us that it won't happen this year. (JG Note: Yokozuna won't be defending the title this year? That settles it. I'm not ordering WrestleMania.) Gameboy demands that Eric Bischoff steps up and makes a decision on this.
Eric Bischoff is here and he's in agreement. Yes, Hunter. You shouldn't have to defend your strap twice in one night. Bischy has been conferring with lawyers and has a proposition. What say Uncle Eric cancels the Benoit-Michaels match tonight? Big boo from the crowd. Bischy pleads with the audience to hear him out. He'll replace that match with a World Title match. Triple H can choose which man to face. The winner of that one will go on to defend the title at Mania. What do you say? Let me hear you! Do you want to see Hunter defend the title tonight? Big pop. Helmsley asks the audience if that's what they want and elicits a big response. This is, of course, followed by the predictable "who gives a crap what these people think?" H says that he does what he wants to do, when he wants to do it. He's not defending the title tonight. How's that? You know how to sum up the problem with Triple H in a sentence? He's like watching a superhero movie with no superhero. Imagine if Gene Hackman in the Superman movie boasted of how he would take over the world. In the final scene, Superman tried to stop him, fails and takes over the world. Kind of flat, huh? Imagine that happened for like 30 sequels.Now answer the damn question, Eric. What's the dillio with WrestleMania?
WWE.Com: How do you account for your recent success in WWE?
Chris Benoit: Me, Eddie Guerrero, and Dean Malenko found this magic genie lamp. It said we would get three wishes so we each got one. Eddie wished for a World Title run. I wished for a chance to main event WrestleMania. Dean didn't believe in all that magic stuff. He wished for two cases of pudding and a new bathrobe. We're still making fun of him about that.
Toothless and Aggressive, Chris Benoit is in the ring and the Game stops him short. Just as the Champ is getting wound up to deliver a big speech, the Rabid Wolverine snatches the microphone from his hand. He tells Helmsley to shut his damn mouth. Benoit's heard you. He's heard you run your mouth. Chris isn't big on words. He has but one thing to say. With that, he begins to pummel the Champ and the two rustle back and forth repeating the same corner punches reversal spot at each post before Benoit locks Trips in a Crossface. Before too much damage is done, Evolution rushes in and chases the Crippler away.
Commercial Break. Snickers has the "Most Nuts Ever." Snickers has obviously never met my 8th grade homeroom teacher, Mrs. Garserra.
Evolution is flipping out and beg Triple H for the opportunity to go and pummel Chris Benoit. Trips chills em all out like only a hardcore player like himself can do. Relax, Evolvers. All in due time. Ric, you and Tista have a tag title match? Go to it. Randy, you do your thing. Before departing, Orton drops those early Rocky Maivia/Nation of Domination hints and tells Hunter that he's got it "all under control." H smiles and when Orty leaves, he smashes a box sitting on a garbage pail onto the floor. He must really hate those boxes.
(1) Booker T & Rob Van Dam defeated Ric Flair and Dave Batista to become the new World Tag Team Champions when Booker pinned Flair You know what's funny? You could kind of see this one coming. Upset? Yeah, it was an upset. Unexpected? Not really. WWE's been throwing insane curveballs in 2004. Think about it. Since the new year began, we've had Chris Benoit win the Royal Rumble, Scotty 2 Hotty and Rikishi as World Tag Champions, and Eddie Guerrero beating Brock Lesnar for the World Title. Could you have imagined? Something tells me that Vince uttered this phrase today, "Yeah, give em Booker and Van Dam as tag champs. Let's see what they bitch about now. " If anything it feels like WWE is making some conscious decisions to go against the grain they have been up until now. Sure, some things may be stagnant, but some things have definitely changed. They're at least attempting to work more names into the rotation. Van Dam misses Flair and Batista with a cross body over the top to the floor, sending us to a commercial.
Commercial Break. One commercial break featuring ads for Cody Banks 2 starring Frankie Munez and Enzyte the Natural Male Enhancement drug? Talk about a wide demographic.
We're back and the action is still going strong. Randy Orton interjects himself numerous times, finally inciting the interference of Mick Foley. Clad in his flannel vest, Mankind takes down Orton and raises the ire of Batista, who abandons his match to attack the interfering Dude Love. In the ring, the Nature Boy has the T-Man in a Figure Four, but succumbs to a Five Star Frog Splash from RVD while applying the hold. Following the splash, Booker rolls over and makes the cover. 1, 2, 3...turn out the lights, the party's over. The Hashish Heat take the titles and score a major upset.
Commercial Break. Milky Way is Pleasure You Can't Measure. Perhaps Milky Way should take some Enzyte - the Natural Male Enhancement.
Recap of Franklin Delano Roosevelt's Inauguration. At the time, Hulk Hogan was forty..
Jim Ross is in a suit and Jerry Lawler is in a t-shirt, giving new meaning to "no dress code for work." They introduce a package detailing the rivalry between Brock Lesnar and Bill Goldberg.
Recap of No Way Out. See Brock. See Brock in the ring. See Brock point to Goldberg. Point, Brock, point. See Brock call Goldberg a bitch. Bitch, Goldberg, Bitch. See Goldberg get in the ring. See Brock attack. See Goldberg Jackhammer Brock. See Brock lose the belt. Lose, Brock, lose. The end.
The Sheriff and the GM meet up backstage again. Stone Cold cites the great showing by Smackdown last night. What's Raw got, Bisch? What's the deal with Mania for this side of the brand? If you don't fix things, you're in violation of Stone Cold law. Get things moving or else the Rattlesnake is going to take you into that ring and beat you down. Is that clear? Easy E sweats and pants before walking away.
Walk, walk, walk,
Yo, Eric! It's Randy! Randy Orton! Listen, Randy O has to take care of Mick Foley. There can be no other way. Right here, tonight, in the that ring, Live from Bakersfield, in front of this capacity crowd, coast to coast, in over a million homes, on Spike TV, live and in living color, with the world watching, Randy is going to call Mankind out to the squared circle. Tonight, we take care of bi-nis. Fine, Orton. Bischoff agrees to let the Ortman do his thing. It won't be sanctioned, though. Eric washes his hands of it all. Do what you will, but don't come crawling to the General Manager when someone goes and gets themselves hurt.
Speaking of hurt, Chris Jericho's heart is hurt. He laces his boots backstage while wearing his new "Sexy Beast" shirt. I should have put "new" in quotes because it looked exactly like one of Roddy Piper's old Hot Rod shirts. It was white with red around the collars and sleeves. "Sexy Beast" was written in yellow. It's really bizarre. Anyway, the Rowdy Canadian is confronted by Christian, who asks how Y2J+4 could be fighting Kane. Well, Mister Christian, you're Chris's best friend, si? Well, best bud, let the King of Bling Bling tell you a little secret. He wants to be more than just friends with Trish Stratus. Tonight, after his match with Kane, he's going to give her this rose and tell her about it. (JG Note: Tell her about it. Tell her everything you feel. Give her every reason to accept that you're for real.) CJ asks his bestest friend for some feedback. Tian tells him to rethink his plan. Strats probably has a bunch of other men interested in getting some Stratusfaction, and by "Stratusfaction," I mean "sex." Besides, buck up. You have Kane next. Get in gear. The doctors say you shouldn't even wrestle tonight. Your knee is too messed up. Screw the doctors! For the third week in a row, Jericho vows to take someone "Downtown to China Town." Take that "Sanctimonious Son of a Bitch!" There's a new overused cornball phrase in town! Your time has passed.
Up next: SpongeChris ShinyPants meets Kane, the unburned burn victim with a biker corpse for a brother.
Commercial Break. Someone actually approached Quiznos and said "We have a great marketing campaign for you. You know those hairballs that housecats puke up on the rug? What do you say we make those sing and dance in your commercials? Cute? Huh? Cute? Sounds cute, right?"
Herro, Jericho-san. Welcome to "Downtown ChinaTown" We no see you so long. Table for two tonight?
Yes, Shinto. I promised my friend I'd take him here. Kane, you gotta try to the sweet and sour pork at this place. It's mmm…to die for.
Jericho's in the ring. His opponent is not…but he's coming.
Hello, thank you for calling Nordstrom Spa. This is Cathy, how can I help you?
Hello Cathy. I need to schedule an appointment to have my head shaved. I need it shaved for work, but find that I get razor bumps when I do it myself. I just need it professionally done. I could also use a good pedicure too. My feet are getting a bit raggy looking. I should take care of myself more. Can I make a reservation?
Sure thing, sir. Name?
Uh, it's Monster. Mr. Kane Monster. I'll be in around three. See you then, Cathy. Afterwards, maybe I'll set you on fire or something. Take care now. Tah-tah, darling.
(2) Kane defeated Chris Jericho when the Jericho was deemed unable to continue This match was operated on the premise that Chris Jericho's knee was still messed up from last week. Following the logical steps, Kane capitalizes on this injury and pummels Y2J+4's knee into oblivion. Moongoose rolls around in pain and continuously attempts to fight on but to no avail. After collapsing in the corner, Jericho looks done. The ref checks his condition and calls for the bell. This one's called off due to the referee's decision.
Following the bell, it's Kane's decision as he beats Fozzy around the ringside area and further injures his knee. The beating and the damage done, Big Red takes the microphone and speaks.
"Let that be a lesson to you, Jericho, or whoever's playing these so-called supernatural mind games with me. You people are gullible enough to think that the Undertaker's behind this. Well the Undertaker is not. I buried the Undertaker alive! My brother no longer exists to me! You hear me? The Undertaker is dead! Dead! Dead! Dead! Dead!"
- Kane, 9:52pm
He does the arm-lowering turnbuckle fire trick and plops over the top rope to the floor. Upon his departure, the familiar music hits and again we are told that in 27 days the dead will rise again. (JG Note: I can't wait to see Al Wilson again.) As Kane glows blue and looks on incredulously, it starts to rain on him. Raindrops keep falling on his head as the Big Wet Machine stands in shock before leaving.
Commercial Break. Twix It Up. I guess we can officially start using "Twix" as a synonym for the F-word. Go right ahead. I'll be trying it out tomorrow.
Recap of Ronald Reagan telling Gorbachev to "tear down this wall." He should have just asked the Shockmaster to fall through it.
Randy Orton is here. He's 23 and the future of wrestling. It's not the year 2000 anymore, Mick. You're not a legend anymore. You're blinded by your own ego. It's over! Tonight, you're Randy Orton's bitch! Now come out here and squeal like a pig!
Knock…knock…knock…
Yes?
This is Catherine White with WCW. I've been on the search for Cactus Jack. I have just come to this house where I think I've located him. Sir, are you Cactus Jack?
Yes, I am. You're at my home. Catherine, this storyline ended over ten years ago. WCW doesn't even exist anymore.
It…it doesn't? No one told me that. You mean, I've been searching for you all this time for nothing? Over ten years of my life - gone. Night and day, searching. It's all gone. My God! What have I done? I've wasted my life. I…I…have to go. This is Catherine White signing off.
The brawl is underway and it's vicious. Orton and Mick Foley take turns beating each other in the face repeatedly. The advantage switches back and forth until Cactus gets the upper hand. At that moment, Batista and Ric Flair rush to Randy's aid and take a pounding for their troubles. The distraction was enough though as the Legend Killer lands a low blow and then gangs up on the fallen Foley for a three on one beating. The scene appears to end with RO landing the RKO and standing above a fallen Mankind. It didn't though. Foley got up.
In an effort to keep him down, the trio deliver another mugging, this time more violent than the last. Mick is knocked down and picked up, only to be knocked down again. Free shots all around as the Hardcore Legend manages to keep himself from bleeding. Randall slaps Mickey on the head and after a number of hits, it all ended with a Flair/Orton assisted Batista power bomb on Dude Love. The evil doers talk trash while the Sock half of the Connection rolls around in pain. Funny how Christian, Chris Jericho, and others make time to rush the ring and save Trish Stratus, but they let Mick Foley slowly get beaten to death.
Commercial Break. The new Continental Airlines Arena day-after-Mania Raw commercial tells me to feel the fallout when "Triple H and Raw" come to town. How long before the officially change the name of the show to "Hunter and Company?"
Shawn Michaels is wrapping tape on his Heartbreak Wrist when the Rapid Wolverine Chris Benoit approaches. They stand in that really close nose-to-nose way that only professional wrestlers do and tells Michaels "you have no idea what I want to do to you." He doesn't smile, so you can only assume it's bad. Benoit leaves and Shawn contemplates the possible things that Chris could want to do. Hey, can someone get Jackie Gayda a shirt that really makes her look like a prostitute, please?
Ah, that's better. Miss Jackie is dressed like one of those girls that does the "party line" commercials on TV at 3AM. Seriously, it was this thing with hearts on it and she had this crazy Mimi from Drew Carey make-up thing going on. Anyway, Mimi is joined by Stacy Kiebler on the leather couch with Eric Bischoff. What the hell, Bisch? How can Torrie and Sable be chosen for the new Playboy spread? What's worse is that they claim Jackie and Stacy have no class! Gayda stands up and spins around, asking "How's this for class?" Realizing that he likes strippers better when they're dancing and not talking, Eric sends the Tough Enough Silicone container and Miss Hancock off to give Hugh Hefner a call for themselves. You say you can sell more than Torrie and Sable? Fine. Prove it. Just get to stepping. Uncle Eric has a headache.
Eric rests his head.
What?! Hey there, Bischy. It's Stone Cold Steve Sheriff and he's holding a copy of that Monday Night War DVD. You know, you made a statement on this here little silvery disc. You had challenged Vince McMahon to a fight and claimed that you could kick his ass. Could you? Could you, Eric? Could you kick Vince McMahon's ass? Bischoff remembers the moment fondly and chuckles. I had to transcribe this one:
"I mean, think about it. Look at Vince McMahon's track record. When it comes to getting his ass kicked, he's the champ. There's not too many guys around that haven't kicked Vince McMahon's ass. Second of all, I'm like twenty to twenty-five years younger than him. He's old enough to be somebody's grandfather. And Steve, when it comes right down to it. In a real street fight, I still got that karate thing going on."
- Eric Bischoff, 10:16pm
Guess who's standing behind Eric Bischoff? Go on, guess. Yup, Vince McMahon. This was exactly like the little mini-skit I did last week right before McMahon's intro. Vince caught the Raw GM talking poorly about his Lord and Master. For Vincent of McMahonia hath come to Raw to punish poor Eric. He hath told you, Bisch, that if Goldberg doth interfere in No Way Out, there would be hell to pay. That hell will come next week when Vincent returns to Raw in his wrestling gear to make a major announcement about WrestleMania. After said announcement, Big Mac shall call you to the ring. According to Vince, maybe then we'll see if "you can kick my ass." So it is said, so it shall be done. This was an awesome segment. WWE should file this tape in the "It's About F'N Time" Section.
Commercial Break. Who says commercials aren't helpful? The Playstation "Rise To Honor" game starring Jet Li tells me that "Sometimes the only way out of the Hong Kong underworld is to go back in." I never thought of that! I've been trying to figure out how to get out of the Hong Kong underworld for years now. Thank you, Jet Li. And may God bless you.
(3) Vitoria & Trish Stratus defeated Jazz & Molly Holly when Victoria pinned Holly I still hate Victoria's baby face turn. It's just weird. I guess she'll get a good reaction on either side, but she had so much more to do before turning. Oh well, it worked for John Cena, it'll work for her. Wait a minute, it didn't really work for John Cena. Scratch that. The match itself was pretty good with Miss Vicki scoring most of the offense for her team. The finish came when reformed Toria hit the Widow's Peak on Molly Holly for the pin.
Not so fast, this ain't over if Test has anything to say aboot it. The Head Testicle hits the ring and takes down Stevie Richards with a boot to the face. Victoria tries to stop him, but is pushed to the mat by her face. To their rescue comes Trish, who somehow sees some other outcome to her attacking Test than her crying for help. Andrew takes Strats in quickly and down to a Powerbomb position. The save is made by Christian. The CLB clears Testie from the ring and helps out Strats. (JG Note: I feel like my mailman would have gotten a bigger pop as Trish's savior than Christian did. It was serious silence.) The plot thickens. Roll them ads.
Commercial Break. WrestleMania Rewind is the WrestleMania 17 Gimmick Battle Royal. There's no reason to not have something like that this year. The former stars come cheap. Fans dig it if it's kept short enough. It kills time. Make perfect sense. Wrestle Mania's something like eleven hours long now. Throw in a gimmick battle royal.
Christian is strolling along and stopped by Trish. She thanks her good friend's best friend for saving her Stratus-butt out there. She's in a hurry, though, as she's off to see Chris Jericho. You're going to see Chris? Well, hold up, Candypants, Christian wants to check in on his partner too. Just wait one second. The CLB runs into the dressing room and emerges with Jericho's flower for Trish. Christian presents it to her as his own and wishes her a Happy Belated Valentine's Day. Trish finds this all so strange and gives him a look. As they walk off, he elicits another glare when he attempts to put his arm around her. I really hope she's worth all this trouble. There's other divas out there. Doesn't anyone want Molly Holly?
Recap of Shawn Michaels kicking Chris Benoit in the face and signing his Wrestlemania contract. If you didn't already know about this then the opening to this report must have made no sense. Deja vous.
HBK's Things to Do in My Lifetime Time List
1. Screw Over Bret Hart
2. Beat Up a Midget Dressed as Bret Hart the following night on TV
3. Marry a Nitro Girl
4. Be on Celebrity Mole
5. Get the shortest shorts in existence
6. Wrestle Chris Benoit
7...Commercial. Hit it.
Commercial Break. The Law Offices of James Sokolove here on Long Island assures me that if I lost $50,000 in the stock market, it could be the result of fraudulent brokers and I could get my money back. What if it was less than $50,000? What if it was $1,000 or something like that? Also, what if, instead of the "stock market," you lost it in Atlantic City? Does that count? Can you get that back? I could be on to something here.
Vince McMahon has a major announcement next week. I hope it has nothing to do with football.
(4) Shawn Michaels pinned Chris Benoit after a Superkick. Jim Ross makes a reference to the Yankees trading for A-Rod just as this match begins. I haven't even finished writing this yet. J.R.'s in my head!. Freaky. Great match that definitely built itself up. When the thought of a Benoit-HBK match looked to be a reality, there was debate over whether these two could combine their different ring-styles and make a solid match. In the end, they did. The bottom line is that no matter what mat technique they prefer, good wrestlers are good wrestlers. These two are great workers that have great matches. They definitely did one tonight against each other. The Boy Toy ends up on the outside while Benoit lays on the mat and we bounce to a quick commercial.
Commercial Break. I've said it before, but Carrotop really looks like the guy in Mask.
We're back and this thing is still going strong with the match leaning more towards Benoit's style than Shawn's. Sound psychology and an overall exciting contest, this one had a steady build up culminating in a series of near falls towards the end. With the crowd getting more excited with each two count, the Crippler placed Shawn on the top rope. He attempted a Superplex and was tossed to the mat. With Crips down and out, Lord Shawn prepared for some Sweet Chin Music, but was caught coming in. Chris took him down hard into a Crippler Crossface, which HBK rolled out of. However, just as quickly as he escaped, the Boy Toy was caught again. This time, he put the Midnight Rocker in a Sharpshooter (JG Note: Hey! Isn't that Shawn's move?) Kid Heartbreak desperately tries to reach the ropes and eventually does, forcing the hold to be broken. Frustrated, Big Chrissy B goes on the attack and takes Shawn down with a number of German Suplexes. Unfortunately, distraction strolls out in the form of Triple H. With his attention diverted, Benoit is easy prey for a Superkick and a pinfall loss. Shawn Michaels wins.
Has Hunter come out to help his former Degeneration partner? Was this all a ruse by the former co-horts? All is answered when Triple H grabs Shawn and Pedigrees him to the canvas. I guess Trips proved his point, huh?
Not so fast. It's the doggone Sheriff and he's got some rootin' tootin' news! Eric Bischoff has made a decision about RassleMania. The match is made, but Easy E is too nervous over what your reaction might be. If you don't mind, Stone Cold Steve Austin will give you the big news. You'll be defending that strap at Mania. It'll be the first time the World Title is defended in a Triple Threat Match at WrestleMania. It'll be Triple H versus Shawn Michaels versus Chris Benoit! Hunter has a hissy fit as we fade to black.
All in all.. Right on level with last week, tonight's Raw advanced a ton of storylines while offering little more than the bare minimum for actual wrestling. It's more than just a question of taste though. With WrestleMania around the corner, WWE should be focused on advancing angles rather than presenting matches. Tonight they did that.
Christian-Jericho-Trish has been dragged on for a while but at least it takes different directions from week to week. With so many twists, I'm just worried that it'll never end.
I'm really intrigued by Eric Bischoff-Vince McMahon. Since the day that Eric debuted, WWE has been sitting on a big money feud between the two former rivals. The only thing that might hinder things is Vince's ego. If Big Mac doesn't obsess about being the tough guy in the conflict, it could be a good confrontation. But that's not going to happen. Regardless, I'd be tuning in next week to watch Vince's announcement and challenge even if I didn't have to review the show.
Chris Benoit needed to beat Shawn Michaels more than Shawn Michaels needed to beat Chris Benoit. This Three Way Dance thing is pretty beat. Maybe it's me, I just think that WrestleMania should be one-on-one World Title matches. It waters down the title and the event to have something other than a tradition title match in the top slot. Other than that, the HBK-Benoit match was good. Even if you don't like the Three Way Match itself (like me), the announcement of it by Austin got a good reaction from the crowd and was presented well.
Booker T and Rob Van Dam, huh? That ought to quiet all those internet people for a few weeks, huh?
Good stuff, although only four matches. It was on par with last week's presentation and left you with a reason to tune in next Monday. But the best part was that for two hours, I got to "Escape the Rules!" Whoo-hoo!