05-11-07
"Look what you've done to this rock 'n' roll clown."
Boo-yah, here we go!!
***
Item #1 – If I could put time in a bottle…
Sweet merciful crap…I've got absolutely NO TIME to do anything right now. My apologies, gang. I'm on my final day in Houston (it's been one hell of a month-long trip) and the past couple of days have been non-stop.
I've been to an Astros game, I've been to NASA, I've been to San Marcos and Beaumont as day-trips, I've done the Kemah Boardwalk, I've done Ruggles Grill in Montrose…and tonight I'm doing a double-whammy of Fogo de Chao (all-you-can-eat-Brazilian-steakhouse baby!!!) and another Astros game ($7 cheap seats!!!) before heading out at 4am tomorrow morning for a 12-hour trip back home to Canada (including a 4-hour layover in Toronto) so I don't have ANY time to write the column that I really want to write. Let me touch on some points, though…
After tonight, SmackDown will be an "awesome" show instead of just being a "really good" show
As much as the injury bug really sucks for WWE, those injuries could really end up being a blessing in disguise for WWE fans
RVD + TNA doesn't necessarily = $$$
Dawn Marie possibly suing WWE over wrongful dismissal isn't the "slam dunk" that some may believe it to be
Sting vs. Christopher Daniels may end up being the catalyst for Daniels' much-deserved run in the main event
TNA shouldn't bother referencing the fact that they aren't going to use the NWA name in their titles going forward…just change the belts and ignore the situation
ROH will have improved audio for their upcoming PPV's…but will the amazing action and lowered price tag be enough to attract the type of PPV audience required to turn a profit?
***
Item #5 – The Insanity Tag Team Tournament continues!
Here we go, kids. The results of Round Three!
| | |
| --- | --- |
| Match-ups | Winner |
| Dudley Boys vs. Eliminators | Dudley Boys |
| Briscoes vs. Edge & Christian | Edge & Christian |
| Steiner Brothers vs. Anderson/Blanchard | Steiner Brothers |
| APA vs. Headshrinkers/SST | APA |
| Harlem Heat vs. Demolition | Demolition |
| British Bulldogs vs. R'n'R Express | British Bulldogs |
| Road Warriors vs. Midnight Express | Road Warriors |
| New Age Outlaws vs. Hart Foundation | Hart Foundation |
I had more votes this week than any other up to this point. While most of the outcomes ended up being blow-outs (surprising to me), there were some severely close match-ups. Example? The Steiners defeated Arn Anderson & Tully Blanchard by one vote. And even more, the ex-Horsemen were soundly in control after the first couple of days of voting and somehow the Steiners got a bunch of late votes to win it. Also, the British Bulldogs vs. Rock'n'Roll Express match was very close and was decided by only two votes. So once again, every vote counted.
Therefore, make sure you vote for your favorite team this week as it may be the deciding factor in whether or not they make it to the Semi-Finals. And remember, each team is to be judged based upon their skills during the height of their popularity/success. So vote by sending an email my way or via PM on the message board. Either way, let your voice be heard!
Oh...and please................................no wagering.
ROUND FOUR
The Dudley Boyz vs. Edge & Christian
Da spin: How many times did we see this match-up during the late 90's run of both teams? There is definitely an argument to be made for either one of these teams winning the match. Can it be said that one team absolutely dominated the other during their feud? It's hard to say. The Dudleyz normally won most of the battles but E&C would normally pull out a huge victory at a main event somewhere. Definitely one of the tougher match-ups of the round.
The Steiner Brothers vs. The APA
Da spin: Will the power and finesse of the Steiners be able to overcome the power and brawling tactics of the APA? I gotta admit, the APA has gone a lot farther in this tournament than I ever thought they would so at this point anything is possible. A quick little Clotheline from Hell could very well end this match out of nowhere…whereas it's unlikely that Scott would be able to put either Bradshaw or Farooq in a Frankensteiner. I'd say the most intriguing match-up of the round.
Demolition vs. The British Bulldogs
Da spin: Who would have thought that when Demolition debuted that they'd end up being considered one of the greatest all-time tag teams? Now they've probably got their biggest test in facing a Bulldogs team that is considered one of the great innovators of the new tag team style. Which style will win over? Power and brawling or power and speed? This one is a tough one to call.
The Road Warriors vs. The Hart Foundation
Da spin: This is probably the toughest call I'll make during this entire tournament. These are, bar none, my two favorite teams of all time. Can the bad-ass AWA/late NWA Road Warriors really out-power the wrestling double-team brilliance of the Hart Foundation? Wow…I'm torn. I don't know how great the match would be due to clashing of styles, but I know this is definitely the right match to end the round with as it's got "main event" written all over it.
Wow…this week is the hardest yet. As always, I'm really looking forward to seeing who you vote for. How do you do it? It's simple, really. You can vote either by e-mailing me at Zah@worldwrestlinginsanity.com or by going to the Insanity Message Board and sending me a private message.
***
Item # 7 – LOSER OF THE WEEK.
Each and every week, I pick somebody (not necessarily always from wrestling) who has either acted in a dumb way, said something stupid, or generally was an idiot in some way, shape, or form. This week's choice is easy…in more ways than one. My Loser of the Week simply has to be...
Paris Hilton!!!
C'mon…y'all know the story. She had her license suspended and got caught driving the vehicle again. Period. Yeah…dangerous driving and alcohol were involved somewhere along the line, too. She claimed her publicist told her she could drive to and from work. The judge didn't believe her and sentenced her to 45 days in jail.
Think about that for a second…Paris freakin' Hilton is going to go to jail. For being stupid. I giggle at her distress.
And while you could debate the merits of whether or not the penalty is too harsh, the bottom line is that being sentenced to jail for being an idiot leaves me no option but to make Paris Hilton my Loser of the Week!
***
Pillar to Post
Sorry gang…once again no P2P this week. I'm still looking at re-starting once I'm back home in another week or two. So until then…anybody can sign-up to participate?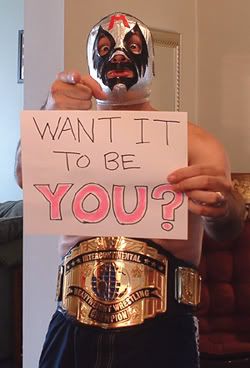 No problem. Seriously...it's not a problem at all. Really...let me know RIGHT NOW!! You can let me know either by e-mailing me at Zah@worldwrestlinginsanity.com or hitting me up at ZAH Nation, found in the Insanity Message Board and letting me know that you'd like to participate. Also, don't forget to stop by my MySpace page and add me.
So until next week…
L8R